Due to a paradigm shift toward the digital economy, expense automation has become increasingly advocated as the necessary move to maintain compliance. Automating the process of expense management helps save both time and money as well as systematise expense reports.
Aberdeen Group Research found that "expense automation can decrease the cost of every expense transaction by 55% or more and organisation experience 28% lower expense time".
Additionally, "57% of companies surveyed cited poor visibility into expenses and compliance as their top business pressure." Expense management solutions, such as Infor, allow companies to gain visibility, enforce control, save costs, and remain compliant.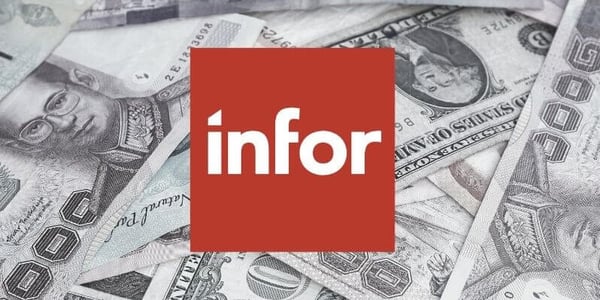 Proactively manage T&E expenses with Infor Expense Management
Infor Expense Management is a travel and entertainment expense management solution. It is a suite of four integrated applications: Expense Reports, Travel Plans, Payment Request, and Timesheets, which we will discuss in-depth in later parts of this blog.
In short, Infor Expense Management helps eliminate manual processes, supports mobile usage, promotes social collaboration, and as a result:
Improve employee compliance with spending policies

Increase savings through effective vendor negotiation and rebate usage

Reduce unnecessary travel and purchases

Cut down on labour required to process documents and administrative costs

Reduce manager time spent on approval
Plus, the solution is deployable both in the cloud and on-premises. Being hosted by Amazon Web Services, Infor Expense Management delivers unbeatable performance and security.
The solution automates expense-related processes and enforces policy compliance, helping companies reduce administrative costs and decrease the amount of accidental error and intentional fraud. Furthermore, companies can instantaneously roll out policies and process updates globally with ease.
Read more: Making the case for a cloud expense management solution
Thanks to its mobile capabilities and cloud availability, you can manage employee expenses with ease whether you are in the office or on the go.
Comprises four different applications, which can be used separately or together, Infor Expense Management relieves businesses from a variety of employee-initiated expenses, tedious paper-based and error-prone processes, and thus:
Streamlining all phases of the expense reporting process

Helping organisations collect complete and accurate expense information

Improving companies' expense management methods and saving costs
The system also alerts employees of any violations, allowing them to provide explanations/ corrections before submitting plans/ expenses. Its flexibility, security and modular design capabilities satisfy even Sarbanes-Oxley's most stringent requirements.
Read more: 6 signs your employees are cheating you in expense claims
Modular by design
As previously mentioned, Infor Expense Management is a suite of four different modules; and these can be used individually or in any desired combination.
The four modules are:
Expense Reports
Infor Expense Management's Expense Reports replaces your paper-based tasks with smarter tools. The module makes it easy for your employees to scan and upload receipts/expense-related documents.
This reporting service gives you the prominence you need to:
Take control of employee-related expenses and identify opportunities for improvement

Reduce the time and cost of creating and processing expense reports

Avoid having to re-implement or change your policies to meet the software

Improve how your employees work by pre-populating expense requests.
Read more: 3 Extra Tips to Effectively Manage Your T&E Expenses
Travel Plans
Infor Expense Management is capable of automating the entire travel experience, from pre-trip planning to post-trip reimbursement. The module provides you with a wealth of corporate and employee data, allowing you to cut back on unnecessary expensive travel.
Compliance alerts enforce corporate travel policies before spending occurs. While you are at it, the module helps you gain better insights into the travel planning process to make better approval decisions.
Payment Request
Effectively track and accurately allocate employee purchases that often bypass your standard requisition and order processes. Additionally, Infor Expense Management catches all information and automates tedious processes, such as requesting vendor payments.
As such, this module is best suited for companies with complicated payment processes, accelerating the approval process gains happy vendors.
Read more: How Raymond James Financial slashed 50% of its reporting time
Timesheets
Infor Expense Management Timesheets' time-tracking capabilities help drive efficiencies and employee productivity. The module and its features help you create accurate timesheets in a fraction of the time, which support both full time and hourly-based employees. You can now enjoy faster processing times in reduced days of sales outstanding, all on a single system.
Speedy implementation
Fundamentally, Infor Expense Management Timesheets uses innovative workflow business rules, initiates electronic payment for out-of-pocket expenses, and records transactions in multiple currencies and international taxation requirements. The system works alongside your company's business policies and streamlines them so you and your employees can be more productive.
Combined with Infor Implementation Accelerator's highly focused pre-built content, the implementation process of Infor Expense Management is smooth and quick.
Its highly customisable modular design and speedy implementation mean your system is ready to use in no time, with very minimal to no risks. You and your employees can stress less by leveraging the right solution that enables you to focus on core strategic goals instead of worrying about paper-based activities.
Infor Expense Management can help your organisation too. Request a free consultation today and find out how!