Today, AstraZeneca is widely known for their Oxford/AstraZeneca COVID vaccine, co-developed with the University of Oxford. But this hardly is the first time the pharma giant pushes the boundaries of science to deliver life-changing medicine.
Since its foundation through a merger in 1999, AstraZeneca has been among the world's largest pharmaceutical and biopharmaceutical companies, with a strong focus on research and development to achieve breakthroughs in medicine.
Naturally, a global business with a +70,000-strong workforce requires immense travel and entertainment (T&E) spending. Compounding the issue is the fact that the company inherited two different expense management systems after the mergers, both of which were outdated and needed replacement.
As a company prides itself in harnessing innovation, science, and technology, AstraZeneca set out to completely overhaul their expense management. And the key to this is automation.
By replacing the two outdated systems with a new automated one, AstraZeneca hoped to achieve:
Reduced costs through streamlining the time involved in filing and approving expense reports

Improved enforcement and compliance with an automated system that can alert managers to any policy violation.

The ability to collect and analyse data to better negotiate discounts with vendors

Increase employee satisfaction by providing faster and reimbursement
Read more: Top 10 Reasons Why Companies Should Automate Expense Management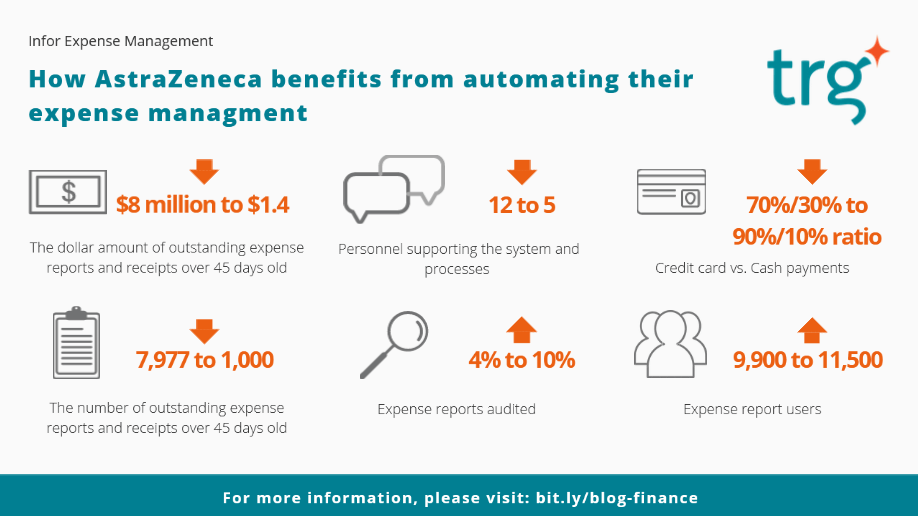 Why T&E expense management matters
The T&E budget is one of the critical places where a company could look at to save costs. Unfortunately, expense management and reimbursements for travelling employees are among the most time-consuming and repetitive manual business processes that any company could face.
Aberdeen Group Research found that "expense automation can decrease the cost of every expense transaction by 55% or more and organisation experience 28% lower expense time". In addition to that, automated expense management solutions can empower companies to gain visibility ('57% of companies surveyed cited poor visibility into expenses and compliance as their top business pressure') and take control in order to save money and remain compliant.
The best thing you can do to clean up your transaction management system is to go digital. Automation can eliminate all paper. Expense data is entered directly into an automated system and imaged receipts are matched to those transactions.
As a result, you'll also save a lot of processing time to view, log and approve the money your employees are spending. An automated expense management tool is tailored to your company's travel policy and can automatically flag non-compliant expenses.
According to a study by Aberdeen Group (2016), using an automated travel expense management tool effectively increases the average rate of T&E compliance by 26%.
Automating your expense management will also increase employee productivity as your employees no longer have to waste time on tasks such as collecting receipts and submitting expense reports.
Read more: 3 Tips to Effectively Manage Your T&E Expenses
Automating these tasks can make it easier and more rewarding to track expenses and provide reimbursement promptly. Implementing an automated expense management solution is low hanging fruit when it comes to cost reduction. The tools are generally inexpensive and easy to implement.
Employees misusing the T&E process for personal gain is an unfortunate reality. A survey conducted by the Association of Certified Fraud Examiners (ACFE) revealed employees, across all company teams, account for a total of 13.8% of expense reimbursement fraud cases. By automating, there's access to data to fully understand the spending decisions employees are making on behalf of the company.
Read more: 6 Signs Your Employees Are Cheating You in Expense Claims
Why Infor Expense Management was chosen
After a rigorous software selection process, Infor Expense Management was chosen. The solution not only meets both technical and functional requirements but also offers some key X-factors.
"Infor had good scores on our requirements, but also, their controls were preferred by our internal audit team, and they offered a good fit with our technical environment. Additionally, their offline client mirrored the online experience, and we felt they had a strong customer service focus," said Michael Herubin, then Manager of Expense Reimbursement at AstraZeneca.
Infor Expense Management is a suite of four integrated applications (Expense Reports, Travel Plans, Payment Request, Timesheets) that helps eliminate manual processes, supports mobile usage and social collaboration, and is available for both in the cloud or on-premises.
The solution automates expense-related processes and enforces policy compliance, helping to reduce administrative costs and decrease the amount of accidental error and intentional fraud.
The system also alerts employees to violations, allowing them to provide explanations/ corrections before submitting plans/ expenses.
Learn more: An Overview of Infor Expense Management
Benefits of adopting an automated expense management system
The software selection process, however, was just the beginning of an even more tedious journey of implementing the system. The project was commenced in September and expected to be rolled out in April.
Despite that aggressive timeline, the system went live by April 30 and was rolled out to 10,500 users.
AstraZeneca has realised a significant return on their investment since implementing Infor Expense Management:
Even though the number of expense report users have increased from 9,900 to 11,500 and T&E spending per year has increased from $180 million to $193 million, the number of employees needed to run the system has reduced from 12 to 5.

The dollar amount of outstanding expense reports and receipts over 45-days old has decreased from $8 million to $1.4 million.

The number of outstanding expense reports and receipts over 45-day old has decreased from 7,977 to 1,000.

The ratio of credit card versus cash payments has gone from 7/3 to 9/1.

The percentage of expense reports audited has increased from less than 4% to 10%.
While each of these results in their own right means a huge improvement, the key impact is that they together have allowed AstraZeneca to lower the overall operating costs.
Infor Expense Management can help your organisation too. Request a free consultation today and find out how!