HCM City - August 10 2012 – Thirty-eight people from 23 companies attended a seminar entitled "Planning & Budgeting in Vietnam: Top challenges and solutions" co-host by TRG International and PwC Vietnam on August 9th.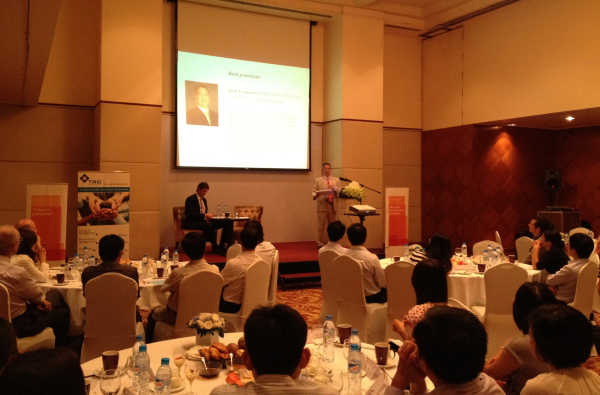 The event, with a breakfast setting included a presentation as well as discussion on Planning & Budgeting in Vietnam. Built upon the top challenges shared by attendees themselves prior to the event, the 2 speakers – Rick Yvanovich from TRG International and Bart Ziemerink from PwC addressed:
Basic theories relating to Planning, Budgeting and Forecasting

How to maintain strategic planning, budgeting and forecasting

Best practices for Planning, Budgeting and Forecasting in turbulent times

How an effective Planning, Budgeting and Forecasting system can help
Attendees also actively participated in the Q & A session, which was noted by some as the most interesting part of the seminar.
Rick Yvanovich – CEO of TRG International – says: "We are very pleased as several attendees have indicated that they would alter their current planning and budgeting practice after the event. There is still room for improvement and we hope to deliver an even better experience in future seminars".
Bart Ziemerink – Associate Director PwC – says: "Planning and budgeting can add value to your organisations when cycle times are reduced tremendously. Rolling forecasting by people who understand the business can make the difference".
###
About TRG International
TRG International is an independent provider of IT business solutions and supports thousands of users in 70 countries. Clients range from small domestic companies to very large global multinationals in both the public and private sectors. Please visit: Trginternational.com/solutions
About PwC Vietnam
PwC helps organisations and individuals create the value they're looking for. We're a professional services network of firms in 158 countries with close to 169,000 people who are committed to delivering quality in advisory, assurance, tax and legal services. PwC Vietnam established offices in Hanoi and HCMC in 1994. Please visit: PwC.com/vn