Should you apply for an internship or a part-time job? One pays the bills while the other paves your future. What should you do when you are a college student facing with this interesting choice?
Overview
I. Internships vs Part-time jobs
II. How about we do both?
III. In conclusion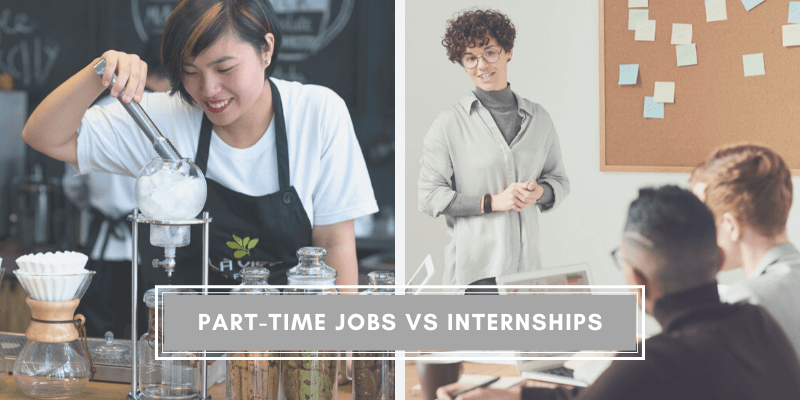 Internships vs Part-time jobs
Both part-time (or entry-level) work and internships have their pros and cons. Many choose their path based on their current situation.
Part-time jobs

Guarantee an income

Do not offer college credit

Possibility of returning during future breaks

May not relate to your intended career path

Networking opportunities for future career

Internships

May or may not guarantee an income

May or may not offer college credit

The application process can be competitive

Opportunities to grow professionally

Allow you to get used to the corporate world
Internships are generally unpaid. Having said that, several companies today do offer to pay their interns or valuable perks to compensate.
Internships (both paid and unpaid) offer a unique experience. Taking an internship also means that you are able to work with experts from various fields, who can give you professional advice as well as letters of recommendation.
Read more: How to apply for summer internship abroad?
On the other hand, a part-time job helps you to offset the school fees and living expenses. Skills and connections gained from your part-time jobs can also be beneficial and usable in your professional life. However, if the part-time job does not contribute to your intended career path, then accepting the job might halt your future.
With internships, you are required to focus on learning specific skills to fulfil a task or a role. You will be introduced to a business system and work under professional supervision. Your progress will be evaluated, and constructive feedback will be given to help you improve.
Training and learning you received during your internship are on-going. Part-time jobs, though also provide training, tend to be for a short period, and you are required to work independently from that point on.
Whichever path you choose to pursue, do not rush and think long-term instead. Where do you want to be in the next six months, three or even ten years from now?
Infographic: 10 skills employers will seek in 2020
How about we do both?
You may think that why waste time giving yourself a headache, let's apply for an internship while working part-time. It will be manageable, right?
In fact, many students choose to do so, but their time is stretched to the extreme. You have to be ready to bear the pressure at both places with very little time and energy for other important things like your relationships and free time (at least for a little while).
It is not entirely unfeasible to do both. Many companies offer flexible working hours or allow their employees to work remotely. You can then apply for a part-time job and work during odd hours.
Another alternative to working part-time work is taking freelance jobs. Freelancing, particularly in creative industries, enables you to maximise your time, learn a wide array of skills and acquire new connections that are valuable to your portfolio.
If you can find a paid internship, certainly you can satisfy both needs at once. The challenge is, paid internships are competitive and more difficult to obtain.
Ask yourself whether your professional experience or monetary values is more important? Are you willing to dedicate 100% of your effort for both jobs?
Read more: A day in the life of TRG interns
Nevertheless, when you come across an amazing opportunity, it is better to think it through and not turn it down immediately just because it is an unpaid gig. You can consider cutting some unnecessary costs if you are planning to go with an unpaid internship.
Don't rush to make a decision. There are many other factors that you need to take into consideration besides the position, such as the company culture, its employees, the possibility you would gain a job at the company in the future, etc.
In conclusion
Let's end the debate between "internship vs part time job." Both are useful in helping you to build your professional network. But with internships, your network will be more aligned with your future career growth.
The application process for part-time jobs can be less competitive and demanding compares to internships. More often, you have to apply for an internship fairly early; and while you can return to the same part-time job whenever you have free time, the same may not apply with internships.
If internships are what you plan to pursue, you can start by contacting your inner circle who works in the field that you are interested in a possible internship opportunity. Or you can seek help from your school if they offer similar programs.
If the part-time job is related to your field of interest, or the project will be working on will teach you a lot, then apply for it would make sense. Having said that, if you do not plan to stay with the employer long-term, seeking an internship elsewhere may be a better option.
Your social profiles are also important. TRG recommends you to build a professional profile, such as LinkedIn account, where recruiters tend to navigate towards to look for suitable candidates. With LinkedIn, you can showcase your skills, experience as well as educational background to potential employers and keep your professional profile separated from your social one.
All in all, no matter what you decide to pursue, it is your willingness to learn, readiness to achieve targets and motivation to take on the initiative will help to boost your resume and broaden your knowledge.
Interested in developing yourself professionally? Why not work for us? Our teams at TRG International are looking for talented individuals like you. Check out our currently available positions via the below link.