As discussed in our previous "5 steps to customer value management" part 1 and part 2 articles, the customer management cycle is a closed-loop process as follows: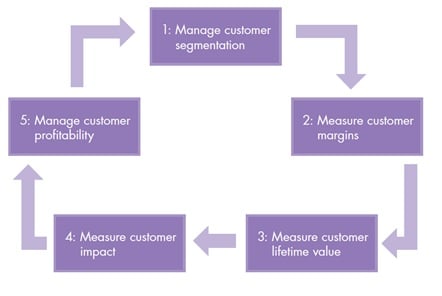 In this article, we provide an illustration of how measuring customer profitability can pay off. "Sagu Systems" – a software company located in Dublin – who provides performance monitoring software for corporate networks as well as related consulting services to clients, has been used as a case study of applying the customer value management cycle in an effort to maintain profitability through the growth period.
Sagu has gone through 5 steps starting with the identification of 3 segments of its customers:
In-house support: customers with in-house IT capability to support the software
No in-house support: customers lacking in-house IT capability to support the software
New to software: first time users of performance-monitoring software and lack in-house IT capability to support the software
Sagu then measures customer margins, lifetime value and customer impacts by applying steps 2 to 4 and figure out ways to manage customer profitability as suggested in step 5. Through this analysis, Sagu Software has learnt a lot about the profitability of its segments; thus, is able to use the information more effectively to manage the value of each segment.
In step 2, Sagu has learnt that the no in-house support and new to software segments have higher operating costs than the former cost allocating system due to high maintenance costs. So, Sagu has decided to change the maintenance agreement with customers, which will include a limited number of technical support hours and the customers will be charged for any additional support hour above this amount
In step 3, Sagu has learnt that the no in-house support group was expected to show profitability loss over time because of low profitability growth and retention rate. To overcome this, Sagu has conducted interviews with key clients and as a result, has increased efforts to inform customers about available services to clients who need them
In step 4, Sagu has learnt that a subset of their in-house customers has the greatest impact on both attracting new customers and imparting valuable knowledge. They are highly knowledgeable users who contribute product and service knowledge to Sagu as well as encourage other clients to adopt the software through direct referrals or reputation. Through this step, Sagu has recognised the high value of these customers to the firms and has initiated new policies to provide the best benefits to these customers. For example, these customers will receive discounted rates for adding software licenses; or they will be invited to sit on a newly-formed user advisory board, which offers them prestige and the opportunity to interact directly with Sagu and other high-powered users to share insights and strategies
Just through the first round of the customer value management cycle, Sagu has already learnt a great deal. Yet, Sagu does not stop there, they move on to the next cycle by reapplying the 5 steps to seek continual improvements in both value provided to these customers and the value delivered by them.
To find out what Sagu has done and achieved by applying customer value management in more details, please read the CGMA Tools full whitepaper "How to create customer value"
***
This is the final article of three articles in the series "Customer value creation: How to create customer value", hope you enjoy your reading.