Online Travel Agencies (OTAs) including Expedia, Orbitz and Priceline have greatly benefited the hospitality industry, providing a proven conduit for filling up rooms that would have otherwise stayed vacant. However this value has its drawbacks as more customers solely use these channels to book hotels.
This has created a situation where hotels need to devise strategies for competing with the same sites that bring them business. This difficult task becomes an even bigger obstacle when you consider most OTA agreements require rate parity – or not advertising rates for less than what OTAs list. But savvy hotel operators have found a few loopholes. Here are three best practices hotel operators can use for enticing travelers back to booking direct.
Bundle Extra Services Irresistible Values
Rate parity conditions in OTA agreements only apply to publicly-posted rates for rooms you advertise on their sites. Even if you can't charge less on your website for the same room, you can offer packages that exceeds their savings.
This can be done by combining the room with other add-ons, such as free parking, Wi-Fi or tickets to a local event. For example, if an OTA advertises your room for 40 percent off the normal rate of $100 (a savings of $40), you could offer that room at the normal $100 rate, but you could throw in two tickets to the local theater valued at $50.
One hotel in Walnut Creek, Calif. used this strategy and offered tickets to a local Art & Wine festival to customers that booked direct. They saw a 6 percent year-over-year increase in total visits to their website and a 23 percent year-over-year increase in reservations on the website.
Offer Savings to a Particular Audience
Rate parity limitations only apply to rates that you advertise publicly, or that anyone on the Internet can see. You can still offer deals to a limited audience.
This can include your Facebook or Twitter following, people who signed up for your email list, or even people who call you over the phone. A hotel near Atlanta ran a Facebook-only offer that advertised a promotion code for discounted rates through the winter season. The hotel received nearly $2,000 in revenue as a result of the promotion.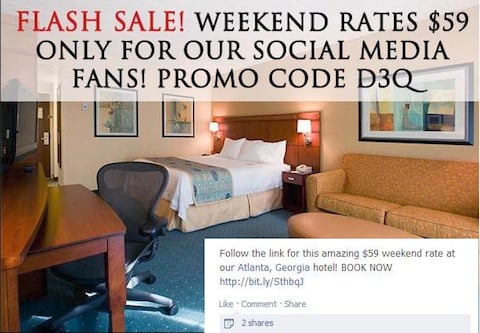 A screenshot of the Facebook offer run by the Atlanta hotel
In another example, a hotel in Seattle offered repeat guests the chance to earn a $25 gift card if they booked their room directly. The hotel sent an email blast to past guests and saw a 10 percent year-over-year increase in reservations on the site during the promotion.
"We give better rates to returning guests than any rate on an OTA," says Gary Bruton, principal at Cypress Hospitality Management, which manages The Sanctuary Beach Resort, among others.
Use Smart Design to Catch Their Attention
Often, customers shopping on OTAs visit the hotel's website to learn more about their accommodations. This is your chance to capture those site visitors and prevent them from going back to the OTA. This takes smart web design.
First off, make it as clear and hassle-free as possible to book. Provide "book now" buttons on every page that link to your trusted hotel booking automation system. These buttons should be near the top of the page so customers aren't forced to scroll to find them. Also, include call-to-actions on every page that encourages visitors to "sign up for our email list for discounts," or "Fan on us on Facebook for special offers."
Also, many customers assume when they book on OTAs, they will get the "less desirable rooms." So you need to show them what your best rooms look like immediately. This could convince them it's worth caving on the amount they would have saved on the OTA. Make sure that your most attractive rooms, views and balconies (if you have them) are front and center (like on your homepage). These images need to be professionally taken and show all of the perks of your most attractive rooms - soaking tubs, incredible views, large windows and so on.
By implementing these tips, savvy hotel managers can reap the clear benefits of using OTAs as well as drive customers to their own website while remaining in good graces with their OTA. Rather than a battle, it can be a win for everyone involved.
***
Alan S. Horowitz contributed to this report.
Ashley Verrill is an analyst with Software Advice. She has spent the last six years reporting and writing business news and strategy features. Her work has been featured or cited in Inc., Forbes, Business Insider, GigaOM, CIO.com, Yahoo News, the Upstart Business Journal, the Austin Business Journal and the North Bay Business Journal, among others. She also produces original research-based reports and video content with industry experts and thought leaders.