This August, TRG Talk will present to you the topic "Employee Retention: How To Keep Your Employees Happy For Business' Growth". Let's hear our speaker, Andree Mangels share his deep insight about how to retain your talented employees from draining by understand their emotions.
A job, by definition, is not necessarily fun, or enjoyable. Work is hard. Dealing with work stresses day in and day out is hard. Like Mark Twain, the great writer of America, used to say, "Find a job you enjoy doing, and you will never have to work a day in your life", which clearly proved the importance role of emotion in your employees' determination to work.
Many companies have learned that employees' emotion directly affects the employees' daily life, from working attitude, productivity to the most important choice: stay or leave.
Having happy employees is extremely important for the survival and performance of any organisation. Happier employees work harder, work better together in teams and are generally more productive.
To make it clear, join the event "TRG Talk: Employee Retention- How to Keep your Employees Happy for Business'Growth?'' to get yourself the best HR insights and tips from Mr Andree Mangels – General Director, Adecco Malaysia & Vietnam.
With more than 13 years of experience in the HR industry, Andree has led the success of various recruitment firms while coaching and developing key talents under his management.
This workshop is free of charge and will be held at PJ's Coffee Vietnam on August 30th by TRG International.
Seating at the event is limited. For more information or to register, please visit our page: https://blog.trginternational.com/trg-talk-talent-management-aug-2019-en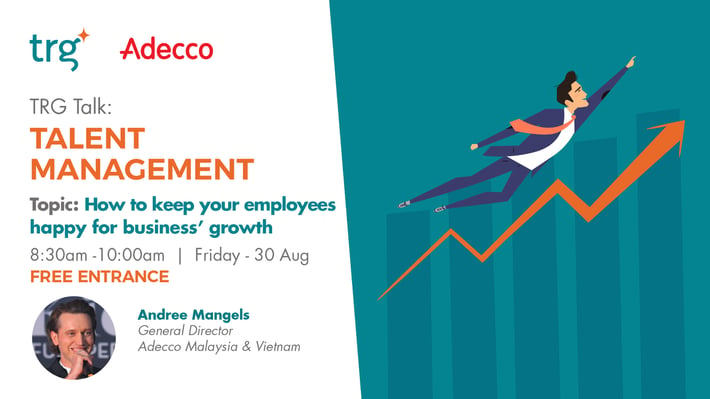 About TRG International
TRG International is an IT, Talent and F&B company. We help people and businesses to shine. We help people be the best they can possibly be by selecting the right people for the right job and developing them to their full potential. We help companies by providing an IT solution that works quietly and brilliantly in the background, freeing them up to focus on their core and not having to worry about their IT systems. We do this for more than 1,000 clients in 80 countries.
About Adecco
Adecco is the world largest staffing firm. They're experts in recruitment and providing world-class payroll and staffing solution. With more than 33,000 passionate employees in 5,000+ branch across 60 countries and territories worldwide, Adecco have covered all.