Through the reimagined logo, TRG International wants to raise awareness of COVID-19 prevention measures and to show our support to not only TRGers, but also our clients, partners, and to all health workers who are at the forefront of the fight against coronavirus pandemic.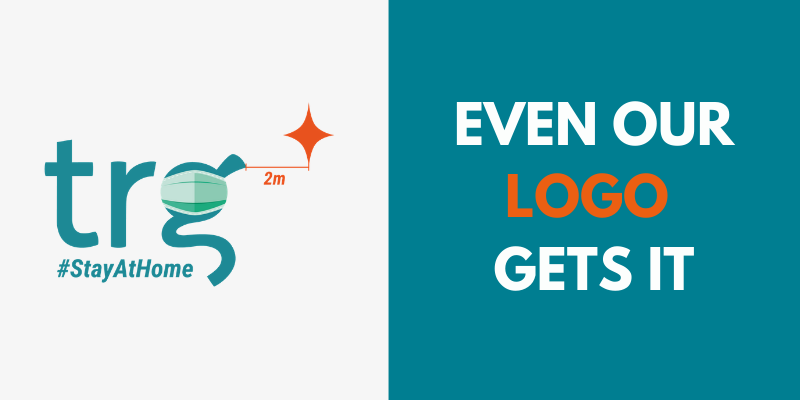 The destructive power of COVID-19 is undeniable, and we must take action now. At TRG International, all TRGers are allowed to work 100% virtually to ensure the well-being of our employees as well as their family members.
Additionally, we want to raise awareness of proper etiquette during this pandemic. There are three critical components we want to emphasise through this new logo.
Face masks
Face masks are essential in the fight against coronavirus. Unfortunately, there are many myths and controversies around this practice and whether it can help stop COVID-19 spread.
In many Asian countries, face masks are now mandatorily required when in public. But for the most part, people in the West are still averse to wearing masks, in part, due to guidelines from organisations like WHO and CDC, which suggest masks should only be used for health workers, sick people, and those who are taking care of sick people.
This is despite the fact results from many studies and health experts from the Asian region have suggested otherwise. One should keep in mind that countries and territories like China, Hong Kong, Singapore, and Korea have had experience in coping with the SARS outbreak in 2003 as well as the early waves of COVID-19
Western health officials, however, are taking another look at this practice. CDC Director Robert Redfield, in an interview on March 30, said the agency may revise its policy regarding mask use and encourage everyone to wear a mask.
This change may prove pivotal in the fight against coronavirus, which is why "wearing masks" is at the centre of our reimagined logo.
Make sure to wear your mask properly. The mask must cover your mouth and nose areas, and there are no gaps between your face and the mask.
Physical distancing
Protect yourself by maintaining a safe distance of at least 2 metres away from others, particularly those that show signs of illness such as coughing and sneezing.
According to WHO, when someone coughs and sneezes, they spray droplets from their nose and mouth which may contain the virus. Physically distancing yourself can ensure that you do not accidentally breath in the droplets.
Stay at home
The best care one can have for themselves and others during such a public health crisis like this is to stay home, avoid any nonessential travelling, gatherings, and social interactions.
Even though older people and people with pre-existing medical conditions are those that have the highest fatality rate during this dire time, young and healthy individuals could still expose the virus to the vulnerable.
If a picture is worth a thousand words then we hope our COVID-19 reimagined logo can send a message of hope to all people affected by this deadly outbreak.
As long as the pandemic has yet to subside, we will still proudly present this logo. We hope you and your organisation would also show your support to raise public awareness about the pandemic.
TRG has also created resources about COVID-19 to aid individuals and businesses in this dire time.
To learn more about the coronavirus and the pandemic it causes, please visit our Info Hub.
To learn more about actions TRG has taken to combat the outbreak as well as to reassure our clients, please read TRG's COVID-19 policy.