Over the last three weeks, we have discussed about Millennials' role in today's business scene, the challenges facing them when working in team and some suggestions on overcoming generation gap. But eventually, you can't solve the problem if you don't touch the root cause. Millennials are usually described as intelligent, tech-savvy and creative. However, it seems like they want to show that either they are competent or possess leadership potential in team discussion. That explains why many young people tend to dominate the discussion, resulting in much more unnecessary tension.
That's the root cause we mention: They don't know how to show themselves and their ideas effectively in team. In the final post of the series Millennials and Teamwork, we come up with solutions to the "lack of teamwork skill" discussed previously.
An MIT research found out the profile of the ideal team member. This person:
actively engages people in short conversations with many mutual exchanges

manages time to communicate with every one equally

makes sure everyone get a chance to contribute

is not necessarily an extrovert

listens as much as or more than talk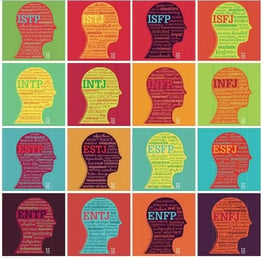 But not everyone can satisfy this profile due to personal differences. Therefore, instead of trying to become this ideal team member, you'd better understand yourself and adopt a suitable role in your team. Organisations should benefit from validated psychometric assessments to gather objective information about the candidates for recruiting and even managing and developing afterwards.
Organisations nowadays tend to encourage an open-space working environment and prefer energetic brainstorming sessions and arguments between young people. But not all young people think the same. Due to this variety, getting to know the individual is a win-win move. For the Millennials, they should understand who they naturally are and adjust their behaviours in team to refrain from stretching either themselves or the team atmosphere. Meanwhile, the organisation, particularly the team leader, should know how to leverage each member's strengths to compensate for the weakness of another.

Supposed that everyone knows what they should do in a team – a coordinator, an implementer or a monitor – it's time to re-evaluate how to communicate in a team. In fact, communication involves much more than just talking and discussing in teams. But the quality of team communication can be characterised by "energy" and "engagement" of team members in each exchange.
Energy is how you react to or acknowledge the others' ideas by comments or even such small but visible body movements as a nod while engagement is about how evenly you distribute the energy among team members. During a team gathering, there might be some members who dominate most of the talks while others prefer sitting still and barely interact or only talk with those they are more acquainted with. Although both ends are to the preference of each person type, they are not encouraged due to the possible disconnection between members, which might even lead to team disengagement.
This problem can't be fixed in one or two days. Instead, there should be a thorough plan to tackle. Here is a suggestion for you:


Figure: Fine-tune your team communication
The abovementioned MIT research conducted review phase after six weeks, but it's up to you to make review an ongoing activity to timely recognise the improvement. And however complicated it might appear, this process to achieve effective communication focuses on two points: Be present and be balanced!
Milennials is just another generation, gradually taking the spotlights the way Generation X or Baby Boomers had done decades ago. And the "invasion" of Millennials can't be successful if teamwork is still their nightmare. So don't leave Millennials alone to struggle. Leaders, let's moderate the differences and leverage each generation's strengths for the common team goal; be respectful, walk the talk and extend your hand to help your people overcome the gaps. And Millennials, don't forget to be an effective team member before wanting to be a great leader.