In the last post, we have introduced the basic understanding of social ERP and collaboration concept in manufacturing as well as their benefits. Of course, manufacturers cannot build a successful collaboration strategy without a efficient, goal-oriented strategy to take the best advantage from social ERP.
There are many types of collaboration, and each type requires different tools and priorities, and companies need to pay enough attention to all types of collaboration in order to have a unified collaboration strategy before moving to the next goals.
Building successful collaboration with social ERP
The most effective strategy for building a successful manufacturing collaboration platform can be approached in 5 parts, together with each type of enterprise collaboration.
1. Collaboration between employees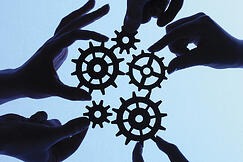 This is the baseline level of collaboration, which we can know simply as "social business". For organisations not in manufacturing industry, they may need collaboration in this level only. However, in manufacturing processes, it requires more than mere conversations between employees. They need to structure conversations around business activity and incorporate business transaction information to achieve effective manufacturing.
Read more: How Manufacturers Can Leverage Social ERP for Better Collaboration
The importance of linear, process-based tools such as activity-based costing, business process re-engineering, and total quality management for enhancing individual performance has been known widely in the manufacturing industry for quite a long time.
However, high individual performance doesn't equal to high organisational performance. It is a whole different story, since globalisation has made the common ground in the business world to change. And the role of collaboration is more important than ever, especially manufacturers nowadays.
Although collaboration is the heart of any manufacturing businesses, most Vietnamese companies are still cannot figure out how to manage it more effectively. According to McKinsey (2006), effective collaboration only happens when there is harmonious combination of high individual performance, team performance and organisation-wide performance.
A dynamic social ERP system is the one which has the ability to deliver collaboration into your business processes. As the next generation of ERP systems emerges, social applications are proving their value in connecting businesses internally and with customers. Not the same as integrating ERP systems with external social-media sites, social ERP apps mirror the functionality of online social networking tools. The interface may act like Facebook, but it is secured and maintained with your ERP solution.
Social ERP tools can facilitate collaboration and communication among employees and partners using your ERP system. Connecting people quickly and easily enables them to proactively solve business problems together.
2. Collaboration between systems, resources, and things
Supporting systems and resources are also important to the business development, along with employees performance in the organisation. According to Gartner (2013), a top-performed manufacturer need to leverage internal intelligence together with knowledge to provide all parties with up-to-date status of progress.
As a result, your system should be as collaborating as your employees do in level 1, by using industry standard interfaces to accelerate your overall business process. You need to develop a framework to connect different systems, resources and necessary things to keep manufacturing smoothly and consistently. You need a powerful platform to support all integration services, cloud services, mobile services and advanced reporting services within a single, unified framework.
In this level, employee collaboration is not enough, but to incorporate information from all business systems and resources with your own people's knowledge. In turn, you get all benefits from your social ERP system, while gaining the ability to use multiple solutions as one, which helps you to easily address all aspects in your business.
Click here to read the next part about 3 remaining levels of collaboration for high-performance manufacturing, and how to pull all levels of collaboration together with the help of social ERP system. Or you can see it all now by downloading our full whitepaper "5 levels of manufacturing collaboration" here!