In today's ever-changing business world, external market forces are constantly shaking up organisations of all shapes and sizes. Organisations are turning to software modernisation initiatives to navigate these uncertainties and seize new opportunities, particularly with enterprise resource planning (ERP) projects.
ERP systems, especially cloud-based ones, are increasingly seen as the key to future-proofing organisations, providing the flexibility and agility needed to handle disruptions and adapt to new market realities.
But let's face it, ERP projects can be a real pain. They take up a lot of time, money, and effort. That's where Nucleus comes in. They regularly release ERP Technology Value Matrix reports to help businesses on their ERP journey. These reports are like a breath of fresh air, boosting confidence and alleviating some of the headaches that often come with such endeavours.
Read more: Cloud 101 - A quick guide to Cloud ERP: Benefits & Drawbacks
Index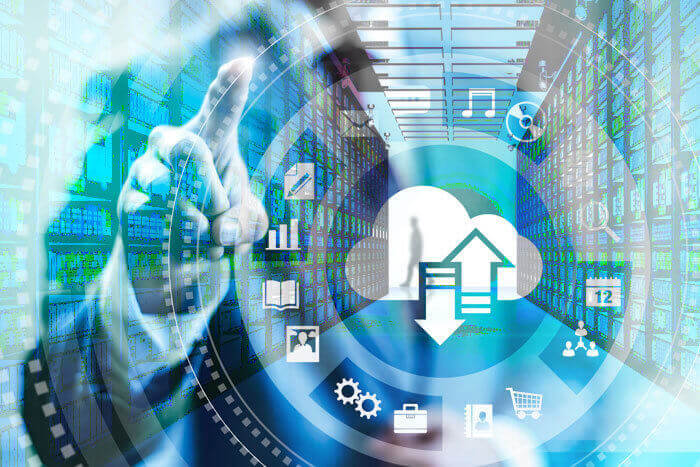 About Nucleus' ERP Technology Value Matrix 2023 Reports
Nucleus Research provides valuable insights into the ERP market through its two reports: "SMB ERP Technology Value Matrix 2023" and "Enterprise ERP Technology Value Matrix 2023."
The SMB report focuses on assessing the value customers derive from product usability and functionality in the SMB-focused ERP market. On the other hand, the Enterprise report evaluates the value customers realise from product usability and functionality in the Enterprise ERP market.
These reports assist customers and prospects in understanding how vendors differentiate themselves by delivering value and making significant product investments.
Here are some key highlights of leading ERP vendors and their solutions currently dominating the SMB and Enterprise markets, as recognised by Nucleus.
Read more: The End Of Traditional ERP Solutions As We Know It?
Trend alert: Cloud ERP, generative AI, and advanced analytics
Cloud ERP is becoming increasingly popular as businesses look to take advantage of the benefits of cloud computing, such as scalability, flexibility, and cost savings. Cloud ERP systems are hosted on remote servers and accessed through the Internet, eliminating the need to maintain hardware and software infrastructure.
Artificial Intelligence (AI) is a cutting-edge technology that is increasingly being integrated into modern Cloud ERP systems. This integration can help businesses automate routine tasks and provide real-time analytics. For example, AI can be used to automate invoicing processes, detect anomalies in production processes, optimise inventory levels, and predict customer behaviour based on historical data.
Advanced analytics can also be used to uncover insights and trends in business data, helping businesses make more informed decisions. For example, by analysing customer data, businesses can gain insights into customer behaviour and preferences, which can inform marketing and sales strategies.
Combining AI and advanced analytics and integrating them with Cloud ERP systems can speed up and secure the accuracy of the decision-making process across various business functions, including sales, HR, supply chain, marketing, finance, and accounting, ultimately driving growth and competitiveness.
Read more: Why Your ERP Needs a Performance Boost from EPM Software
An overview of leaders in the Enterprise ERP Technology Value Matrix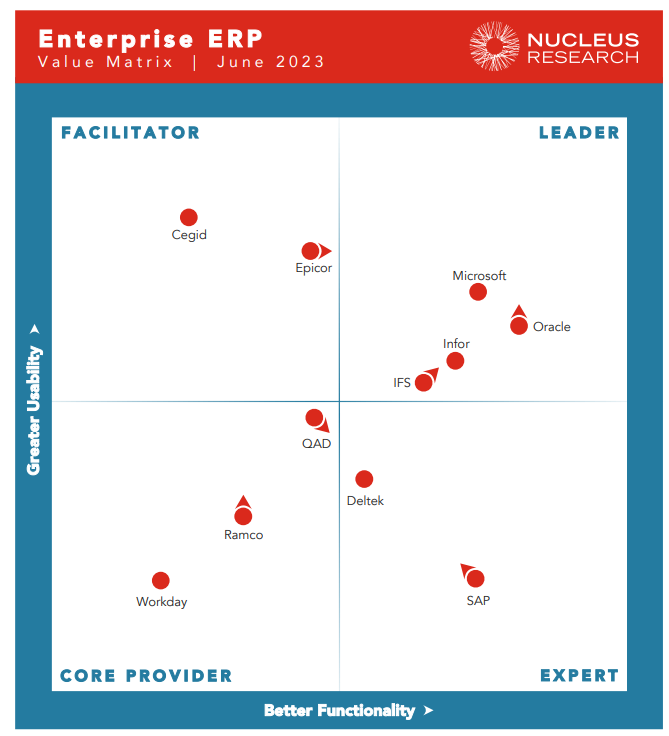 Leaders in the ERP Technology Value Matrix include IFS, Infor, Microsoft, and Oracle.
Infor
Infor, the leading industry cloud company, is once again recognised by Nucleus Research as a leader in both the Enterprise ERP Technology Value Matrix and the Small and Midsize Business (SMB) ERP Technology Value Matrix.
For the second consecutive year, Infor is one of only two vendors positioned as a leader in both reports with their Infor CloudSuite platform. Infor's combination of flexibility and industry-specific ERP functionality positions it as a strong competitor in the ERP market.
Infor's modular CloudSuite platform offers comprehensive, industry-specific capabilities for supply chain management, customer relationship management, human resources planning, product lifecycle management, warehouse management, asset management, and financial and accounting functionality.
The solution also caters to a wide range of industries, including healthcare, industrial machinery, automotive, fashion, distribution, manufacturing, aerospace and defence, food and beverage, and public services.
With flexible deployment options, Infor's ERP solutions, built on AWS infrastructure services and the Infor OS cloud platform, serve the needs of large enterprises as well as small and mid-sized businesses.
Infor has also recently earned the AWS Manufacturing and Industrial Competency designation for its Infor CloudSuite Industrial and other SaaS solutions. This recognition highlights Infor's expertise in providing end-to-end industrial manufacturing software toolchains and showcases its commitment to delivering secure and efficient cloud infrastructure.
Moreover, Infor has introduced the Augmented Intelligence Service, which brings the power of AI/ML to organisations of all sizes. With pre-packaged industry-specific AI/ML use cases, this service enables businesses to achieve prescriptive business outcomes within 90 days.
Infor combines its Infor OS platform, covering integration, automation, extensibility, data management, and insights, with proven AI/ML models for anomaly detection, asset intelligence, product/pricing recommendations, demand forecasting, and people intelligence.
Read more: An Overview of End-to-End ERP System Infor SyteLine (CloudSuite Industrial)
To further expand its operations, Infor has recently opened a state-of-the-art development centre in Hitech City, Hyderabad. With a sprawling 350,000-square-foot space and a capacity for 3,500 employees, this new centre is one of Infor's largest locations globally, employing over 3,700 talented individuals.
With these recent advancements and continuous commitment to innovation, Infor remains at the forefront of the ERP market, empowering organisations of all sizes and across various industries to achieve operational excellence and drive business growth.
Microsoft
The ERP system that Microsoft offers, Dynamics 365, encompasses a range of solutions:
Dynamics 365 Finance: offers robust capabilities for financial management, integrating financial intelligence and analytics directly into the platform. This empowers customers to monitor global operations in real-time and make accurate predictions.

Dynamics 365 Supply Chain: enables customers to build a resilient supply chain, complete with integrated capabilities for planning, forecasting, inventory management, procurement, manufacturing, order management, pricing, warehouse management, fulfilment, and asset management.

Dynamics 365 Project Operations: equips project-centric businesses with the tools to enhance deal management, optimise resource utilisation, simplify time tracking and expense management, and gain better visibility to drive business impact.

And Microsoft Cloud Platform.
This suite of solutions caters to large corporations seeking to optimise various aspects of their operations. Notably, all these solutions are offered on a unified, integrated platform, providing users with a seamless interface to manage multiple facets of their business operations.
Read more: Japan's Leader in Maritime Aircon Boosts After-Sales Service with ERP
Over the past year, Microsoft has introduced several updates to these Dynamics 365 offerings, from performance analytics to optical character recognition for invoice capture to supply forecasts, progress-based billing for fixed-price contracts, advanced subcontract capabilities, and many more.
Another big highlight of Microsoft was the launch of the Microsoft Supply Chain Centre, a command centre that empowers users to harmonise data from their existing infrastructure, gain visibility across the supply chain, and enable actionable insights through data ingestion and orchestration. This centre includes prebuilt modules designed to address supply chain disruptions across supply and order fulfilment.
Other major updates from this giant include the incorporation of Generative Pre-trained Transformer (GPT) embeddings across its enterprise application portfolio, allowing users to leverage GPT assistance in various work scenarios, and the launch of Dynamics 365 Copilot, a powerful tool that streamlines various tasks, such as creating product listings for online commerce and proactively identifying external issues that may impact critical supply chain processes.
Oracle
The flagship ERP solution, Oracle Cloud ERP, is a comprehensive and integrated suite that combines essential features for financial management, procurement, project management, risk management and compliance, enterprise performance management, subscription management, supply chain management, and manufacturing.
Oracle Fusion Cloud ERP offers robust back-end database management functionality and supports high transaction volumes and intricate finance and accounting structures.
This unified platform empowers businesses with advanced capabilities like AI-driven process automation, real-time analytics to adapt to market changes, and regular quarterly updates incorporating customer-driven innovations.
Infographic: The Economics of Cloud ERP at a Glance
With its availability in 28 languages and support for customers across 23 industries in over 125 countries, Oracle Cloud ERP caters specifically to enterprise customers generating annual revenues exceeding $250 million.
It provides industry-configured solutions for education, healthcare, high tech, communications, retail, manufacturing, professional and financial services, the public sector, and consumer goods.
Over the past year, Oracle has made significant updates to its ERP, EPM, and SCM solutions, introduced new B2B services, and delivered various innovative features for Oracle Cloud ERP.
These improvements include multi-tiered transactions between companies, AI-powered cash applications for high-volume AR invoice processing, advanced controls for financial user access, and the ability to predict cash flows.
IFS
IFS caters to midsized to large global organisations for a wide range of industries, including Aerospace and Defence, Energy, Utilities, Telecommunications, Construction and Engineering, Manufacturing, and Service.
The vendor's flagship ERP platform, IFS Cloud, is renowned for its comprehensive Enterprise Asset Management (EAM), Field Service Management (FSM), and Enterprise Service Management (ESM) solutions.
By unifying these capabilities into a single platform with shared microservices and data architecture, IFS Cloud empowers businesses in supply chain management, manufacturing, project management, human capital management, quality management, and finance.
Moreover, customers can leverage the platform's no-code or low-code capabilities to create specific task apps or extract data for machine-learning models. With extensive industry expertise and a diverse portfolio of solutions, IFS remains competitive in large-scale enterprise deals.
In the past 12 months, IFS has introduced several noteworthy updates to its cloud ERP solution, IFS Cloud 23R1. For instance, the Smart Manufacturing Planning Board provides product planners with new scheduling scenarios to optimise resources and minimise work-in-progress and inventory levels.
Other notable updates for IFS Cloud 23R1 include enhanced support for Circular Operations, featuring an eco-footprint capability that supports manufacturing disassembly for component reuse and compliance reporting.
The eco-footprint module provides customers with valuable insights into the environmental impact of parts and processes, with increased support for governmental reporting.
The introduction of the Carbon Emissions tracker enables customers to calculate their emissions, monitor key performance indicators (KPIs), and prepare for reporting readiness.
Read more: Single ERP suite vs. multiple best-of-breed systems

An overview of leaders in the SMB ERP Technology Value Matrix
More and more small to medium-sized businesses (SMBs) are acknowledging the need for ERP systems to cope with market shifts and support their diversified business models.
Legacy ERPs or lightweight accounting systems often lack the functionality and flexibility to adapt to today's changing dynamics. ERP modernisation enables SMBs to integrate descriptive and predictive analytics, providing a centralised repository for financial, operational, workforce, and sales data.
Additionally, ERP systems assist SMBs in managing their supply chain operations, especially as supply chains become more complex and traditional methods like spreadsheets prove insufficient.
In the ERP Technology Value Matrix, vendors that are positioned in the Leader quadrant include Acumatica, Epicor, Infor, Oracle NetSuite, and Rootstock.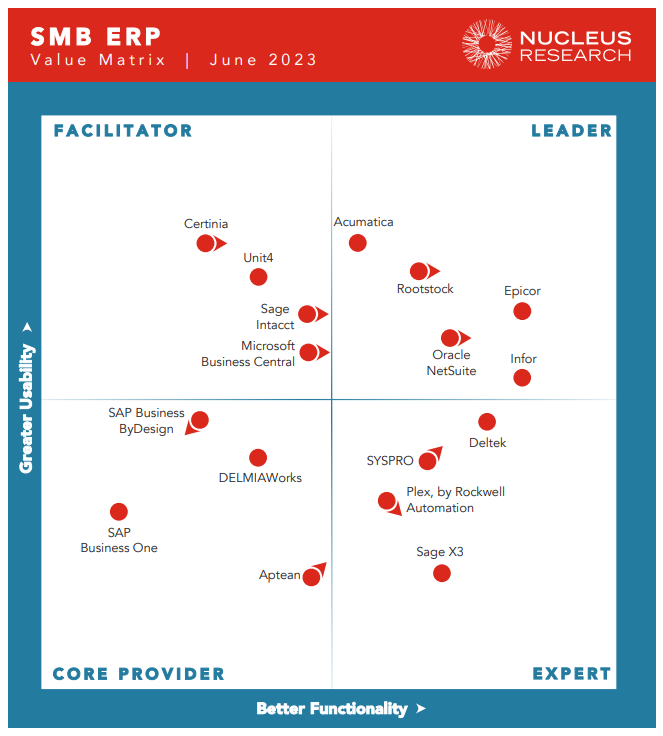 Infor
Infor is also the leader in SMB ERP technology, offering industry-specific solutions integrated into the CloudSuite platform. As mentioned in earlier parts, they target various industries, ensuring innovations meet specific customer needs.
Acumatica
Acumatica is a leading cloud ERP solution for the mid-market, offering easy deployment and a robust ecosystem of independent software vendors.
With a wide range of applications, including accounting, sales, inventory, and project management, Acumatica provides constant availability, secure collaboration, and flexible cloud deployment options.
Their licencing policy allows for unlimited, consumption-based licences, promoting scalability and freedom for users. Industry-specific editions cater to Manufacturing, Distribution, Construction, and Retail sectors, addressing unique challenges and compliance requirements.
Read more: The Truth About AI: Separating Fact from Fiction and Harnessing Its Power
Epicor
Epicor serves mid-market customers in Automotive, Distribution, Construction supplies, Manufacturing, and Retail sectors.
Their Industry ERP Cloud platform integrates various capabilities, including finance, supply chain management, planning, CRM, product management, project management, business intelligence, and analytics.
Epicor offers industry-specific ERP systems such as Epicor Kinetic for discrete manufacturing, Epicor Prophet 21 for distribution, and Epicor Propello for retail.
With a flexible infrastructure, customisable options, API connectors, and add-on modules, Epicor allows businesses to tailor their ERP system to meet their specific needs.
Oracle NetSuite
Oracle NetSuite offers a comprehensive suite of enterprise applications for various service- and product-centric businesses. With billing, accounting, planning, CRM capabilities, and more, NetSuite provides a unified data model and access to partner applications.
It attracts enterprise customers and international organisations with industry-specific features and support for multiple languages and currencies.
Read more: Why Your ERP Needs a Performance Boost from EPM Software
Rootstock
Rootstock is a leading ERP vendor in the manufacturing industry, serving mid-sized companies in various sectors.
Their ERP platform offers a comprehensive suite of functionalities, including sales, engineering, supply chain management, production, inventory, financials, analytics, collaboration, and customer service.
Developed on the Salesforce Platform, Rootstock seamlessly integrates CRM, ERP, and other business applications, providing organisations with end-to-end visibility and helping them become more customer-centric and agile.
Conclusion
Getting stuck with obsolete ERP software can have significant financial implications for businesses. Not only does it hinder productivity and efficiency, but it also hampers growth and prevents companies from staying competitive in today's dynamic market.
Next-generation ERP software like Infor SyteLine (also known as Infor CloudSuite Industrial) goes beyond traditional systems by harnessing the power of advanced technologies such as artificial intelligence, machine learning, and data analytics. By embracing this transformative technology, businesses can unlock new opportunities, enhance their agility, and ensure long-term success in an increasingly digital world.
We trust that our article has provided you with valuable insights into this powerful yet complex technology and has aided in narrowing down your selection. Researching all the currently available options can be a daunting task.
If you ever require expert advice on selecting a solution that suits your needs and budget, please do not hesitate to reach out to us. Our team of experts is here to assist you in resolving any concerns you may have.