Infor CloudSuite Industrial (SyteLine) is an end-to-end ERP solution that provides comprehensive functionality suitable for any process mode, from make-to-stock (MTS), make-to-order (MTO) to engineer-to-order (ETO). Like any other ERP systems, the basic goal of Infor CloudSuite Industrial is providing one central repository for all information to improve the flow of data across the organisation.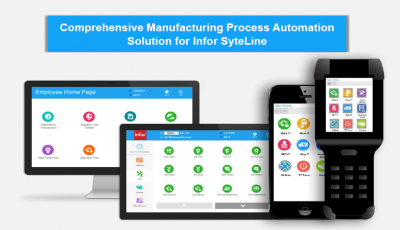 This business process management software enables an organisation to use a system of integrated applications to manage the business. ERP is a comprehensive tool that allows managers to utilize their resources.
Infor CloudSuite Industrial's Modules
Infor CloudSuite Industrial software typically consists of multiple enterprise software modules (14 core modules) that can be individually purchased (12 extensions), based on the specific needs (10 reporting and portals) and technical capabilities of the organisation.
Each ERP module focuses on an area of business processes, such as storage or finance. A business can use ERP software to manage back-office activities and tasks. The most common ERP modules are product planning, material purchasing, inventory control, distribution, accounting, marketing, finance and HR.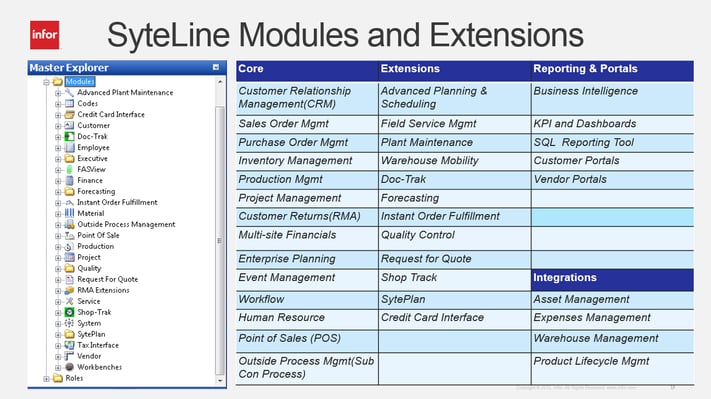 When ERP has become more popular, other software applications have emerged to help business managers implement ERP into more business activities such as Customer Relationship Management (CRM). This module and business intelligence may incorporate and presents as a single unified package.
Read more: Manufacturing ERP Review: Infor CloudSuite Solutions
Infor CloudSuite Industrial adopts the top ERP Trends
In the last couple of years, there are unleashed forces which are fundamentally shifting the entire ERP area. Infor CloudSuite Industrial has well adopted the following new and continuing trends that affect enterprise ERP software.
1. Mobile ERP
Executives and employees want real-time access to information, regardless of where they are. It is expected that businesses will embrace mobile ERP for the reports, dashboards and to conduct key business processes.
The mobility function of Infor CloudSuite Industrial not only allows access from anywhere, anytime and from any smart device you have but also is friendly to users (external/internal employees, suppliers, customers).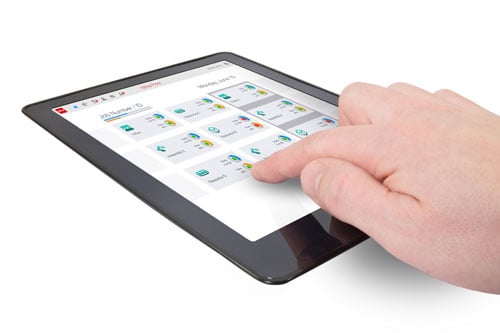 2. Cloud ERP
The cloud has been advancing steadily into enterprises for some time, but many ERP users have been reluctant to place data in the cloud. Those reservations have gradually been evaporating, however, as the advantages of the cloud become apparent.
Infor CloudSuite Industrial is a cloud-based ERP solution which is flexible for scaling and expanding. No matter the size, scope, or scale of your company, it can help you focus on your core value. It attains the processing power and bandwidth you need to keep your business running. With unlimited, instantaneous growth potential, the system will get your business to your expanded facilities and new locations ahead of you with as many seats and sites.
Infographic: The Economics of Cloud ERP at a Glance
There is no need to buy hardware. It is hosted. Therefore, you can concentrate on your business instead of technical details. When you run the system, your account will be hosted on data centers that are maintained and optimized by certified experts.
3. Social ERP
There has been much hype around social media when it is added to ERP systems. The world has seen the incredible growth of social media, which makes us rethink whether we can use the same way to communicate in business. Working with Facebook, Twitter and LinkedIn, the new ERP solutions mirroring the functionality of online social networking tools may start the next generation of ERP systems.
Infor CloudSuite Industrial provides offerings that mimic the way in which employees interact using a social network. It also enhances the capacities of collaboration and continuous improvement within the workplace. By combining this functionality with ERP systems, the organisation is able to create a single system of record for its knowledge base.
Apart from adopting new trends, Infor CloudSuite Industrial has made its name for security. With Infor CloudSuite Industrial, worry about security will be minimized. The system survives and keeps operating in any worst-case scenario with the help of full redundancy and world-class disaster recovery systems. Moreover, it has got the latest and most powerful defenses against intrusion, hacking, and unauthorized access.