ERP has been the backbone of manufacturing software for more than 25 years since it evolved from the predecessor - MRP (manufacturing resource planning). Such long history also means there is a certain resistance among manufacturers against dramatic changes in ERP technologies and deployment models. Still, many have come to realise that legacy ERP systems simply cannot keep pace with today's competitiveness and customer demands.
Cloud ERP for manufacturing – An inevitable trend
Cloud computing is no doubt one of the most significant advancements of ERP systems in recent years. According to Nucleus Research, there are compelling reasons for manufacturers to move their ERP to the cloud:
Financial
Compared to on-premises software applications, cloud-based ones deliver 1.7 times the ROI thanks to lower initial investments and greater benefit over time. Their average payback period is also much shorter, 5 months versus 1.1 years.
Security
As we mentioned in a previous blog post, cloud applications are actually more secure than on-premises systems. Nucleus Research also came to the same conclusion in a recent study. Cloud data centres, such as those belonging to AWS (Amazon Web Services), "scored significantly better in key operational security factors including access control, physical separation of duties, and infrastructure protection."
Flexibility
"The ability to upgrade, change, expand, relocate, or contract cloud applications" delivers greater agility to manufacturers, especially those using MTO (made-to-order) and ETO (engineer-to-order) production approaches, at a lower cost and less disruption.
Accessibility
Cloud applications allow managers to access data on the go, anytime, from their mobile devices. Well-informed decisions, therefore, can be made in a timelier fashion.
Infor CloudSuite for manufacturing
Infor CloudSuite leverage Infor's deep expertise in manufacturing ERP software and are delivered on AWS, the world's largest cloud computing infrastructure provider. These offerings include "capabilities for production management; customer relationship management; quality management; supply chain visibility; product development; planning, scheduling, and inventory controls; and reporting and analytics."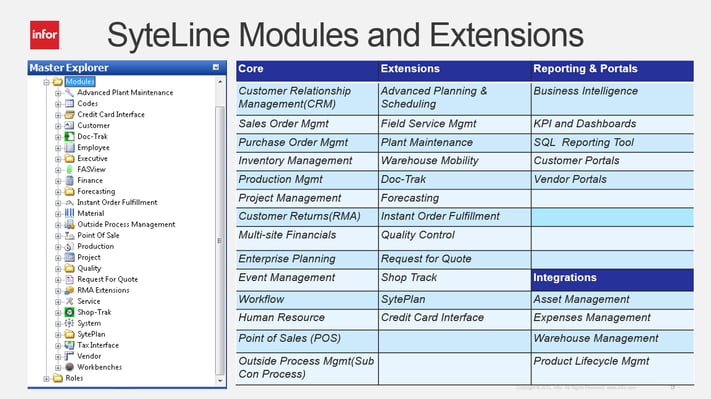 Infor CloudSuite Industrial (Syteline) is tailored for small and mid-sized businesses in discrete manufacturing across all industries. CloudSuite Industrial is repeatedly considered one of the market-leading ERP systems in Nucleus Research's Technology Value Matrix reports.
CloudSuite Industrial Machinery is more geared towards enterprise-size manufacturers who design, build, and service industrial machinery and equipment.
Infor also offers industry-specific CloudSuite solutions such as:
CloudSuite Aerospace and Defense for manufacturers, and service providers in the aerospace and defense industry.
CloudSuite Automotive for manufacturers, and OEMs (Original Equipment Manufacturers) in the automotive industry.
CloudSuite Fashion for apparel, footwear, accessories, and textile manufacturers.
All CloudSuite ERP solutions come with latest advancements in ERP technology like consumer-grade UX (user experience), in-memory analytics and mobility.
Infor CloudSuite's key strengths
The economies of cloud, prebuilt industry capabilities, and usability are three prominent benefits of adopting CloudSuite solutions.
The economies of cloud
In addition to the aforementioned financial advantages of cloud applications, there is another value proposition to manufacturers who adopt CloudSuite. They can adjust their processes, support acquisitions or expansions more rapidly because system changes can be achieved "at the configuration layer rather than in the application code". The accelerated time to value ensures manufacturers can maximize the returns from their investments.
Infographic: The Economics of Cloud ERP at a Glance
Industry capabilities
Out-of-the-box industry capabilities reduce costs, duration, and risks associated with implementing the ERP system. Additionally, manufacturers can take advantage of Infor's 25-plus years of manufacturing expertise.
Usability
All Infor CloudSuite solutions "benefit from Infor's extensive investments" in modern UX/UI, which is more intuitive and easy-to-use. In-context information is pushed to users based on their specific roles. This helps cut down on training time and boost user adoption. Additionally, Infor CloudSuite's usability also benefits outside parties like vendors and suppliers via sales portals, product configurators, and knowledge bases.
Conclusion
Infor CloudSuite ERP solutions are best suited for manufacturers who are seeking agility to accommodate future changes, prebuilt industry-specific best practices, and all the benefits of the latest advancements in cloud computing.
You can click here to read the full review of Infor CloudSuite by Nucleus Research.