In the past, large ERP providers tended to offer extensive "one-size-fits-all" products to very broad horizontal market segments. One solution was offered to different prospects in different industries. Only small providers focused on vertical markets, i.e., specific industries.
However, with the emergence of cloud ERP, almost all ERP providers are actively going after specific verticals. Specialised products are offered to different industries—automotive, aerospace and defence, life sciences, industrial machinery and equipment, distribution, apparel, chemical, financial services, retail and so on. Going vertical drastically reduces the customisation requirements and hence cuts down on costs and duration of ERP implementation.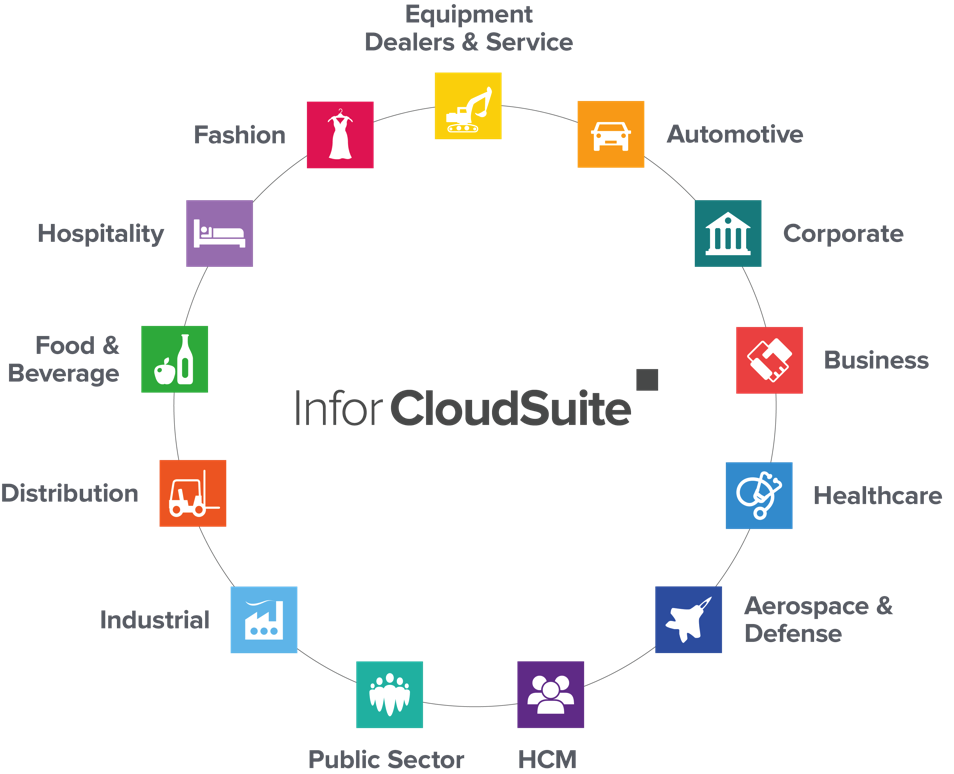 Infor CloudSuite—the key cloud ERP offering from Infor—is designed to facilitate vertical ERP strategy
Still, that does not mean customisation is no longer needed. In fact, nearly 90% of ERP projects require customisation to some extent. As modern ERP systems become more advanced and complex, it is increasingly unlikely that one particular system is able to meet every need of a company out of the box. So if a system is highly customisable, it would be a big plus.
Additionally, each vendor or product has certain areas where it is particularly strong. So such questions as what industry you are in, which business model you are using, size of scope of your business are all relevant.
The next evolution: Micro-vertical ERP
Several vendors, such as Infor, even go further by focusing on micro-verticals, i.e., more specific categories within one industry. For example, a beer manufacturer and a processed meat company can have different ERP offerings even though both are in the food and beverage industry.
Even within one industry, the requirements for ERP systems could be very different from one company to another. The Italian car manufacturer Fiat Chrysler Automobiles (FCA), for instance, has a centralised IT policy in which all subsidiaries operate SAP ERP.
However, when Ferrari, which was owned by FCA at the time, looked for a new ERP solution, they decided to use Infor LN instead. Ferrari's business model is far different from the group's other mainstream brands like Fiat, Jeep and Chrysler.
Each Ferrari sport car is unique and highly customised to its owner's detailed preferences. As a result, Ferrari needs a much more agile and flexible system than those deployed by other mass-market car manufacturers.
Going vertical, offering industry-oriented solutions, is one of the major recent trends in the ERP marketplace. Find out more about other trends by downloading our white paper below.