Nucleus Research, one of the market-leading technology research and analysis firms, periodically issues a special report – Technology Value Matrix – to evaluate and rate ERP vendors and products.
As the name suggests, the Value Matrix assesses ERP vendors' products in 2 capability dimensions. The vertical dimension is Usability, and the horizontal dimension is Functionality. Accordingly, ERP products are put in 4 quadrants: Core provider, Expert, Facilitator, and Leader. The following figure shows the latest Value Matrix updated for 2016. It presents not only the positions of ERP products but also their directions in the matrix relative to other competitors.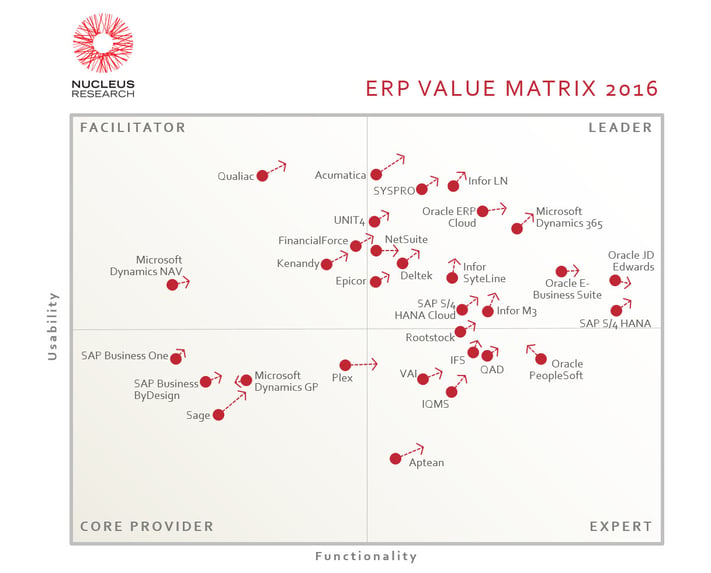 The market-leading ERP systems
The products in the 'Leader' quadrant, which are ranked high in both organic usability and functionality, include Acumatica, Infor LN, Infor SyteLine (CloudSuite Industrial), Infor M3, Oracle ERP Cloud, Deltek, Epicor, Microsoft Dynamics 365, NetSuite, Oracle E-Business Suite, Oracle JD Edwards, SAP S/4 HANA, SAP S/4 HANA Cloud, UNIT4, and SYSPRO.
Read more: How the world's largest ERP vendors fare against each other
Compared to the Value Matrix report last year (shown below), there have been some significant changes among the market-leading systems.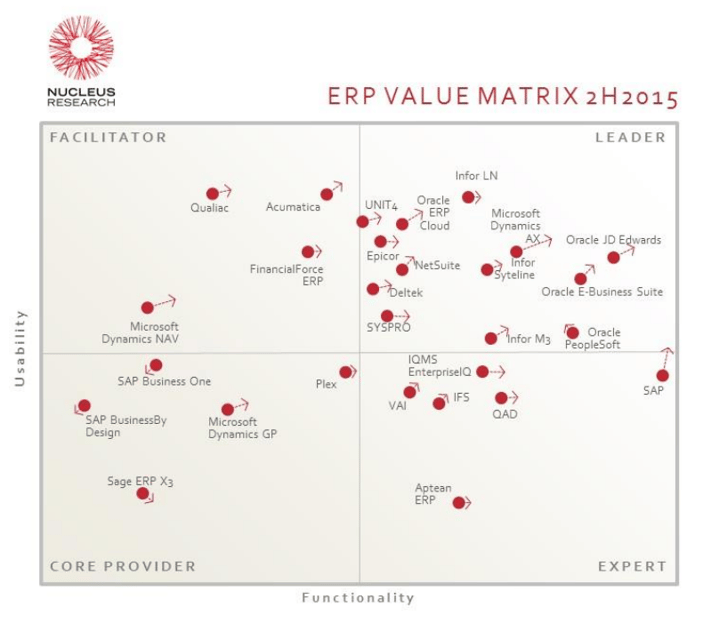 SAP ERP
SAP ERP has moved from the Expert quadrant to the Leader quadrant thanks to increased Usability. The application breadth and depth of SAP ERP is impressive. Understandably, it ranks very high with respect to Functionality. Still, its complexity keeps the Usability score very low compared to other market leading systems. SAP ERP Cloud also appears in the Leader quadrant for the first time this year.
Oracle
Last year, Oracle had 4 products in the Leader quadrant: Oracle ERP Cloud, Oracle E-Business Suite, Oracle JD Edwards, and Oracle PeopleSoft. But for this year, that number has gone down to 3 as Oracle PeopleSoft has moved out of the quadrant.
Microsoft Dynamics
Microsoft Dynamics AX is no longer appeared in this year Value Matrix and replaced by Dynamics 365. Dynamics 365 is the latest SaaS ERP offering from Microsoft and hosted in Azure, Microsoft's cloud infrastructure service. Dynamics 365 combines the cloud-based version of Dynamics AX, Dynamics CRM Online, Office 365 and several other services like Cortana and Power BI. There are two main editions: Business Edition for SMB and Enterprise Edition for large enterprises.
NetSuite and Acumatica
The dominance of cloud ERP is further confirmed when NetSuite and Acumatica are considered market-leading ERP software. They are cloud ERP vendors that offer exclusively cloud-based ERP solutions. It was announced in November that Oracle has acquired NetSuite in a US$9.3 billion deal.
Read more: Why ERP is moving to the cloud
NetSuite has steadily become a prominent ERP provider thanks to its robust SaaS offerings. It features strong capabilities in the sectors of manufacturing, distribution, services, software, and non-profits; and therefore has maintained its position in the Leader quadrant. NetSuite's continued focus on pure cloud solutions means its customers cannot choose other models of deployment.
As with the previous year's report, Infor has 3 systems positioned in the Leader quadrant this year: Infor LN, Infor SyteLine (CloudSuite Industrial), and Infor M3.
Infor LN is Infor's flagship ERP product that aims at customers between the mid-market and large enterprise segments. It is specially built for discrete manufacturing industries with complex processes and global operations, including aerospace and defence, high-tech & electronics products, automotive, industrial machinery and equipment, and distribution. Infor has recently invested heavily in UX (user experience) enhancements and cloud-based offerings.
Related video: CIO of Ferrari talks about Infor LN
Infor ERPs' strength is its purpose-built capabilities for specific verticals or even micro-verticals. Additionally, Infor continues to add new features such as the Infor Ming.le, a social collaboration platform, in-context analytics, and Product Lifecycle Management. That said, as Infor is focusing on the CloudSuite solutions, new functionalities for on-premises customers may have to be deployed through cloud offerings.
Infor CloudSuite Industrial is the new name for Infor SyteLine, which has been well-known for many years. It is reasonably priced and best suited for SMB (small and midsized businesses) in discrete manufacturing and distribution industries. SyteLine offers robust functionality for manufacturing operations, especially bill of materials (BOM), shop floor control and planning, inventory management, engineering, and configuration. Syteline fully supports a wide range of manufacturing models - engineer-to-order, make-to-order, assemble-to-order, and make-to-stock.
See more: Infor CloudSuite Industrial Overview
Infor SyteLine is easy to use, even for novice users, with customisable screens. Customers can move from on-premises to cloud-based product almost effortlessly.
Which ERP system best suits your needs? Request a demo today to find out.
Getting stuck with obsolete ERP software is very costly. Find out how next generation ERP software is defined.
Related video