Dynamic, diligent, and diverse – these values define TRG's Internship Program. Globalisation has been the catalyst of change for Vietnam's labour force as well as economy and culture, we always put effort to give our interns the best chance to experience those changes, thus, enhancing our workplace diversity and inclusion.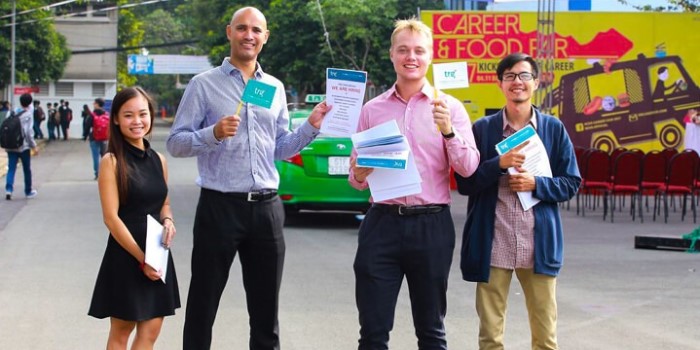 How do we build a diverse and inclusive workforce in TRG
At TRG, we care about your career interests
When you first apply to an Intern position, you are required to undertake a psychometric assessment, which consists of behavioural questions that allow us to know more about you. We deeply want to understand your identity, personality, and career interests in order to define your perfect place in our TRG teams. Do not worry about failing – this is just a warm-up questionnaire to get to know you better.
After having done the assessment, you will receive the result through an automatic e-mail. It is a list of your characteristics based on your answers. There may even be things that you do not even know about yourself! This assessment also helps us to determine how well you can fit in with our teams. Therefore, you should be honest and cautious with every question.
As we move on, there will be two interviews, one of which will be with the HR Department. And the other one, also the final round, will be a talk with our CEO – Mr. Rick Yvanovich. With these two interviews, we will delve deeper into your personality and capability before you become a part of our diverse culture.
Read more: How to apply for an internship abroad?
TRGers are everywhere
Do you know that during some "peak time", a team video call at TRG can have Interns from Europe, Asia, Australasia and Saudi Arabia at the same time? At TRG, it is common to collaborate with members living in another timezone, sometimes even in the other hemisphere. Our interns are everywhere, uniting under this umbrella of TRG to bring out the most diverse workplace. Every name tells a different story, and we are here to listen and engage.
Click here to watch the Journey of an International Intern at TRG International.
Here at TRG, our culture includes you. We believe that every intern can make an outstanding impact on not only our teams but also our business. Your voice deserves to be heard. That is why we have many activities where you can voice your opinion.
A bi-weekly meeting between all Interns and TRG's CEO – Mr. Rick Yvanovich will be hosted every two weeks, in which you can express your experience working at TRG as well as any challenge that you have observed. What's more, we have an open-door policy, which means that you can always contribute your ideas to improve our workplace and your journey with us at any time.
Read more: Diversity and inclusion in the world of remote work
Every week, we host a Vietnamese Culture Journey event where groups of Interns will share stories about Vietnam and their respective culture. Furthermore, each team in TRG has two video check-in calls every day to keep the team connected and updated on each other's status. Even a five-minute chit-chat will surely make your day.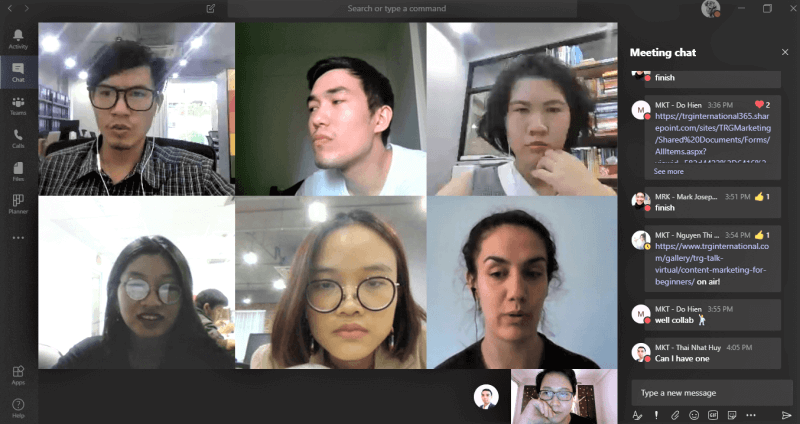 Also, do not be afraid of your teammates. They are always welcome and try their best to answer your questions. We also learn that a lot of cross-countries friendships have been established through working together at TRG!
Your workplace, your choice
2020 brings the biggest challenge ever to businesses: the COVID-19 pandemic. Consequently, the definition of 'diversity and inclusion' shifts; it can also be understood as diverse ways of working offered to employees. With this 'diversity', employees now can freely choose their preferred working platform, mostly remotely.
Read more: How Is TRG Adapting to the New Normal of Virtual Office Post COVID-19?
Here at TRG, we always give our employees the right to choose what is the most suitable workplace for them and make sure that we have adequate resources to support their decisions.
If you live in Ho Chi Minh City, you can always select your workplace and request our assistance when necessary. We have gone digital by utilising modern software such as Microsoft Teams, Zoom, and HubSpot… all of these applications help us to obtain insights and quickly get updates on the latest news of every TRGers, wherever you are.
We also organise online webinars three times a week and regular training workshops, which you can join at any time – or you can watch later on our Resources page. These activities ensure TRGers can stay agile to rapid changes during a crisis and also create an opportunity for you to sharpen your skills more.
Learn more with our TRG Talk: How to work from home efficiently and effectively?
Whether you are from the other side of the world, or in some city in Vietnam, we at TRG welcome you always. Fostering diversity and inclusion in our workplace means encouraging our employees to be themselves, and be different. We believe that everyone can contribute priceless values to TRG's culture. Remember, our workplace culture starts with you.
Ready to be a part of our team? Join our teams today!