Improving your leadership skills has many benefits, from better performance to reducing the pressure on the leader's shoulders. Most important, effective leadership can help you to engage and retain skilled employees.
Read more: Maintaining Successful Leadership with IQ
The longer you lead efficiently, the fewer management tasks you have to do. Your team members already know how to do their jobs with minimal to no instruction from you.
Here are five simple habits that you can apply to help you become a better leader.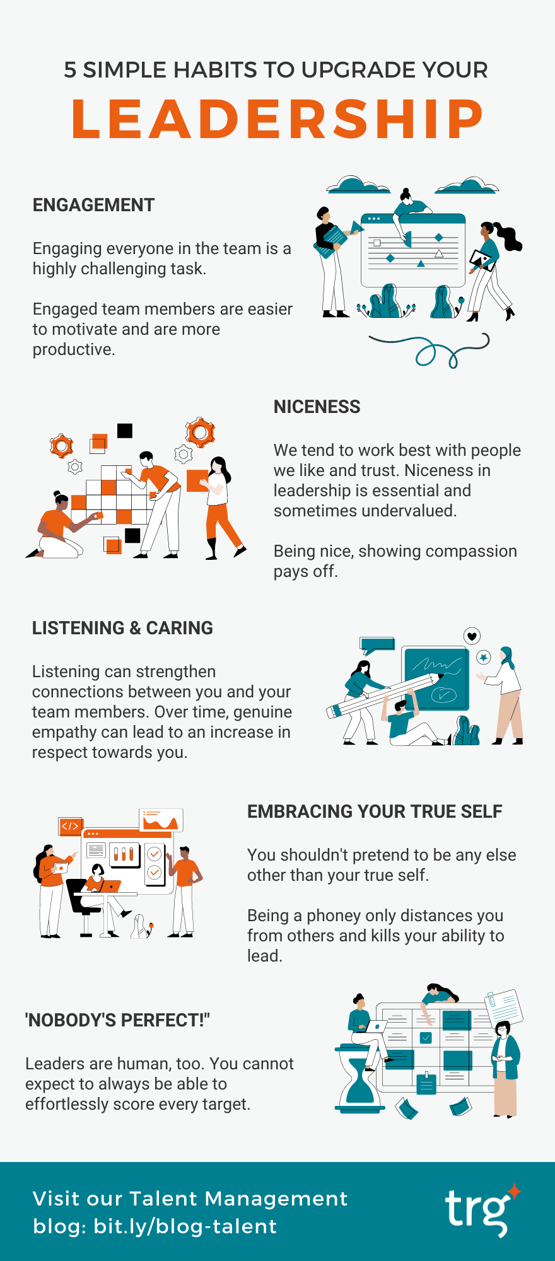 Engagement
Engaging everyone in the team is a highly challenging task. The higher the level of engagement shown in the leader, the more likely that team will achieve success. Engaged team members are easier to motivate and are more productive.
Read more: Fatigue, Exhaustion, Disengagement in A World of Working From Anywhere
Niceness
Different employees work well in different conditions, but overall, we tend to work best with people we like and trust. That is why niceness in leadership is essential and sometimes undervalued.
Being nice, showing compassion pays off, especially when combined with being transparent on goals and benchmarks.
Listening and caring
Show your respect and care for your staff by asking them about their personal or business-related problems. Listening can strengthen connections between you and your team members. Over time, genuine empathy can lead to an increase in respect towards you.
Embracing your true self
You shouldn't pretend to be any else other than your true self. Don't think people cannot tell if you are faking or not. Being a phoney only distances you from others and kills your ability to lead.
Read more: Emotional Intelligence for Leaders
"Nobody's perfect!"
Leaders are human, too. You cannot expect to always be able to effortlessly score every target. Saying sorry takes skill. Accepting your mistakes is one way to make people acknowledge you and bring you closer to the team.
Changes bring discomfort because it is a disruption in our daily routine. Nevertheless, changes can be good. Upgrading your leadership skills starts with changing your habits, which is a huge commitment and a long winding road.
If you are looking for inspirations to develop a new routine to get through the current ongoing pandemic, start with this book - 'Habits of Success: What top entrepreneurs routinely do in business and in life', a collection of impactful yet short, and easy to digest stories that let us explore a snippet of the daily lives of leading CEOs.
The book allows you to explore the different perspectives on the topic of habits. There is a story for you, me, for anyone who is looking for something new.
About the book "Habits of Success"
'Habits of Success: What Top Entrepreneurs Routinely Do in Business and in Life' is an anthology that draws wisdom from over forty exceptional leaders, CEOs, Coaches, and world-changers to present you with a multitude of perceptions on daily habits and a variety of methods, planning, embracing to adopt habits and thrive.
'Habits of Success: What Top Entrepreneurs Routinely Do in Business and in Life' is available via Amazon in Kindle format. An excerpt of the book is also available to download via our page. Get your copy today!