Hospitality is a fast-paced and constantly changing industry which receives heavy impacts from the consumer behaviours and technological advancements. More and more hotels compete against each other to win the travellers' hearts; they all face the same challenge: mining the overflowing mountain of data to offer their clients with what they most desires.
Read more: 5 Digital Transformation Trends in the Hotel Industry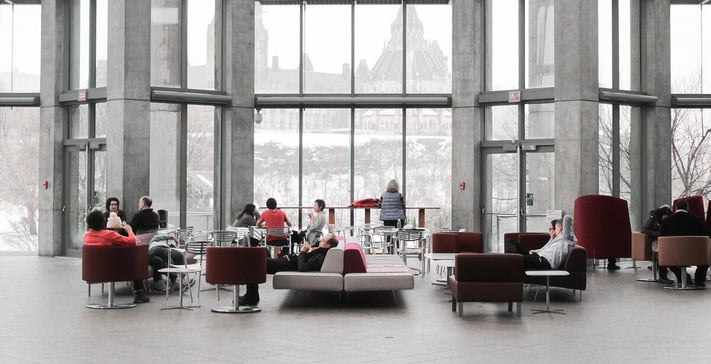 As data plays an important role in every business, Artificial Intelligence can elevate such problem as well as improve or further enhance the guest experience.
Enhance hotel guest experience with Artificial Intelligence
Artificial Intelligence (AI) is one of the buzzwords today due to these two well-known capabilities:
Machine learning

- a powerful computing system that produces data and learns from it.

Natural learning processing - translates, processes, and analyse our normal, day-to-day interactions.
AI can capture information about the guest/ traveller's purchases, their itineraries, location and accommodation preferences, payment methods, etc. Before the guests even think of booking a hotel, they already left trails of data which the hotel can acquire, analyse and suggest relevant services to the clients.
AI-based services that can benefit hotels and travellers
Today, from the planning of the trip to checking-in and out, to the moment the guests return to their homes, the entire hotel guest experience journey can be facilitated by AI to ensure a superb guest experience.
Read more: Infor Coleman AI - the Future of Artificial Intelligence
1. Virtual assistant
We're all familiar with virtual assistants, namely Siri, Google Assistant, or Alexa, that are built into our smart devices. And such voice-enabled technology is poised to change the future of the hospitality industry.
It can play the central role in connecting the hotel and guests in an effortless and intuitive way. The guests simply tell the smart device their requests, the device then can engage in a conversation to confirm orders or suggest an add-on service.
Once confirmed, the virtual assistant then relays the messages to the staff in charge. This will definitely reduce the time and effort in placing orders (for the guests), typing down the details (for the staff) which in turns can result in a smoother and faster customer service.
2. Travel experience enhancer
Chatbots have been utilised in many facets of business to ensure service never gets disrupted. In hospitality, chatbots/ Artificial Intelligence can replace the front-desk personnel to answer incoming queries through natural language processing and generation.
The intelligent chatbots offer undisrupted and fast responses 24/7 in a concise, efficient manner. AI utilises the existing pool of data to classify, analyse and address individual requests.
Besides concierge services, using chatbots in conjunction with call centre agents can further upsell other hotel businesses such as spa, gym, dinner and bar reservations, all tailored specifically to each guest's preferences.
What's more, turning the accumulated guest inquiries into meaningful insights to enrich future guest experiences with AI-powered hotel amenities and entertainments, customised travel guides, exclusive offers, return bookings, quick access to room/ lobby/ valet parking services, etc.
3. Promotion offers
Feeding chatbots with the current offers, trends and patterns as well as your knowledge about your customers can empower the marketing and sales functions, allow the hotel to automate some particular activities. As mentioned above, AI first learns about the way the hotel operates, then it comes up with its own solutions and persuasive responses to turn visitors into actual customers
This in addition with predictive analytics will enable the hoteliers to forecast future needs. In case of a sudden withdrawal due to bad weather or flight cancellations, the decision-makers are instantly notified. Utilising such news, they can initiate a flash sale campaign, and in turn, help the hotel to prevent any loss.
To keep up with today's constantly changing demands and expectations, the hospitality industry needs to evolve, starting by upgrading their operating systems. Modern technologies, namely Artificial Intelligence and advanced analytics discussed in today's article, can be excellent solutions to help aid hoteliers with the data issues.
Though still in its infant stage, there are prominent successes emerged supported by AI. Finding a trust-worthy service provider and be among the early adopters of this emerging technology can certainly earn you a competitive edge.
Interested in learning how analytics can help to maximise hotel's revenue management? Download our whitepaper below!