Ho Chi Minh City, September 28, 2017 - Mid-Autumn Festival is a celebration that marks the end of the autumn harvest, the opportunity for families to gather and enjoy quality time together, the time of the year when the moon shines the brightest.
Read more: TRG International and PJ's Coffee Vietnam joined Force to Run for Charity
The annual Mid-Autumn activity at TRG International and PJ's coffee
It is a part of TRG International's annual tradition to celebrate the Mid-Autumn Festival with all the members of TRG and PJ's Coffee. To make the event more memorable, two staff volunteered to be Hang Nga (the Moon Lady) and Tho Ngoc (The Jade Rabbit) to hand out gifts to every member.
Having mooncakes on Mid-Autumn Festival is one of the must-do activities at TRG International with the purpose of bringing joy and relaxation to everyone in the midst of hectic working hours.
"The celebration though simple but was very memorable. I got to know more about Vietnamese culture which was fascinating!" shared by Zaki, one of the Marketing's interns from Denmark.
Let's look at some of the happy snapshots from the event.
TRG's members were delighted receiving mooncakes from The Moon Lady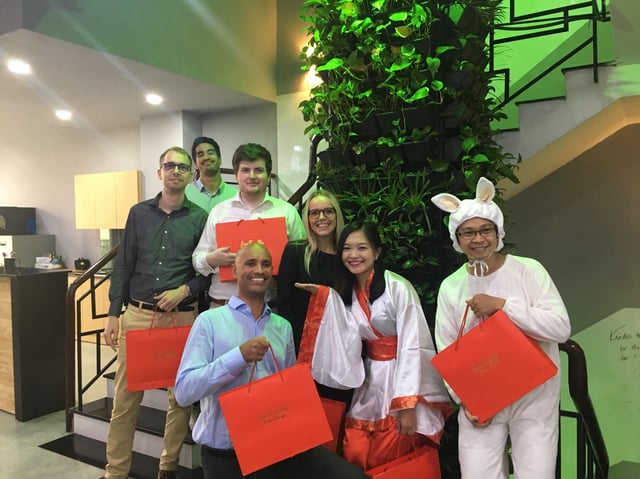 All the Danish trainees were excited to receive mooncakes and take picture with The Moon Lady and The Jade Rabbit.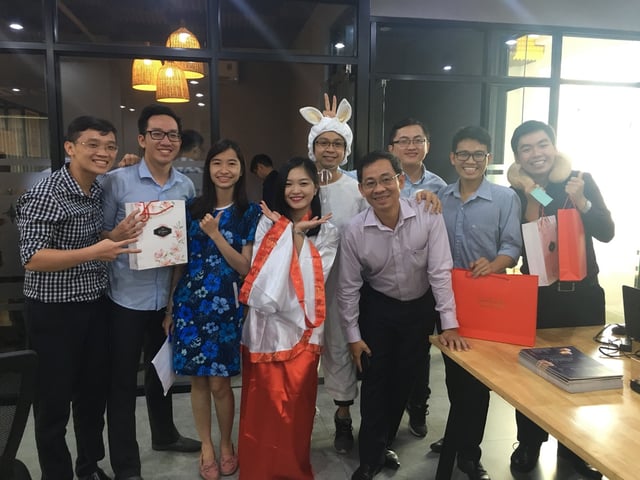 TRG's members enjoyed their mooncakes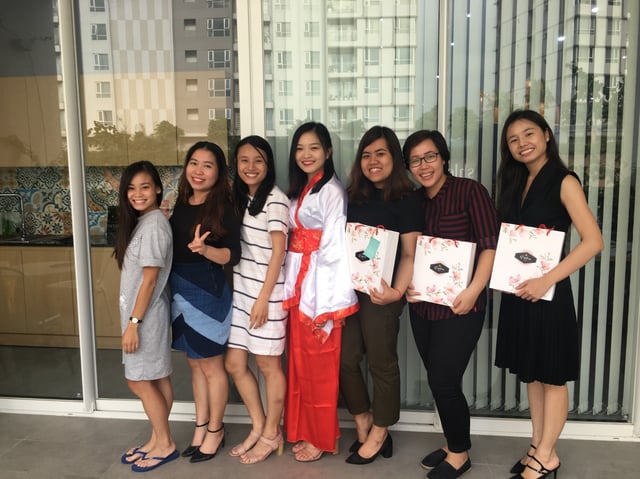 TRG's Marketing staff happily received their gifts.
About TRG
TRG
is an IT, Talent and F&B company. We help people and businesses to shine. We help people be the best they can possibly be by selecting the right people for the right job and developing them to their full potential. We help companies by providing an IT solution that works quietly and brilliantly in the background, freeing them up to focus on their core and not having to worry about their IT systems. We do this for more than 1,000 clients in 80 countries.
About PJ's Coffee
PJ's Coffee
is the first International Franchise Brand of TRG F&B in Vietnam. PJ's Coffee of New Orleans was founded in 1978 by Phyllis Jordan, a pioneer in the coffee industry that demonstrated that better beans, superior roasting techniques, and pure passion for the art of coffee-making mattered. PJ's Coffee serves a wide variety of hot, iced and frozen coffee beverages using only the top 1% of Arabica beans, as well as organic tea and fresh breakfast pastries. To-date, PJ's Coffee is available in 85 locations through the United States, serving thousands of customers every day. For more information about PJ's Coffee in Vietnam, visit
pjsvietnam.com
Subscribe to our blog to keep up-to-date with events from TRG International and PJ's Coffee Vietnam.