HCMC - September 24, 2017. The staff of TRG International and PJ's Coffee Vietnam had a fun day in the sun with the annual Fun Run for Charity event organised by the British Business Association in Vietnam (BBGV). The running route was 3km in length and was set up in Phu My Hung residential area in District 7. This is the 17th year the event was organised and turned out to be a huge success, attracted more than 10,000 attendants and raised nearly 900,000,000 VND for the local charities.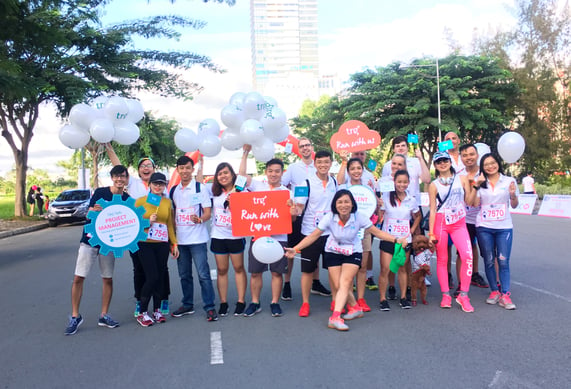 TRG International and PJ's Coffee Vietnam's staff at BBGV Fun Run for Charity 2017
Read more: TRG to help the needy in Hue
Run For a Good Cause
The BBGV Fun Run was an excellent occasion for all of TRG International and PJ's Coffee's staff to spend a meaningful Sunday morning with family, co-workers and friends, and to be able to raise enough money to help those in need. Furthermore, the annual event helped strengthen the bonds among staff, and provided a chance to relax. More than 100 flags, cheering signs and balloons were given away at the event to increase awareness of TRG and PJ's Coffee brands.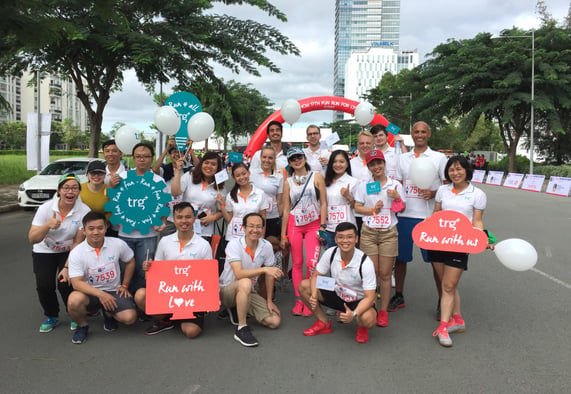 More than 100 flags, cheering signs and balloons were given away
Doan Tram, a member of TRG International, stated: "This is my first time joining the Fun Run for Charity. The feeling of being a part of a crowd of different nationalities and being able to give back to the local community was phenomenal. As one of the recent recruits, the event also provided me with a chance to bond with other members."
BBGV Fun Run for Charity is an annual event that attracts more than 75.000 participations and has raised over 8 billion VND. The total amount will be used to aid orphanages, hospitals and various other charitable projects around Vietnam.
Read more: TRG's Staffs Join The BBGV Fun Run To Raise Fund For Charity
About TRG
TRG
is an IT, Talent and F&B company. We help people and businesses to shine. We help people be the best they can possibly be by selecting the right people for the right job and developing them to their full potential. We help companies by providing an IT solution that works quietly and brilliantly in the background, freeing them up to focus on their core and not having to worry about their IT systems. We do this for more than 1,000 clients in 80 countries.
About PJ's Coffee
PJ's Coffee
is the first International Franchise Brand of TRG F&B in Vietnam. PJ's Coffee of New Orleans was founded in 1978 by Phyllis Jordan, a pioneer in the coffee industry that demonstrated that better beans, superior roasting techniques, and pure passion for the art of coffee-making mattered. PJ's Coffee serves a wide variety of hot, iced and frozen coffee beverages using only the top 1% of Arabica beans, as well as organic tea and fresh breakfast pastries. To-date, PJ's Coffee is available in 85 locations through the United States, serving thousands of customers every day. For more information about PJ's Coffee in Vietnam, visit
pjsvietnam.com
Subscribe to our blog to keep up-to-date with events from TRG International and PJ's Coffee Vietnam.