How to keep the knowledge and memory not working out the door at the end of every shift? How to struggle with shortages of highly skilled personnel while simultaneously attempting to grow without expanding head-count? These are some challenges that top manufacturing executives are dealing with.
Sharing the same concern, TRG understands that the issue needs professional solution. This strong urge has resulted in introduction to manufactures a complimentary webinar about "How Social ERP improves collaboration". This webinar's information is listed as follows:
Date: Friday, March 27th 2015
Duration: 3:00 - 3:45 PM
The 45-minute webinar will be conducted in Vietnamese by Nguyen Dong Ho, Director on ERP Implementation Projects at TRG International. With more than fifteen years of experience in implementing ERP systems in various industries, Nguyen Dong Ho will help you keep up with new advancements in ERP solutions and know how to apply Social ERP in 5 levels of manufacturing collaboration.
Attending this webinar, you can not only improve your knowledge about Social ERP but also optimise ERP solutions in your business. Hence, forward-thinking enterprisers like you can move into a new position of proactivity where you can launch product faster, reduce operation cost and have better customer service.
This webinar is free only for 100 first registrants. Register Now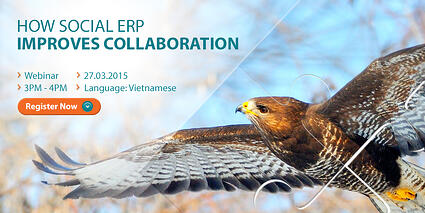 To find out more information about our webinar, please visit:
http://blog.trginternational.com/webinar-social-erp-2015
About TRG
About TRG International:
TRG International is a market leading global professional services firm focusing on delivering technical excellence. TRG adds value in a challenging and dynamic market by delivering the right IT solutions that work quietly and brilliantly in the background, freeing our customers up to focus on their core business. We do this by hiring people we believe in, and who believe in TRG, and empowering them with the skills and processes to outthink our competitors and deliver genuinely better solutions for our customers.
Our solutions include:
• Enterprise Resources Planning (ERP)
• Enterprise Performance Management
• People Performance Management
To find out more about us, please visit: www.trginternational.com
For more information, please contact:
Ms. Truong Thanh Que Minh
Marketing Department, TRG International Company
5th Floor, Central Plaza Building, Le Duan Boulevard, District 1, HCMC
Phone: (08) 3823 6981 (ext: 301) / 0902 989 123
Email: minh.truong@trginternational.com