360-degree feedback is a tool, a method to develop an individual's behaviour and performance. It utilises data received confidentially from those the employee work with to gain whether their performance fits in with the company's overall visions. Data is feedback formed from online forms answering questions that address a wide range of competencies in the workplace based on a rating scale and written comments.
Read more: 3 reasons why having management feedback is important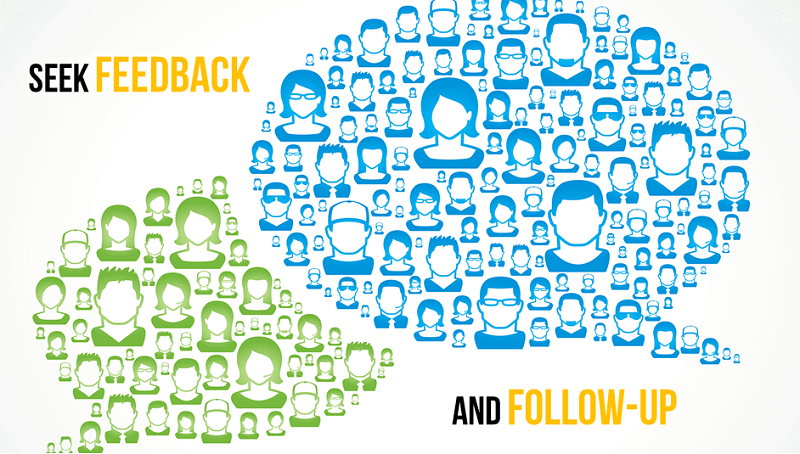 The role of 360-degree feedback in leadership development
Feedback allows employees to gain insight into how others perceive them and thereby gives them an opportunity to adjust their behaviours and develop skills to align with the current situation of the company.
360° feedback is a useful tool for companies that actively seek to make continual improvements for the good of the business as well as individual employees. This is a highly recommended product in terms of types of feedback surveys.
This is because the assessment is a method that organisations which focus on the long-term development of their leaders and managers, serving its purpose by collecting and analysing feedback from multiple sources around the potential employee on a variety of leadership behaviours.
How 360-degree feedback benefits leadership development plan
The purpose is to assist each employee to understand their strengths and weaknesses and to contribute insights into aspects of their work that need professional development.
By aligning your talent potentials with your organisational goals and strategies, you will ensure the growth of your talent pool and develop a clearer image of your future leaders which as a result will benefit your company. The 360° feedback, when managed well, provides an excellent platform on which to build a development plan for leaders.
Read more: How to future-proof your organisation from the inside out
360° feedback survey works to provide talent management solutions in both Leadership and Training & Development. Recommended primarily for when your organisation is prioritising the development of your leaders' managerial competencies, skills and behaviours, looking to identify talent and potential leaders in your current workforce or/and planning on implementing leadership development programs.
A well-rounded support system, the 360° feedback product may well be the ideal way to get an idea of the bigger picture of how team members are interacting and the leader best suited for that team. The results are employees being motivated to reach their full potential and a better understanding of your company workforce's leadership potential.
Feedback provides a guide but it is necessary that 360° feedback runs in alignment with a substantial leadership development plan.
Read more: Critical factors for an effective leadership development plan
Embracing 360-degree feedback
Many organisations have utilised 360-degree feedback in their leadership development process. The data gathered from multi-source feedback can be extremely valuable for both the organisations and the employees as explained by the benefits of 360° feedback.
Read more: Selecting the right raters for your 360-degree feedback process
Feedback/ Review should help to build knowledge and increase skills, offering a clear plan for both managers and employees to work together to reach key developmental goals.
The alternative being feedback received from one-on-one feedback sessions, which provides nothing but depth into the bias or incompetency of the sessions. How can we tell exactly if someone's communication skills are lacking, if only one perspective is being taken? A vital skill in leadership development, which is difficult to measure, needs to be assessed properly.
360° feedback identifies weaknesses of individual behaviours and performances outlining the significant impacts they may have on the business. We don't easily recognise our weaknesses ourselves, even with the input from others, there's the possibility of negativity bias (exaggerating our weaknesses) or positivity bias (understating them).
360° feedback measures the progress of an employee skill progression from those they will be working closely with, those who have a better idea of how they perform and the impact they're having on the success of the task. This pitted with the anonymity to give constructive criticism allows each employee to gauge how they are viewed by others which will provide them with insights into their performance, especially in areas that aren't easily measured in leadership development.
It is important to illustrate that the feedback is primarily for the benefit of the employee receiving the feedback, only the person who receives the feedback can choose whether or not to develop performance to reach a high level of potential to become a leader.
The most important aspect of this practice is the improvements each employee (with support) makes by following the feedback. If used properly, 360° feedback assessments are great tools to increase development and behavioural change in your company.
To learn more about the 360-degree feedback tool and how it can help boost the growth of your team, visit TRG Talent page or request a free demo today!