360-degree feedback program is a tool, a program, a method to evaluate one's behaviour and performance. The process draws in feedback from your supervisors, direct reports, peers, subordinates, and even the customers. The process provides a complete overview of how an individual is behaving professionally, hence the "360-degree" name.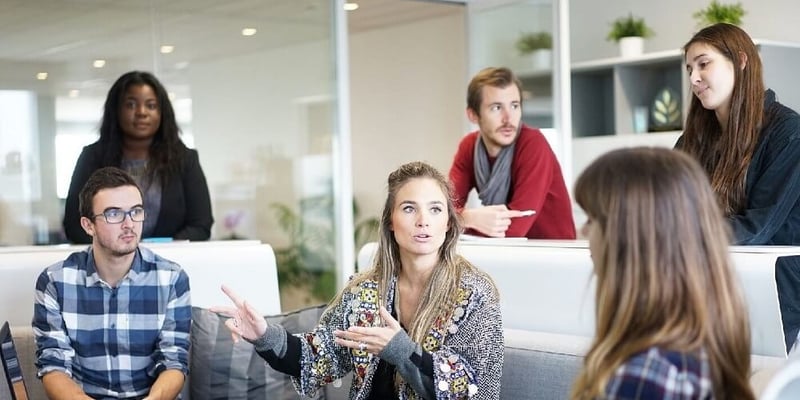 The 360-degree process is an extremely useful tool to strengthen your talent management strategy and to properly develop employees utilising insights drawn from the feedback process, such as the employee's current skills, behaviours, values, and whether their performance fits with the organisation's overall visions, cultures, and goals.
Read more: Performance review - Which method is right for your enterprise?
What is 360-degree feedback program and how does it work?
The format varies from company to company and depends on the position of the person being rated. In general, the process of 360-degree feedback requires you to fill out a review form yourself, and another set of review questions is given to your colleagues, supervisors, etc.
Once done, all data are compiled and analysed to learn about the differences in perspectives. The process can be done either in quantitative method (rating scales, scorings…) or in qualitative method (detailed comments).
Feedback given in the 360-degree method is kept anonymous, encourages participants to be unbiased and to share true and useful information.
Read more: Duplicating your top employees
Benefits of utilising 360-degree feedback program
The 360-degree tool is a practical way to grasp the attention of not only your employees but also everyone in the organisation. It is beneficial to the individuals as well as to a team and to the organisation as a whole.
Improve the quality of your review
The method combines information from a variety of sources, particularly from anyone who you have frequent interaction with. It disregards many discrimination related issues such as gender, educational background, age, etc., and creates a safe haven for constructive feedback and valuable insights which you can mine from.
Improve team development
Team members know more about how each other is performing than their supervisor does. Therefore, feedback obtained from these personnel plays a critical role in team communication and development.
Identify learning and development needs
The multi-rater process offers an overview of all aspects of your performance including areas that you can improve on. Many consider this method to be more reflective and validating than feedback from a supervisor alone.
The program is a great way to identify needs for further training or coaching which is beneficial for both personal and organisational development.
Read more: Build, retain and develop your sales force
Improve customer service
When your customers, or suppliers, are involved in the reviewing process, the results can be useful to further enhance your quality, reliability, and comprehensiveness of the products or services offered.
Read more: KPIs - The key to identify your top performers
Reasons why your 360-degree feedback program fails
It is possible that the 360-degree feedback program implemented at your organisation does not yield the positive results that you are looking for. If you approach it haphazardly just because you see the competitor is using it, someone you know is using it, the program will bring disaster and take a long while to recover.
Following are the potential problems that may arise during your 360-degree feedback process:
You do not receive any response from the

Manager(s)

or they disregard the importance of giving feedback.

The effectiveness of the results is lessened if missing the comments you're your direct supervisors. He or she needs to understand that these feedbacks are helpful to you and the team as well.

The questions used in the reviewing process is too vague. Which aspect(s) of the employee's performance you want to concentrate on (leadership, motivation, problem-solving, etc.)? Do the results give you actionable information?
No follow-up plan post review, or if there is a follow-up plan, it only happens once. Behavioural changes take time and effort, therefore, you need to revisit the plan periodically to remind yourself. Remember, the 360-degree feedback is only useful if it is acted upon.
When the weaknesses outweigh the strengths. More often than not, we tend to focus on what we lack and forget what we are good at. For a 360-degree feedback to be effective, it needs to align with your organisation's strategic aims. Hence, you need to make sure that everyone involved understands the importance of giving objective and honest feedback.
Read more: Development - This is not an event... it's a journey!
360-degree feedback program is a positive addition to your performance review system if implemented with care and have clear instructions. To further simplify your reviewing process, there are various 360-degree solutions already available on the market today with colour coded and easy to read charts and graphs that help you save both time and effort. Most importantly, the feedbacks are guaranteed to be kept confidential.
To learn more about the 360-degree feedback tool and how it can help boost the growth of your team, visit TRG Talent page or request a free demo today!