Since launching their first store in 2004, William Penn – The World Pen Store has become India's premier purveyor of fine writing instruments and executive lifestyle accessories. Through their elegant products and professional advisors, William Penn has expanded to fifteen locations across six cities. Their commitment to elite style continues to pique the interests of clientele.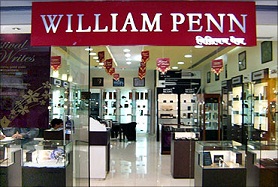 Rapid growth over short term brought new challenges to the company. Operations had to be consolidated for continued successful expansion. William Penn's main growth requirement was a comprehensive and user-friendly inventory management and Point of Sale system to maintain effectual operations and control.
Locus of Solutions
With the assistance of Retail Pro Business Partner William Penn implemented Retail Pro management systems. The Retail Pro suite at William Penn centralized inventory management, procurement management, vendor performance analysis, distribution and inventory optimization, pricing and margin management, point of sale, reporting, and data management. Integrated Retail optimized the Retail Pro technology solutions to meet William Penn's unique requirements in a niche market. With local 24/7 remote and on-site technical support for Retail Pro, William Penn fully leverages the retail expertise and technical know-how of the Retail Pro services delivered by the business partner.
Looking Forward
Centralizing and streamlining operations has allowed for effective and controlled expansion. Since implementing Retail Pro in 2005, William Penn has more than tripled the number of store locations. The Retail Pro solutions brought by Integrated Retail have improved operational efficiency and increased productivity to William Penn's retail stores and backend operations. Reporting through Retail Pro has given William Penn reliable control and access to information vital to strategic decisions and growth. With Retail Pro's flexible and extensible software solutions, William Penn looks forward to writing the next chapter of its success.