The previous article has emphasised the impacts of AP on vendor relationships, and a well-managed AP can enable companies to take advantage of vendor payments. Findings from an Aberdeen Group survey demonstrate that several other factors encourage companies to focus on their accounts payable, such as a lack of visibility into invoices and AP documents, the high cost of the invoice process, and cash management.
Common accounts payable problems
Difficult to manage information in AP area: AP activities obviously involve lots of documents and information. As a business grows, so does the number of documents and the problems that come with it. For one, the cost to store these documents increases with every single paper invoice. All these documents are challenging to access, manage, and track, often causing duplicate information, duplicate payments and lower financial transparency.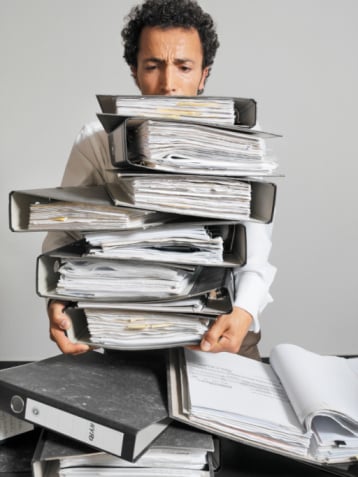 Inefficient invoice process: An accounts payable process in which invoice information is delivered to different people, in different departments, or even in different business locations across the organisation for approval leads to higher costs in communication, slower payment process and information flow, and increased probability of missing or distorting information. Needless to say, inability to deliver the right information to the right person on time negatively impacts decision making. A potential solution to this problem is to adopt e-invoicing.
Read more: The Benefits of E-Invoicing
Collating invoices from different suppliers: Because suppliers may use different formats, different channels (email v. fax, for example), and different currencies to issue invoices, collecting their invoices may be a challenge. This issue usually comes up for retail chains with multiple business locations. Matching invoices and purchase orders, assigning invoices to different cost centres and matching payment information with the accounting system are other tasks where problems usually arise.
Errors caused by manual entry: These may consume much time and resources to verify and correct, when there are more important tasks to do.
Exception handling: The dynamic and complex environment of AP poses the challenge of how to handle exceptions—whether they are non-standard invoices or documents with discrepancies.
Inaccurate and lengthy close: Simply because of an inability to make payment validation on some invoices, companies are sometimes unable to meet closing deadlines.
Lack of control and visibility: The above problems represent a lack of control and visibility into AP. Issues concerning compliance costs also force companies to focus on and increase their financial transparency in order to avoid fraud and ensure disclosure and audit requirements can be met.
Find out: How to successfully adopt Accounts Payable automation
The changing role of the accounts payable function
Effective accounts payable management requires the capability to manage corresponding documents and information. Because of this, minimising the risk of losing documents, improving document search flexibility, and reducing the human resources needed for managing invoices and AP information are of interest to many organisations.
AP is no longer considered an isolated part of the organisation, but instead, its integrated role with the financial and accounting areas is undeniable. AP functions are gaining more responsibilities, which include reporting and analysis rather than just recording and reviewing transactions.
Read more: Benefits of accounts payable automation in financial management
In order to meet the changing expectations for AP, companies are starting to adopt technology to enhance accounts payable management and add more value to their organizations. The advantages of AP automation will be analysed in our next blog, making it clear why automated AP is a trend on the rise.
Interested in Accounts Payable management? Download our whitepaper now!
Having trouble managing your Accounts payable? Request an Infor SunSystems 6.3 demo now to see how it can help!