Ho Chi Minh City, Vietnam – Employees at TRG International had a fun Sunday participated in the nineteenth "Fun Run for Charity" event hosted by the British Business Group Vietnam (BBGV) on September 29, 2019.
BBGV Fun Run for Charity is an annual event created with the purpose of helping the unfortunate people throughout Vietnam. Since its inception, BBGV Fun Run has raised more than 10 billion VND and has gained notable recognition and participation from various local and international organisations as well as individuals in Vietnam.
The 19th BBGV Fun Run for Charity successfully attracted thousands of participants of all ages. We saw children with their sunshine smiles running, roller skating, and walking with their friends, teachers, and families. Some groups also brought their furry friends along.
The blazing hot sun did not stop everyone's enthusiasm. All participants were enjoying spending their Sunday for good causes.
It has been a part of TRG International's tradition to join the marathon every year. This is also the third year TRG International and PJ's Coffee Vietnam sponsored the Fun Run. PJ's baristas gave away more than 1,200 cups of coffee, tea, and fresh lemonade this year. To make the run more exciting, two of our beloved TRGers and our CEO, Mr. Rick Yvanovich, dressed in PJ's signature purple costumes (which happened to be a hot cup of cappuccino completed with a top hat and a pair of purple slippers) to run along with other TRGers and fellow runners.
Read more: TRGers at BBGV Fun Run 2018 | TRGers at BBGV Fun Run 2017
The event took place at the usual location, the five kilometres around Phu My Hung residential area. The run started at 8 AM sharp, and our CEO, Rick, was already standing at the front line. He was also the first (and the fastest) coffee runner to finish the whole 5km course.
Though TRGers did not win the fastest positions, we sure had a fantastic Sunday morning "slow-walking" for good causes.
Below are some highlights from this year's BBGV Fun Run for Charity.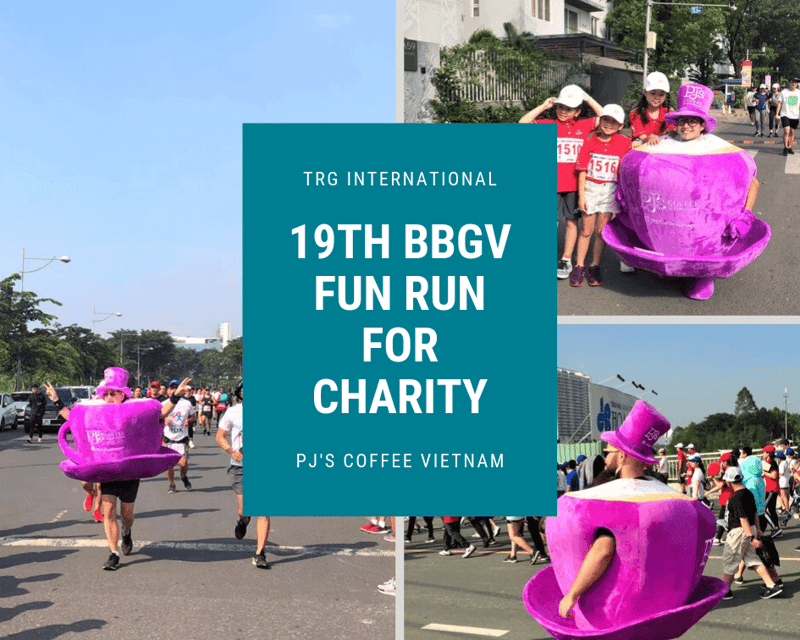 Were you able to spot any of PJ's coffee mascots?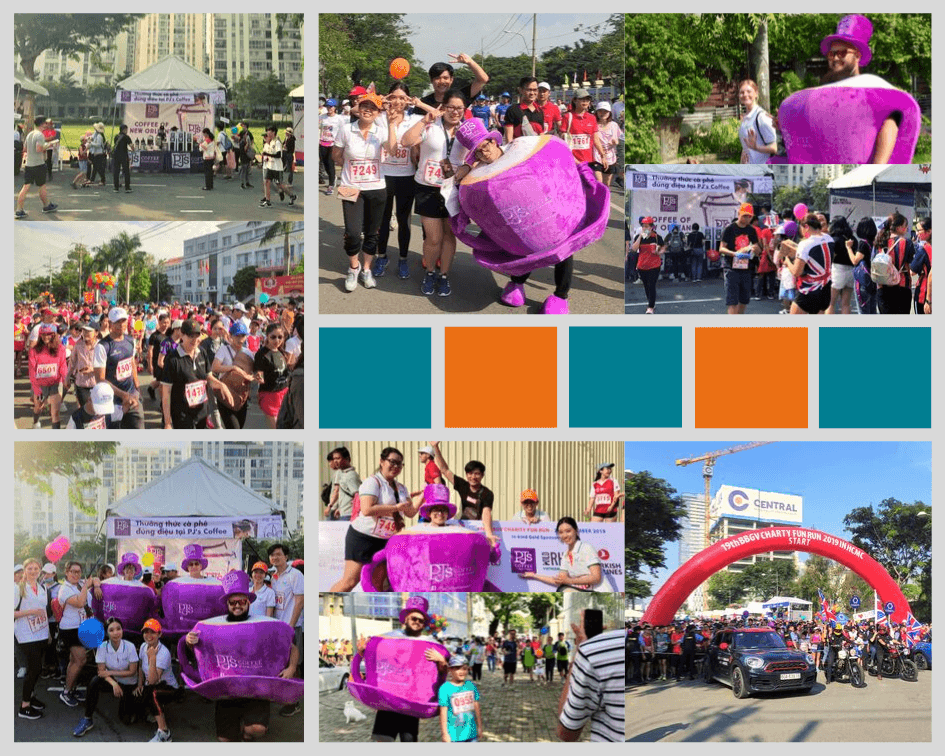 For more photos of the event, please visit PJ's Coffee Vietnam's official Facebook page @Pjscoffvietnam or BBGV's page @bbgvietnam.
Stay updated with TRG News and upcoming events by clicking the subscribe button below.