The current job market is candidate-driven. This means the top quality talents now have in their hands the power to pick a particular employer based on their likings. As a result, acquiring skilled talents is becoming even more competitive, expensive and time-consuming. Fortunately, there are innovative recruitment trends in 2019 that can make the life of recruiters much easier.
Read more: How to balance your hiring needs and prioritise recruiting efforts
Recruitment trends organisations should implement in 2019
Recruitment nowadays is becoming more and more automated thanks to the advancements in technologies. These modern solutions have helped HR professionals to simplify, streamline, and automate the talent acquisition process.
Six recruiting trends have been orbiting the HR world for quite a while. It is time for organisations to put them into practice.
Traditional interviews are deemed insufficient; unstructured interviews are proven to be biased and full of flaws. Many recruiters just don't know what the best questions to ask the candidates are.
Read more: Unstructured interviews reflect the unfairness in hiring
Psychometric assessments allow the recruiters and managers to gain deeper insights about a particular candidate, specifically their personality traits, competencies, style of working, and their source of motivation.
These factors might not come across clearly during a face-to-face interview, which could be a disadvantage towards the candidates that lack confidence.
Psychometric assessments can be used alongside with interviews to thoroughly and accurately assess the candidates' overall skills and their 'fit' to the positions.
People data is overwhelming and utterly confusing to extract insights. However, this should not be the reason why recruiters shy away from the immense power that analytics can bring to the HR team.
Analytics can help HR to further enhance their core functions namely, talent acquisition, recruiting optimisation, and development of the employee as a part of the companies infrastructure..
Every critical decision should be made using credible data. Insights from the analysis can help the managers take the appropriate actions, predict future growth, make quality hiring decisions, and eliminate bias.
"People analytics tools will become a "must-have" for HR teams and recruiters."

Josh Bersin, Global Industry Analyst
3. Artificial Intelligence
Just like other business functions, Artificial Intelligence (AI) will revolutionise human resources.
AI is expected to automate various HR processes, such as candidate screening, interview scheduling, or engaging with talents to answer any queries they might have.
Automation with the help from AI would enable the HR functions to have more time with their business partners and the current employees.
Machine and human touch are not meant to be mutually exclusive. There are aspects that AI can never replace a real human - for example, nurturing the relationships with potential talents or convincing candidates to take the job offers.
Strategically incorporating AI into daily HR processes can help the HR department to deliver unrivalled results.
Inbound recruiting is an approach used to help companies to stand out and connect with top talents, essentially creating an outstanding candidate experience and an expanded talent pool.
Unlike outbound recruitment where organisations have to search for the candidates actively, the inbound methodology organically draws in the job applicants.
Inbound recruiting follows the same methodology applied in Inbound Marketing in which branded content is fully utilised to amplify the company's reputation.
Since the war for top quality talents is becoming increasingly difficult, inbound recruiting is the best way to attract, engage, retain, and finally, convert the passive job seekers to active ones.
Every job applicant should be appreciated for their time and effort through a personalised message from the employer. The concept of managing the relationship with the candidates, if done right, can help recruiters to curate a sizable pool of highly interested talents when the new positions become available.
There are three levels of candidate relationship that companies should look into building and maintaining: the relationship with the current candidates, with past candidates, and with potential future candidates.
Having a well-established candidate relationship management (CRM) strategy should be among the top priorities of every recruiter. Through CRM, recruiters will be able to encourage engagement and improve the candidate experience.
Millennials and Gen Z are well aware of every function on the popular social media sites and they sure know how to make full use of them. More than just connecting with friends and family, 25% of these modern job seekers use these platforms to pinpoint their next career opportunities.
Consequently, more and more companies are publicly displaying their actions on the net as a tactic to build an employer brand. 9 out of 10 organisations already utilise social media to source, attract and engage with new prospects1.
Furthermore, social media can be used in conjunction with traditional talent acquisition methods. In some cases, it can be said that social recruiting is quickly earning its popularity and is becoming the norm.
The role of employer branding is becoming critical more than ever as it can directly impact companies' hiring efforts. With just one negative comment about your particular company can drive away the potential candidates.
According to a study conducted by CareerBuilder, 55% of job seekers abandon applications after reading negative reviews online, and only 45% of employers ever monitor or address those reviews.
All of these 6 recruitment trends can be summarised in the infographic below.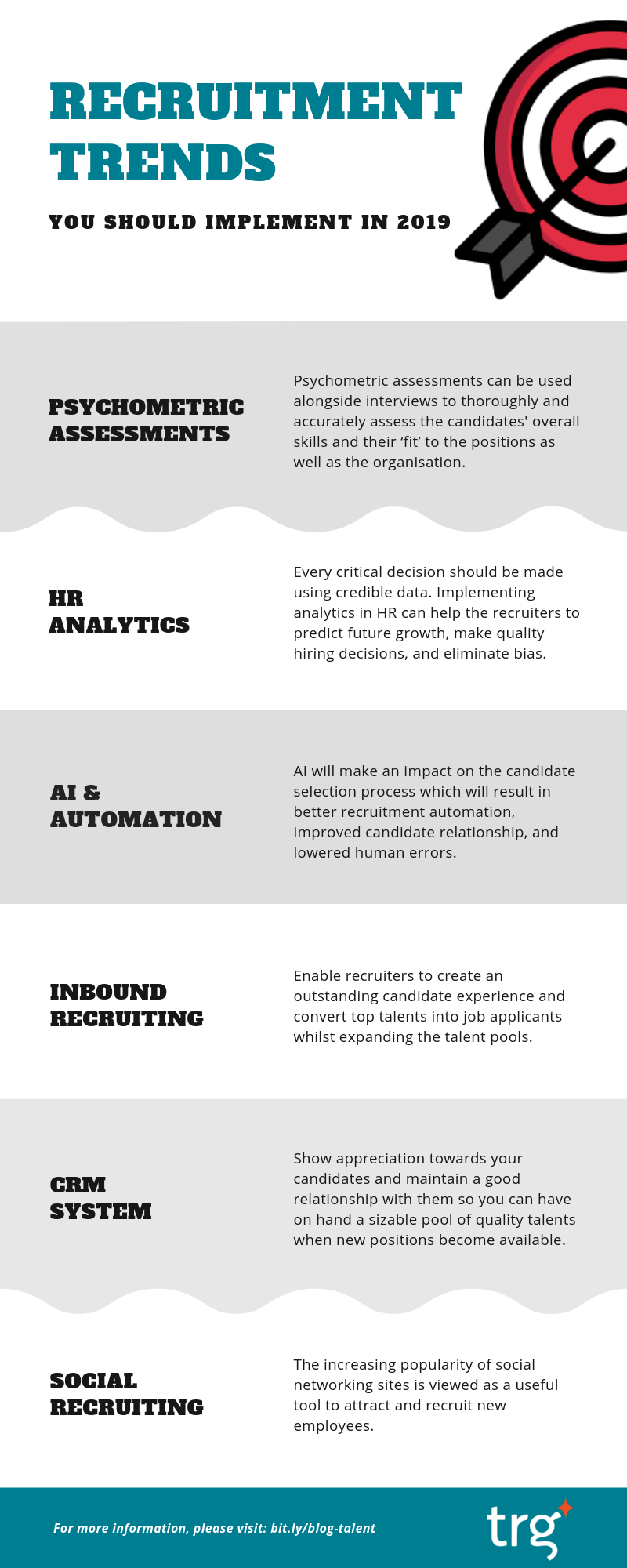 Looking for a better recruitment process?
An effective recruitment approach will act as a foundation for your company to build teams of high performers. Many companies still prefer the traditional way of recruiting which, in some cases, is no longer viable in today's VUCA environment.
As a result, the organisations need an approach which can help them choose the right people faster and does not break the bank. This is where Agile recruitment comes in.
What is agile recruitment?
Agile recruitment was established based on the Agile Methodology which is commonly used in software development. "Agile" in the world of software development is the collaboration, the lean and continuous result delivery.
The concept is adapted to the recruitment context and is favoured by many HR professionals nowadays. Instead of diving into the sea of tasks and solving everything blindly as one giant project, the entire recruiting project is split into smaller, "bite-size" tasks, and each is given a designated time period for completion.
The goal is to create as many opportunities as possible for feedback, learning, iteration, and correction. As a result, the agile method of recruiting brings flexibility, efficiency as well as visibility to both the recruiting team and the hiring managers.

Agile recruiting vs. Traditional recruitment process
Traditionally, the first step of the recruitment process is to identify the currently vacant positions, set up budgets for hiring new recruits, onboarding, and training.
The next step is job analysis. Once done, a job description is drafted and then shared on various platforms to attract job seekers, such as newspapers, social media platforms, career sites or online job boards. After that, the recruiters collect CVs, screen shortlists and proceed to contact the qualified candidates for interviews.
Subsequent tasks including background checks, draft offer letters, notify unsuccessful candidates, and conduct orientation and onboarding. The traditional method puts a great emphasis on obtaining as many portfolios, CVs as possible via mass recruiting
Read more: 3 Key Recruiting Challenges Facing Vietnamese Businesses Today
On the other hand, agile recruiting focuses on finding the most suitable candidates prior to recruiting, identifying a series of performance objectives instead of listing out skills and experiences.
With agile recruiting, various "checkpoints" are established to ensure that the hiring team is in the right direction. By dividing up the hiring projects and set clear goals, the team can get instant feedback from the hiring manager whether the job description, the candidate's profile or the recruiting method is up to par with the managers' requirements.
Agile recruiting is particularly valuable when you have multiple complex and vacant positions that need to be filled but the requirements are not yet well understood. This method also keeps the hiring team focused.
Compared to traditional hiring, agile recruitment strongly focuses on the preparatory process instead of concentrating on the specific goal. An agile approach might support a business to hire more suitable people in a shorter time and with less administrative overhead.
Read more: Successful Recruitment: Tips and some latest trends
Confidently make hiring decisions with Job Fit Solution. What can it do for your company? Request a demo TODAY to find out!
References:
1. getbambu.com/blog/social-recruiting-guide