The Business Intelligence and Data Analytics market has undergone dramatic changes in recent years. The most recognisable one is the shift to self-service solutions, i.e. those capable of empowering ordinary business users to understand data and turn it into insights with little technical skills required.
This trend is reflected in the recently published 2017 Gartner Magic Quadrant for Business Intelligence and Analytics (Photo below). Offerings from the well-established BI vendors like SAP, Oracle, and IBM are no longer considered market-leading solutions. Conversely, vendors who bet on disruptive approaches are reaping the rewards.
Read more: How Grab is Adopting Tableau and Turning everyone into an Analyst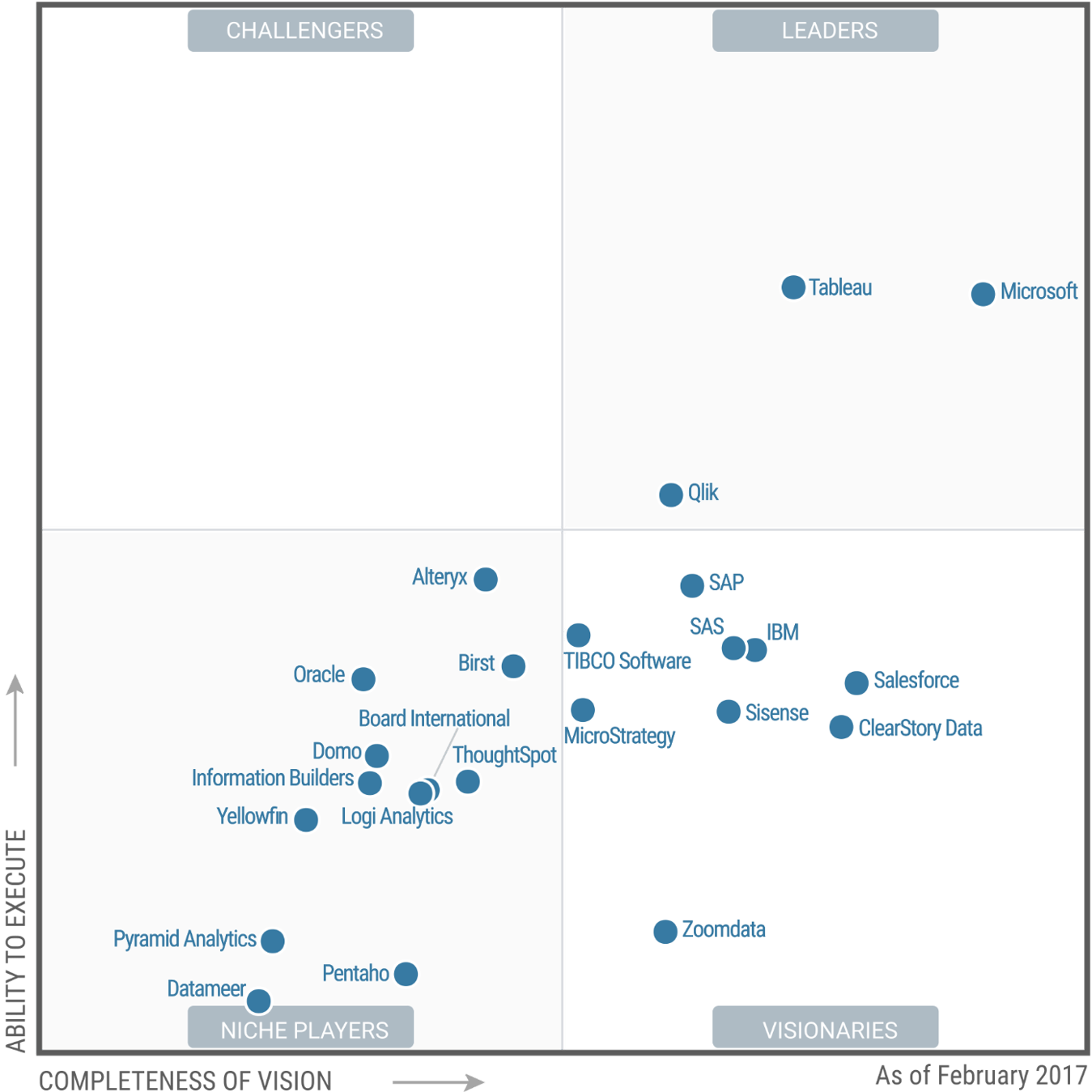 The 2017 Gartner Magic Quadrant for Business Intelligence and Analytics
There are only 3 vendors positioned in the "Leaders" quadrants in this year report: Tableau, Microsoft and Qlik, with Tableau and Microsoft enjoy a big lead over Qlik and other vendors. Compared to last year report, Tableau and Microsoft have greatly widened their lead. (Photo below)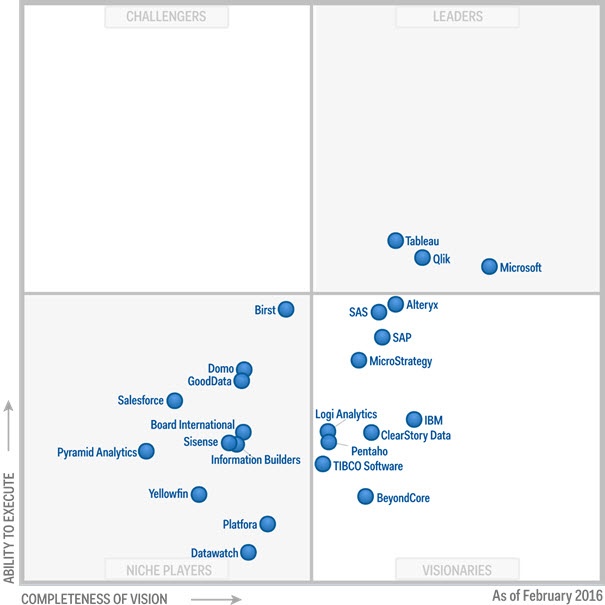 The 2016 Gartner Magic Quadrant for Business Intelligence and Analytics
Microsoft
Microsoft delivers its cloud-based Power BI suite via the Azure cloud platform. Individual users can still use the on-premises version on their desktops. The Redmond-based software maker was also positioned in the 'Leader' quadrant in the last year report.
Strengths
A key strength of Microsoft' BI offerings is low TCO (total cost of ownership). It offers desktop version free of charge and cloud-based Power BI suite with low monthly subscription fees. Nonetheless, exceeding the 10GB per user limit incurs additional costs.
Power BI's customers also praise its ease of use and ability to support complex analysis. Microsoft' BI software is capable of data mashup – combining multiple data sources – and analysis of semi-structured data.
Business users of Microsoft's BI offerings also benefit from the recent integration with Microsoft Flow (workflow managing software) and Microsoft Dynamics (ERP suite).
Weaknesses
Compared to other offerings, Microsoft's Power BI is rather new. Consequently, its support capability is still below expectation, especially with regard to first response time and time to resolve.
Microsoft's inability to handle a large amount of data is another major concern. It is now unable to create pivot tables, which require users to use Excel to work around the problem. Customers also depend on the Azure cloud for sharing and collaborating.
Read more: How a Financial Shared Services Centre benefits from analytics software
Tableau
Tableau's offerings include Tableau Desktop for individual users, Tableau Server for organisations, and Tableau Online (BI solution in the cloud). This is the fifth consecutive year Tableau makes it into the "Leaders" quadrant.
Their intuitive data visualisation and visual analysis enable business users to make sense of data and make more informed decisions without the need for coding skills.
Related video: Tableau Overview
Strengths
Tableau has essentially set the standards for data visualisation and visual analysis, which define modern BI solutions. Its offerings continue to excel with regard to user experience and ease of use. Tableau scores very high in Gartner's survey for achievement of business benefits.
User enablement is further enhanced by a myriad of learning options - online lessons, webinars, and classroom-based training. Compared to Microsoft, Tableau also provides greater flexibility in deployment. Its solutions can be deployed on-premises or in the cloud (on AWS or Azure).
Weaknesses
Other vendors are catching up with Tableau's visual-based data analysis capability, which is no longer its unique differentiator. Moreover, competitors are going after Tableau with a growing number of low-cost alternatives.
Read more: How Data Analytics is changing hotel revenue management
About the Gartner Magic Quadrant
The Gartner Magic Quadrant report is essentially a matrix whose vertical and horizontal dimensions represent Ability to Execute and Completeness of Vision respectively.
Ability to Executive focuses on vendors' today capabilities such as customer base, financial viability, product development, market responsiveness and sales channels.
Completeness of Vision measures how well vendors are preparing for tomorrow. It focuses on the vendors' innovation and development trends.
As such, vendors are positioned in the four quadrants: Niche Players, Visionaries, Challengers, and Leaders.
Read more: Data Analytics for Manufacturing: the Tesla's Case Study
Niche Players
Vendors in this quadrant focus on a particular niche segments with limited implementation and support capabilities, and rather small customer bases.
Visionaries
Visionaries pursue new technologies but not yet have strong financial viability and customer bases. And hence their customers may have to take more risks.
Challengers
These often are already established vendors in mature markets but lack an innovative vision and therefore are not well-positioned to take advantage of emerging technologies.
Leaders
Vendors in the 'Leaders' quadrant not only offer robust and mature solutions but also invest in disruptive technologies to maintain their market-leading positions.
Read more: The 15 best ERP solutions 2016
Subscribe to our Blog to stay informed or request a free and tailored Business Intelligence and Analytics Demo for your business today.
Related video