How Western Industries are Expanding into China's Booming Retail Sector with the help of Retail Pro.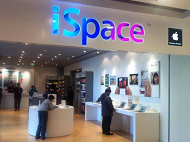 The tremendous and consistent growth of China's "dragon economy" has made it an attractive market for international retail growth. According to The Economist, China's 9.2% GDP expansion last year was fueled principally by consumer spending. China's rising middle-class is a colossal new market for business across the globe. In 2010, three of China's top-ten retailers were Western companies, earning over $5b each. Apple's risky foray into the Chinese smartphone market paid off, bringing a staggering $7.9 billion in revenue last quarter.
But the promise of increased sales in China has been tempered by challenging realities. Transportation, distribution, licensing issues for new stores, and domestic competition against foreign entrants are significant obstacles for international businesses expanding in China.
Western industries and Chinese businesses are pairing up in creative distribution channels to overcome logistical problems and navigate the ambiguous legal environment. For example Apple, Inc. is leveraging their partnership with five firms (Apple Premium Retailers) to drive new growth in the Chinese market.
A Retail Pro customer, iSpace was recently announced as the newest member in the extremely selective group of APRs. Valued for their modernity, international expertise, professional support, and highly personalized customer service, iSpace has driven the growth of several global businesses in China's specialty retail sector. iSpace is currently the only American distribution partner with Apple, Inc. in China and delivers the highest level of non-direct distribution. iSpace provides a full inventory of products, 3rd party accessories, warranty and repair support, and training in their specialized lifestyle mall locations. With their focus on key trade demographics and highly-personalized customer service, iSpace will grow Apple's share in the Chinese consumer tech market.
iSpace's new status as an APR comes with significant control issues. Managing sales, inventory, distribution, costumer data, and accurate reporting are critical to maintaining profitability and promoting Apple's highly-regarded brand identity.
To meet those control issues, iSpace adopted Retail Pro International's management solutions for their store operations. Retail Pro's highly flexible and scalable software ensures that iSpace can immediately meet their business needs in China's rapidly evolving specialty retail sector. And with the Xdisplay app, iSpace is capable of using the latest iMacs and iPads as touch points for operating Retail Pro software. From basic store operations to challenging logistical operations, iSpace is utilizing Retail Pro retail management software to thrive in China's booming retail sector.
At Retail Pro International, we maintain our commitment to customer success across the globe. Networks of servicing Business Partners deliver prompt, local, and professional service and support in 86 countries. The robust architecture, extensible features, and unparalleled scalability of Retail Pro POS software allow clients to solve their unique business challenges today's global market.