The recession has driven many retailers to reevaluate how they are doing business. Rather than casting a broad net with the hopes of landing a plethora of new customers into their stores, a significant portion of merchants are scaling back and instead focusing their efforts on the customer base they already have. Loyalty programs are one of the most effective strategies for achieving that goal.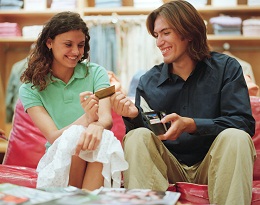 A loyalty initiative encourages shoppers who are already familiar with a brand to continue shopping with them instead of jumping to a competitor. By attributing a value, whether points or gift-based, above and beyond the goods purchased within a retailer's store(s) consumers are encouraged to become a brand loyalist and given a reason to keep shopping with that merchant.
Retail Pro International understands the significance of customer loyalty programs, which is why the Customer Loyalty Module is a pivotal part of the recent release of our software. Retail Pro 9 enables users to set up their very own loyalty programs and reward their best shoppers with in-store discounts, gift items, or other rewards of the retailer's choosing.
Retail Pro's loyalty module is built upon our proven "Central" communication methods which allow the retailer to ensure loyalty points are awarded and redeemed in a real-time capacity. This is beneficial for both the merchant and the customer. In the case of the retailer, this information is updated instantaneously, assuring them their customers aren't double dipping on rewards due to server-side lag or other nefarious issues.
Conversely because points are managed in real-time, customers are able to check their point balances whenever they want and receive an accurate numbers from any of the retailer's store locations. For example, if a customer makes a purchase at one store, the transaction will be relayed to Retail Pro's Central Server. Later that day, if they are at a separate location, they can redeem loyalty points earned earlier because communications take place in real time - there are no delays that would prevent this from happening, which can be an issue with other brand's loyalty programs.
The Retail Pro 9 Loyalty Program module is a flexible solution as well, giving merchants three different ways to carry out their rewards initiatives: Total Based, Item Based and Gifts. Each can be configured to earn and redeem points or achieve specific milestones to receive gifts.
Total-based programs use the total amount of receipts to calculate point values - a customer earns loyalty points and then redeems it to reduce the account. For example, when accruing points, spending $100 could earn 100 points. When the customer wants to redeem these points, the point value could be changed to 10 points equaling $1.

Item-based systems work in a similar fashion, except different items are set to have various point values. Not every item has to be a part of the program, which is useful for promoting certain goods. Additionally, different shoppers can have bonus multipliers associated to their member (Gold, Silver or Bronze levels, for instance), which can further enhance the bonus points earned.

The gift-based method rewards a consumer with actual merchandise rather than discounts. Instead of points, this program would issue gifts for clearing certain levels. For example, they could earn a free flashlight for signing up and then win additional items for hitting other levels.
A successful loyalty program will maximize retention of the most profitable customers, increase a retailer's profit-to-consumer ratio, revitalize relationships with existing patrons, help create meaningful connections with new ones, give margins room for growth, improve customer behaviors by rewarding them from shopping and dissuading unprofitable habits, leveraging data collected through programs to improve stock selection and generate word-of-mouth buzz from program participants. Simply put, a loyalty program is an arrow you need in your quiver!
To learn more about what is possible with Retail Pro Loyalty contact your business partner today.