Retail Pro is pleased to announce another monumental V9 upgrade. Concrete, the leading Egyptian fashion retailer has successfully rolled out the Retail Pro V9 hybrid system across 71 stores. They join a long list of satisfied Retail Pro customers who are enjoying the enormous benefits that a V9 upgrade can offer. Concrete have been a Retail Pro customer for the last ten years and their decision to stay with the Retail Pro retail management system and upgrade is, without doubt, testament to their trust in both the Retail Pro products and the unfaltering service provided by Retail Pro's Dubai business partner, Philip Toledo ltd.
Say "NO" to Downtime
Retail Pro prides itself on ensuring that customers across the globe consistently receive the highest level of support from the impressive worldwide Business Partner network. Philip Toledo Ltd, with the assistance of the Egyptian servicing business partner, Crystal Mind ensured the implementation ran smoothly from start to finish, and all of Concrete's 71 stores were successfully moved to the new product with no disruption. Concrete's employees gained access to the newest retail technology with zero downtime. Concrete's IT manager, Ehab Helmy Abo-Zeid says that the upgrade had been a great success. "The great thing about the upgrade, is that it has been accomplished in a short time, smoothly and without interruption (Zero time down) whether in the stores or H.Q."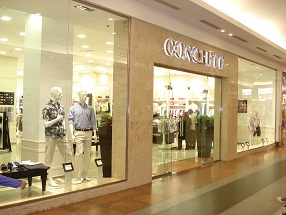 A Concrete Solution
The Concrete brand is a solid name in the industry, and they have found Retail Pro to help reinforce this reputation. Since 2001, Concrete has rapidly expanded from a small family company to a flourishing retail empire and Retail Pro has been the solution that has helped to successfully manage this growth. Ehab Helmy Abo-Zeid, Concrete's IT manager, highlighted the fundamental role Retail Pro has played in Concrete's success. With a large and increasing number of retail chain and franchise stores, the POS system has centralised operations helping to streamline inventory management, the merchandising process and production forecasting.
Global Expansion with Retail Pro
With the successful upgrade now complete, Concrete are now looking forward to the next project - an addition of Business Intelligence tool to guide it's business decisions. Decisions that affect not only the daily operations but also the future direction and like so many of Retail Pro's customers, Concrete's future direction is global. Having firmly established itself in the Egyptian market, there are now aspirations to raise Concrete's profile in the global arena and Retail Pro has been selected as the solution to help realise this aim. With the robust and agile Retail Pro software in place, with its worldwide availability already running in over 52,000 retail stores across 84 countries in 18 languages, Concrete is ready to cement its global expansion plans.
***