In a previous article, we discussed the urgent need for a leadership development program in a Marketing Agency context. In the article, we mentioned that nearly 70% of agencies struggle to fill their vacant positions. However, instead of promoting internally, these agencies seek to hire people from the outside.
Looking for external candidates to fill empty positions does bring many perks, but at the same time, your company is at risk of losing your existing quality talents as they do not see any opportunity within the company.
Read more: How to future-proof your organisation from the inside

The urgent need for Leadership Development Programs - Focus on the "development" aspect of leadership
Leadership development is essential as well as unavoidable to the long-term success of any organisation. In order to build effective teams, optimise your employees' competencies and prepare the next generation of leaders, you have to invest in leadership development.
The typical classroom training tends to be "one size fits all" or one dimensional. Moreover, training is usually driven by past experience and not by the future needs of the organisation. According to Mike Matt, leadership advisor to Fortune 500 CEOs and their Boards of Directors, "training focuses on best practices while development focuses on next practices."
Read more: 4 most training and development methods for finance professionals
Development encourages forward thinking, a two-way conversation. Unlike training where the main focus is on how to do things the right way, development emphasises how things ought to be done in the future.
Leaders today face much more complex issues due to the speed of technological advancements, increasing social responsibilities in addition to unpredictable economic changes. These challenges require organisations to acquire, breed and develop a new generation of leaders that are capable of managing hurdles set by the VUCA world.
According to Deloitte's 2019 Global Human Capital Trends, modern leaders need to "lead through ambiguity and complexity, be tech-savvy, manage changing customer and talent demographics, and handle national and cultural differences."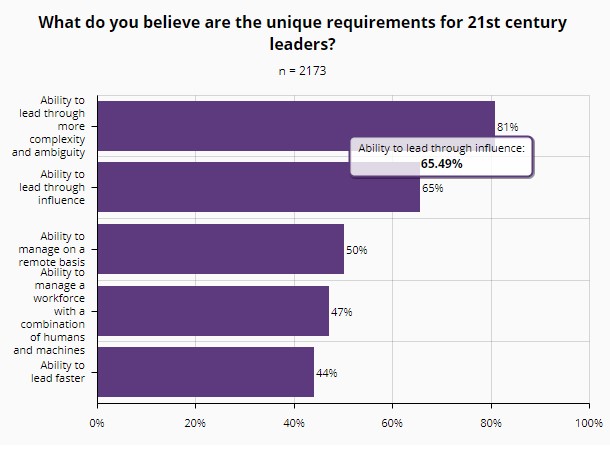 Deloitte's 2019 Global Human Capital Trends: Leadership for the 21st century
Benefits of Leadership Development Programs (LDP)
Another study done by Skillsoft reveals that today's leadership development programs (LDP) mainly target individuals that already reside in managerial positions. The percentage of developing non-managers at these organisations is merely six per cent.
The imbalance could cause missed opportunities to identify high potential future leaders accurately.
Read more: What should your employee's development plan contain?
Skillsoft's study highlighted the critical role that technology plays in developing leadership capabilities. 8 out of 10 of the surveyed high performing learning organisations are now leveraging technology in future-proofing the organisations.
This approach empowers companies to engage a wider audience in leadership capability programs, thereby optimising the process of selecting candidates for leadership roles. These companies also saw a higher performance after evaluating their KPIs (chart below).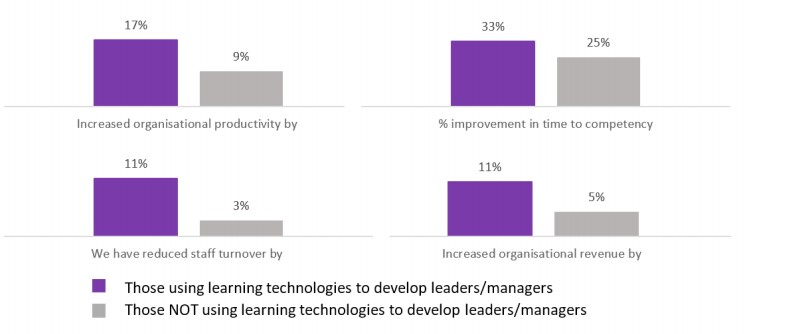 Benefits of having an LDP in place according to a 2018 study by Skillsoft
1. Increased organisational productivity
Having a proper LDP in place ensures organisations equip their future leaders with the necessary expertise to succeed.
The program also maximises the employees' potential, maintains their enthusiasm and holds everyone accountable. Thus, productivity is enhanced as a result.
Read more: Blurring your employee's skill gaps and unlock their potential
With accountability measures in place, it can essentially influence the overall company culture, not just the performance. Moreover, a positive culture has a positive direct impact on attracting new talents and engaging your current employees.
2. Improved in time to competency
The dynamic market today calls for fresh new leadership competencies. Being able to identify what the new competencies are in addition to establishing the right culture and identifying and developing the right talent play critical roles in the company's leadership strategy.
Companies develop leaders in case of critical moments. An effective LDP requires leaders to think ahead and equip their members with the necessary tools to adapt quickly to the changing environment. Being adaptive, in turn, makes companies more agile - certainly an advantage in today's fast-paced environment.
Read more: Leadership development – What can we learn from Toys-R-Us failure?
3. Reduced staff turnover
The LDP creates a healthy competitive environment that boosts employees' enthusiasm, thus forms a strong bond among individuals.
Read more: In a world of volatility, invest in employee engagement
Organisations that nurture leaders that can see the complete picture and inspire and motivate others can see a significant decrease in staff turnover rate.
When the employees see the impact of their roles in the company's future, they become more loyal to their jobs and the company. This effect not only lowers the turnover rate but also reduces the costs of recruiting new leaders.
4. Increased organisational revenue
We can all agree that, from all the benefits above, it is undeniable that a well-developed leadership program consequently leads to an increase in organisational revenue. As your employees are happy with their jobs, their overall productivity subsequently improves, and so does customer satisfaction.
LDP can generate concrete improvements in the company's future. The easiest sign to spot is the accomplished goals and targets through improved productivity.