You have probably experienced many cases where you've encountered the CV of the perfect candidate, who possesses an outstanding experience and checks all of your boxes. However, throughout the probation period, the candidate turns out to be unfit for your team and your organisation.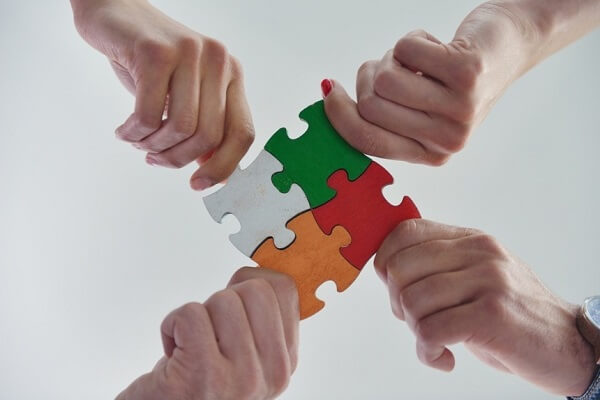 In order for an organisation to thrive, it needs high-performing teams and inspiring leaders. This requires careful selection of the right people, at the right time, and put them in the right place.
Infographic: Traditional vs. Collaborative leadership in today's business world
Defining "team"
The most common form of a team in the workplace is your departmental team where you most likely to spend the majority of your time on a daily basis. Having said that, there can be multiple types of teams to serve different purposes in any given organisation, such as cross-functional teams and self-managing teams.
Read more: Build, retain and develop your sales force
It can be challenging to form a team as people tend to bring their beliefs, values, experiences, etc., basically everything that makes them who they are today, into the team. Too many differences among team members can cause serious conflicts.
In order to successfully build a team, you need to be aware of the essential components that ensure your team can work in harmony.
Appoint a leader: A common mistake a hand full of organisations make is not appointing a leader during the formation of a team. A team is a micro-society, it needs to be governed with proper leadership, someone to guide the rest of the team and handle conflicts.
Break down the roles and responsibilities: What each team member will do in your team, how their contribution is critical to the team success. Furthermore, getting to know what motivates each individual can help you to maximise their full potential.
Identify goals and objectives: All organisations have long-term goals and understanding what your team is trying to achieve, how each team contributes their effort to work towards the set goals is paramount.
Establish ground rules: When you bring a bunch of people together, even when you select the calmest and most collected people, there will be a time when things go awry. Therefore, you need to establish some basic rules, such as how you all would reach consensus during a meeting, the process of handling tools and equipment, how to keep an agenda to manage the time better, the hierarchy in which decisions are made, etc.
Read more: Should organisations invest in a leadership development plan in 2018?
Selecting members for your team
Determining a person is a "right" choice for your team and your organisation or not is beyond tricky. Selecting a member for your team is like playing a game of chess in which one wrong move can cost you dearly. You need to have a clear vision of what you're looking for.
Just as important as skill sets and experience are the following intangible factors that will affect the person's qualities when placed in a team context:
Job fit: It is the concept of how well the ability, behaviour and experience of an individual fit into a specific role. As mentioned above, in order to build a successful team, you need to hire the right people, at the right time, and in the right place.
The right people at the right place meaning your team members possess the skills, knowledge, and behaviour that you're looking for in order to fulfil a position. The right time implies that the person has come to you at the right turning point of his or her career.
Team fit: The selected individual needs to be compatible with your other team members in a sense that their quirkiness, train of thoughts, behavioural style can positively impact the team overall productivity and efficiency.
Furthermore, these specific individuals need to be open to feedback, possess constructive communication ability, and the willingness to further develop through your coaching and mentoring sessions.
Motivating and inspiring your team in order to improve the overall productivity is great and all but beyond performance reviews, providing quality feedback, another equally important factor that every manager and leader needs to pay close attention to is the team culture within the organisation.
According to the Corporate Leadership Council, "engaged and satisfied employees feel a profound connection to their company, and are driven to help their employers succeed." We have discussed in various blog posts about the importance of employee engagement and its benefits. Thus, creating a positive workplace with an appropriate culture that your employees and their teams are proud to be a part of has a phenomenon impact.
Read more: 4 steps to building a great company culture from ground zero
As a manager, it is part of your responsibility to create such culture for your team. But you don't have to do everything alone. With TRG's Team Balance Solution, you have in your hand the necessary tool that aids you in the process of forming new teams, reduce team conflict, improve your team communication, and many more. To find out how this solution can help you and your team, request a free demo today!