How do you define a quality Pre-hire assessment? Today, the role of pre-hire assessments has progressively increased. They help identify the right fit for the vacancies at your company as well as predict the candidate's performance in the future.
That being said, selecting a suitable and valid assessment is not quite an easy task as the applications for a pre-hire assessment have expanded broader than it used to be. Therefore, it is important for HR managers to understand crucial features of a pre-hire assessment program that adds values to your organisation's talent management strategy.
Read more: Agile Recruitment: Is it Better than the Traditional Approach?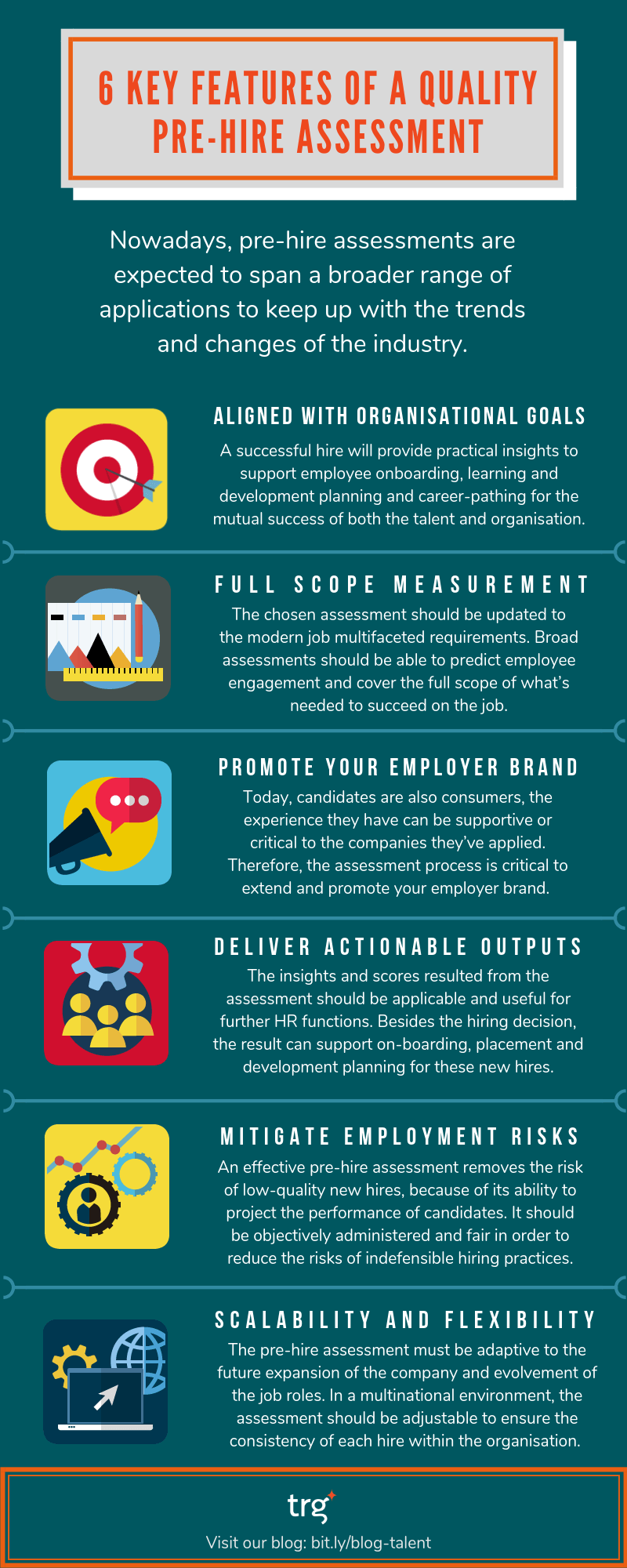 6 Key Features of a Quality Pre-Hire Assessment
1. ALIGNED WITH ORGANISATIONAL GOALS
A successful hire will provide practical insights to support employee onboarding, learning and development planning and career-pathing for the mutual success of both the talent and organisation.
2. FULL SCOPE MEASUREMENT
The chosen assessment should be updated to the modern job multifaceted requirements. Broad assessments should be able to predict employee engagement and cover the full scope of what's needed to succeed on the job.
Read more: Confidently Make Hiring Decisions with Job Fit Solution
3. PROMOTE YOUR EMPLOYER BRAND
Today, candidates are also consumers, the experience they have can be supportive or critical to the companies they've applied. Therefore, the assessment process is critical to extend and promote your employer brand.
4. DELIVER ACTIONABLE OUTPUTS
The insights and scores resulted from the assessment should be applicable and useful for further HR functions. Besides the hiring decision, the result can support on-boarding, placement and development planning for these new hires.
Read more: Recruitment Automation: The 21st Century Way of Acquiring Talent
5. MITIGATE EMPLOYMENT RISKS
An effective pre-hire assessment removes the risk of low-quality new hires, because of its ability to project the performance of candidates. It should be objectively administered and fair in order to reduce the risks of indefensible hiring practices.
6. SCALABILITY AND FLEXIBILITY
The pre-hire assessment must be adaptive to the future expansion of the company and evolvement of the job roles. In a multinational environment, the assessment should be adjustable to ensure the consistency of each hire within the organisation.