Panorama has listed SAP, Oracle, Microsoft Dynamics, and Infor to be their "Tier 1" ERP vendors. Back in 2017, TRG International published a simple infographic to dive deep into various aspects that make these brands to be the best of all.
Infographic: A comparison of Tier 1 ERP Vendors
SAP, Oracle, Microsoft Dynamics, and Infor each has a unique competitive advantage and each provides a robust ERP system that can certainly transform your organisation. The race towards the top will never cease.
What organisations can expect in this year ERP vendors comparison
Panorama has just released the latest report on Tier 1 ERP vendors. Instead of defining the "real winner" from the rest, this year's report simply acts as a guide for business users in their quest to choose the most suitable ERP solution for their companies.
Each vendor comes with both strengths and shortcomings; hence organisations before making a definite decision need to take into account the software functionality, deployment options, vendor and product viability as well as having a business process mapping and requirements definition in order to ensure implementation success.
Please refer to the infographic below for a brief comparison summary.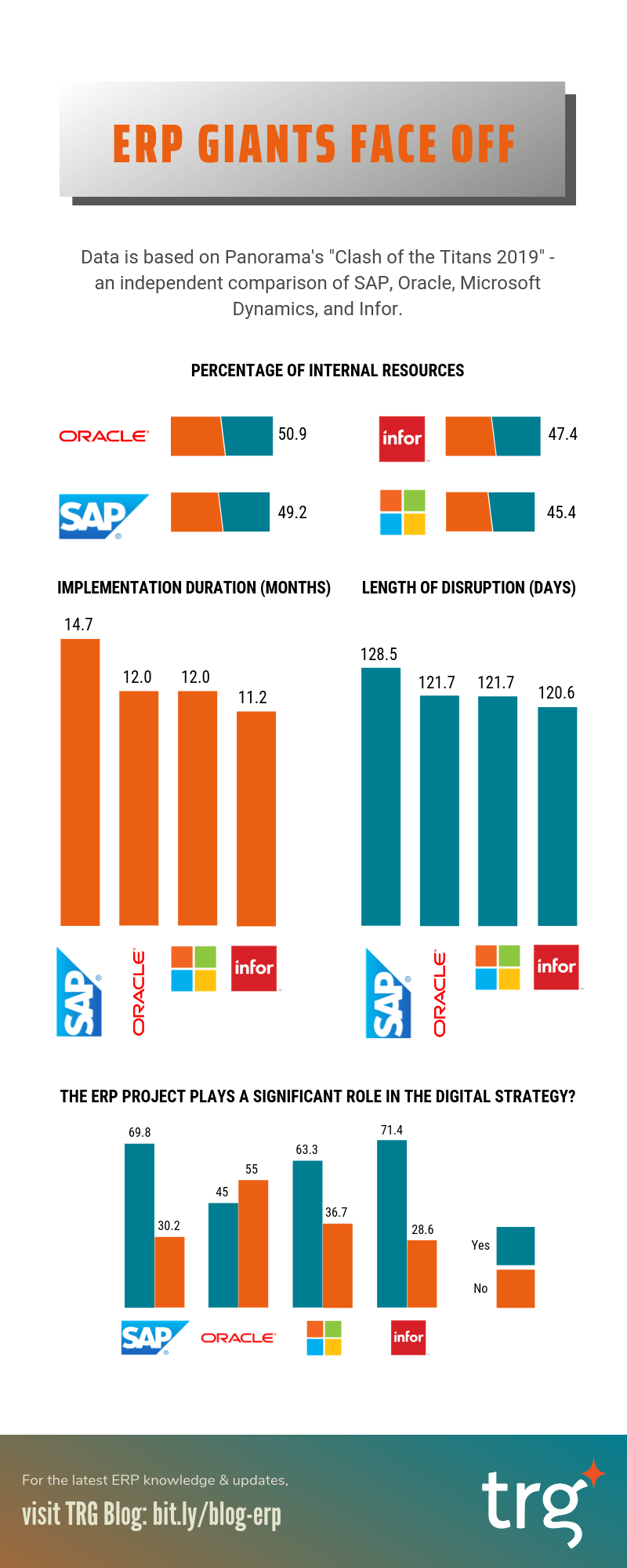 Implementation duration
The implementation time difference between SAP (the longest) and Infor (the shortest) is 3.5 months. There are some reasons for this variation.
The majority of SAP clients are global enterprises. Due to the nature of their complex business operations, these enterprises require a highly scalable and robust ERP system, which as a result, makes the implementation process much longer compared to other options.
On the other hand, Infor aims for minimal customisation by providing "industry-specific" solutions. Therefore, organisations using ERP systems from Infor experience a shorter implementation duration.
Read more: SAP vs. Infor – Software Giants Face Off Over Cloud Strategy
Operational disruptions
ERP implementation projects in large-scale organisations often causes more disruptions than those in smaller ones as it takes some time for these enterprises to adjust to the new system and resolve conflicts occur post implementation.
Overall, SAP has the longest operational disruption period mainly because most of their clients are multinational corporations that have complex business procedures. Infor, as previously mentioned, encourages their clients to use the solution directly out-of-the-box in order to avoid potential risks when customising.
A common approach to combat operational disruptions is to implement ERP in phases; giving businesses adequate time to address both old and new issues before the system goes live.
Read more: Hit Or Miss – Lessons Learned from ERP Implementations
Internal resources
Choosing between internal and external resources has a direct impact on the implementation costs; the more external resources being used, the higher the costs.
Organisations that implement Oracle's solution use the most internal resources. Their solution requires simple customisation and configuration which can be done in-house.
Microsoft Dynamics, on the other hand, uses channel partners to provide preconfigured industry functionality which can lead to the increasing number of external resources.
Video: CIO of Ferrari talks about their ERP implementation
Role of ERP software in digital strategy
Many Infor clients agree that Infor ERP plays a critical role in their digital strategies. These clients quite early on have an innovative spirit which makes them attracted to Infor's mantra - "being an innovative, visionary enterprise solution provider."
Oracle clients focus more on upgrading specific functions to automate a particular process or function within their businesses (such as finance). Only a few organisations consider transforming their entire business operation.
We hope that this article gave you a clearer understanding of the critical elements needed in an ERP implementation project. If you want to learn more about this robust solution, talk to our consultants by requesting a demo today!