For countless companies in various industries, keeping their machines and equipment running smoothly on a day-to-day basis is of utmost importance. This leads to the need for a holistic approach to the lifecycle management of these physical assets.
In recent years, innovations in cloud computing and analytics have led to massive improvements in EAM (enterprise asset management) software. If your asset-heavy company is looking for an EAM solution, now is the time to take a step forward.
Read more: Can Manufacturers Meet Changing Demand without Sacrificing Efficiency?
Why companies need an Enterprise Asset Management solution
Enterprise Asset Management (EAM) solutions' core focus is keeping an accurate, detailed database of all fixed assets (including their characteristics, history, and performance) as well as any regulatory-related documents. EAM enables businesses to optimise their workflows, reduce costs, minimise downtime, and maximise the investment made on these assets.
A common feature that all EAM solutions have is asset lifecycle management. The feature records all major life stages of a particular piece of equipment from the initial purchase to production, predictive and preventive maintenance, until the end of the asset life.
Supply chain management, inventory management, procurement, and demand planning tools are also common features in EAM software.
Certainly, the most used feature of all is maintenance planning and scheduling. This function allows users to keep track of the assets' conditions and the availability (plus skills) of the repair team to notify the appropriate staff.
Predictive analytics is one of the highlights of a modern EAM system to help operators and managers accurately predict future issues so they can schedule a routine check-up, prevent the problems from ever occurring, and thus prolong the asset's life.
Modern EAM solutions are deployable either in the cloud or on-premise. EAM often gets integrated into ERP solutions for accounting purposes as well as to streamline processes like procurement, supply chain management, and human capital management.
Read more: What is Predictive Maintenance (PdM)? Its Pros and Cons
An overview of Enterprise Asset Management solution providers
According to Gartner, from now through 2021, on-premise EAM solutions will continue to grow, but cloud-based systems are also gaining momentum, and are fairly popular among smaller organisations.
Today's article is based on Gartner's "Magic Quadrant for Enterprise Asset Management Software 2018". Residing in the Leaders quartile are two New York-based companies; IBM and Infor– here is a little information on each;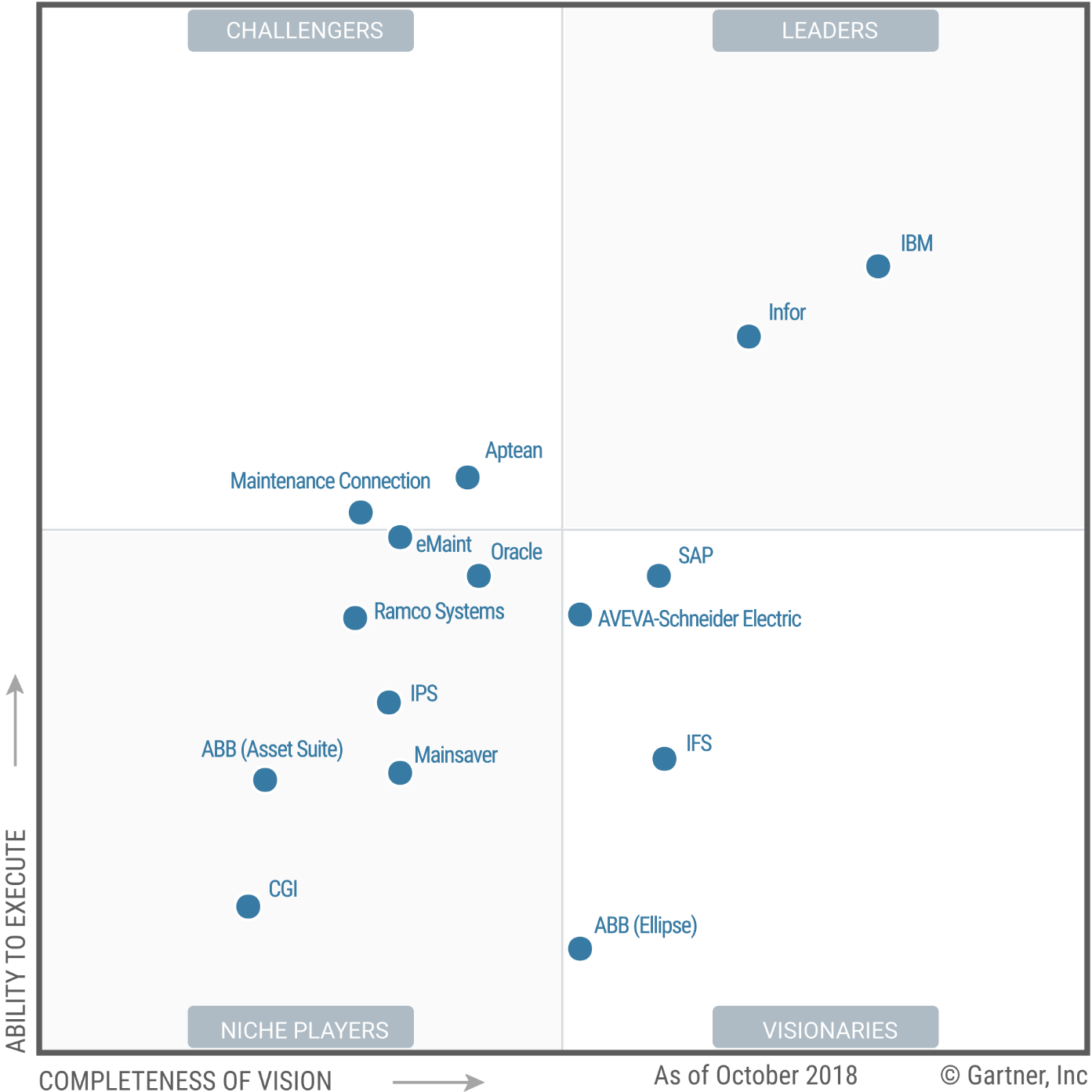 IBM
IBM's Maximo Asset Management software stands out from the crowd due to its being deployable across a variety of sectors that are asset-intensive, including mining, oil and gas, utilities, power, transportation, and manufacturing.
The latest major release, Maximo 7.6.1, was launched in July 2018. The cloud version of Maximo is deployed via the IBM cloud infrastructure.
Strengths
Maximo has a well-established reputation for being present in the market for a while. Thus, it has a steady "fan base" with 70% of the current customers already obtained the latest version of the software, indicating a strong commitment towards the brand and the product.
Overall, Maximo's clients rated it satisfactory for aspects like the product's effectiveness, consultation, the available integration resource as well as the customer experience when dealing with the vendor.
The product also received a generally high score due to it being reliable, easy to integrate, and easy to deploy.
Cautions
Maximo is geared towards the high-end market. As a result, the cost and time to deploy and maintain the system are considerably high.
Furthermore, the product can be difficult to configure and support due to its complex features. For this reason, smaller organisations can feel overwhelmed when dealing with Maximo.
Additionally, the scalability of the mobile platform, Maximo Anywhere, is questionable. The analytics and reporting functions also received dissatisfied reviews from the customers.
When it comes to product training, IBM offers online courses instead of on-site training.
Despite the overall positive customer experience and high product scoring, customers still report below-average satisfaction with IBM contract engagement.
The latest version of Infor CloudSuite EAM (now HxGN EAM) was released in April 2018. Being an Infor product, CloudSuite EAM is industry-specific, scalable, and deployable both in the cloud and on-premise.
Read more: SAP vs. Infor - Software giants face off over cloud strategy
CloudSuite EAM covers a range of industries including manufacturing, utilities, healthcare, transportation, Government, F & B, Fashion, Finance and many more.
In addition to basic condition-based maintenance, CloudSuite EAM also offers predictive analytics, revenue cycle management and mobile capabilities, all of which are available for Android, iOS, and Windows mobile devices.
"Infor EAM helps CERN manage all maintenance activities for a wide array of equipment from the Large Hadron Collider's magnets to everyday infrastructure like elevators and fire extinguishers."

David Widegren, Head of Asset & Maintenance Management, CERN
Strengths
Infor CloudSuite EAM wins the customers' hearts due to its highly scalable capabilities in addition to being customisable and localised.
Infor has a strong cloud presence, claiming more than three-quarters of its clients are currently in the cloud, which is a significant amount compared to other vendors.
Read more: Moving from on-premises to Cloud ERP
The product was ranked second highest on the most capable asset tracking list. Other functions like work management, preventative maintenance and unplanned reporting/ requesting are also favoured by Infor's customers. Their overall customer satisfaction was rated above average.
Cautions
Infor divides support levels into three tiers - Essential, Premium and Elite. Elite customers are assigned a Customer Success Manager, and as a result, customer satisfaction is ranked not as high as some other brands in the market.
There is no transparent product development roadmap which could cause confusion for prospective customers.
Gartner's Magic Quadrant report concluded, "EAM is a mature software market, but that does not mean it is stagnant."
The assessed vendors frequently make updates to their software and also make an effort in designing a mobile application to complement their products.
Admittedly, the growth of the EAM market is pretty uneventful. Some organisations have been using the same legacy systems for more than 20 years. But maintaining the same legacy systems is becoming extremely costly and complex.
With the rate at the world being developed today, EAM customers are expecting some functional areas to receive some remarkable upgrades by leveraging emerging technologies like OT/IoT and advanced analytics. EAM can only become an indispensable function that plays a key role in connecting maintenance scheduling to production, delivery and profitability.