Though lesser known among other software giants like SAP, Oracle and Microsoft, Infor has gained tremendous popularity by offering deep industry-specific applications and suites, cloud deployment and extremely user-friendly interfaces.
What's fascinating about Infor is that they were established less than 20 years ago, yet their revenue as of 2016 was more than US$2.5 billion with a pool of 16,000 employees. What makes them so successful in today's world where competition is high and big names like Oracle and SAP are constantly in the limelight?

Growth through acquisitions and innovations
Infor (Agilsys) first started back in 2002 with the main focus was on enterprise software. Infor grew through a series of acquisition with 6 acquisitions (each was worth hundreds of millions) during their first 3 years of establishment.
Merging with SSA Global's manufacturing and distribution software was a stepping stone for Infor to become one of the largest enterprise software providers in the world. Infor's customer database by summer 2006 has increased more than 13 folds, from a mere 1,300 to 17,500 customers.
Infor experienced a change in its C-suite in 2010 when four senior executives from Oracle joined forces all on the same day. Under the new management from CEO Charles Phillips, Infor steered to focus on more user-friendly applications in order to gain market share from Oracle and SAP.
In 2012, Infor moved its headquarter from Georgia to New York City because of proximity to customers and talents.
In 2014, to boost its reputation and gain client's favour, Infor utilised the advancements in cloud computing and debuted its first industry-specific cloud suites, Infor CloudSuite, via Amazon Web Services. This year also marked the partnership between Infor and Amazon, and as a result, Infor's net income that year reached US$121.7 million.
Video: CIO of Ferrari talks about their ERP implementation
The acquisition of GT Nexus in 2015 cost Infor $675 million but by doing so, Infor not only makes use of GT Nexus' famous "world's largest cloud-based global commerce platform" but also its extensive customer based with big names like Nike, Adidas, Home Depot, etc.
February 2017, Koch Industries invested $2.5 billion in Infor and owned more than 66% of their equity. This can only mean more acquisitions and company expansion in the future as well as many more innovations to come.
Products created for success
Infor made it their top priority to listen to customer's feedback and re-modify their existing products to perfection with a strong emphasis on the latest technology advances and intuitive user experience.
Cloud computing
With the advancements in cloud computing, it is undeniable that cloud-based applications will be the future of how every enterprise operates. A portion of Infor's products is already cloud-based, such as Infor CloudSuite Industrial, a full-fledged enterprise resource planning application powered by Amazon Web Services.
Why choose to deploy in the cloud? It offers lower capital expenses due to no on-site data centre is required. Moreover, the cloud brings scalability, on-demand access 24/7, complete visibility thus increases productivity as well as collaboration across departments. One major advantage of the cloud is, unlike what rumours said, it is a safer and more secure option than on-premises data centres.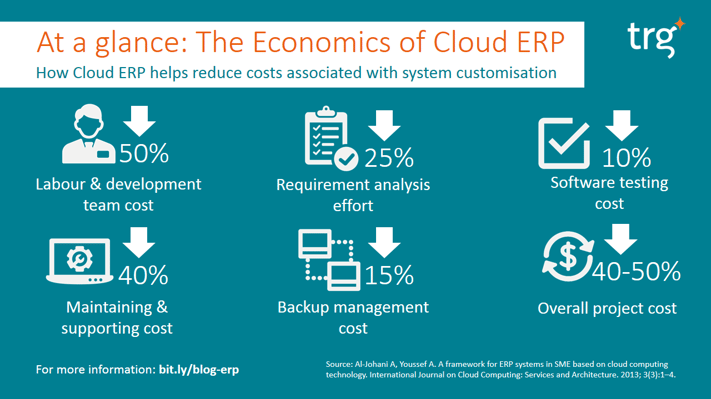 Products specialised by industry
Infor product suites are specially designed to empower users to be more in control during business operations. Their products are packed with powerful functionalities that allow instant access to valuable data, enrich customer's experience, and a modern, intuitive user interface that is completely customisable to fit your specific role with examples like:
Infor LN

: a comprehensive ERP solution that offers real-time data that boosts communication with both your customers and suppliers across the globe. The latest version, Infor LN 10.5, provides 360-view of every aspect of business management, from shop floor to every stage of your supply chain. Furthermore, the product is packed full of functionalities like financials, quality management service management, order management, etc.

Infor SunSystems

:

a comprehensive financial management suite that brings you unparalleled adaptability and user friendliness. It is deployable on cloud, on premise or hybrid.

Infor Dynamic Enterprise Performance Management (Infor d/EPM)

:

with built-in Business Intelligence, you have in your hand the power to manage your employee's performance, predict trends and risks, and make impactful business decisions at any point instantly and accurately.

Infor Ming.le™

:

a centralized social platform that is both interactive and sleek. It is fully embedded within your ERP solutions, allowing users to personalised their home pages based on their position and needs. With Infor Ming.le, your team collaboration is guaranteed to spike due to its capability to generate workflow, share information with ease and save time so their attention can be put on other high priority tasks.

Customer relationship management:

provides a robust and complete view of the entire customer's cycle, enable you to influence and maximise customer's satisfaction, minimise errors during order processing and operates on the simplest, straight-forward interface possible.
Read more: The 2017 Predominant ERP Trend: Verticalisation
Built-in functions, not bolted on, highly user-friendly
Have been serving nearly 100,000 customers, Infor strives to deliver IT solutions that empower businesses to not only work faster, achieve higher productivity but also have smart designs.
Infor takes into account all customer's feedback and the direction of the market, closely examines them and use them to guide the direction for their next innovations. These are the reasons why Infor is now a leading provider of business application software worldwide.
International support teams
Infor is strengthening their empire day by day with offices in more than 170 countries. Their mission is to increase business agility, simplify your IT landscape and lower total cost of ownership. From strategic planning to education and support, Infor's professional service teams across the globe are ready to take care of your IT solutions so you can focus more on generating business success.
TRG International is proud to be the pioneer in offering Infor solutions that are localised in order to suit the Vietnamese market. We believe technologies are created to work for you, not against you. Therefore, we offer complete solutions that work brilliantly in the background, from setting up to maintenance, TRG will be by your side every step of the way so your company can focus more on the core values, not minor IT issues.