As cloud computing continues to mature, ERP vendors are turning their focus to delivering more industry-specific features, according to the recent 2017 ERP Technology Value Matrix Report by Nucleus Research.
The 2017 ERP Technology Value Matrix
As the name suggests, the Value Matrix assesses ERP vendors in 2 capability dimensions. The vertical dimension is Usability, and the horizontal dimension is Functionality. Accordingly, ERP providers are put in 4 quadrants: Core provider, Expert, Facilitator, and Leader. An arrow indicates future movement of a vendor relative to others.
Read more: 3 Infor ERPs considered market-leading systems by Nucleus Research
The report aims to "inform the market about how well vendors are delivering value to their customers and what customers and prospects can expect moving forward based on the investments vendors are making today."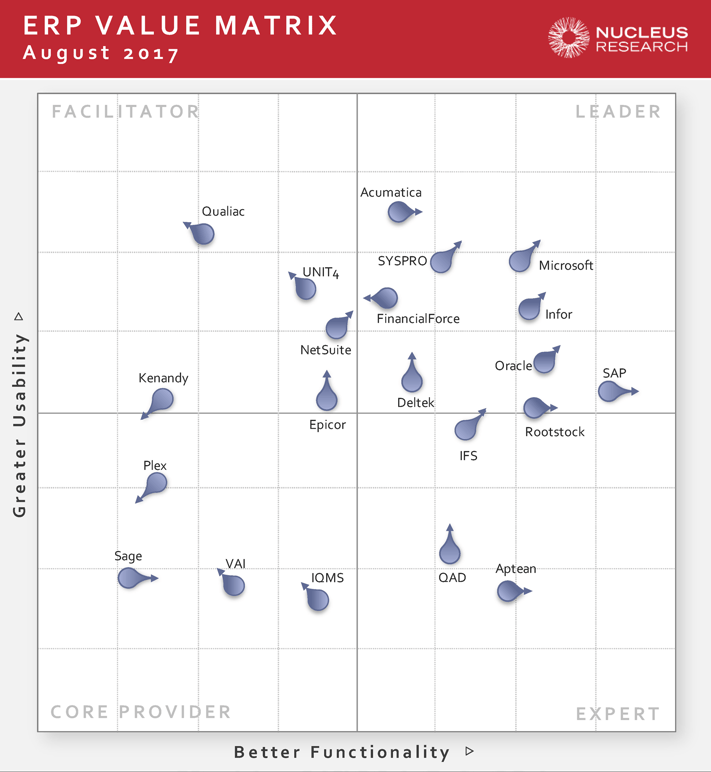 Verticalisation is the 2017 predominant theme
Verticalisation – providing customers with solutions that are highly tailored for their specific industries– is among the key differentiators of next-generation ERP software. And this year's report indicates verticalisation "has become the drive of many R&D dollars."
Why is this trend particularly relevant to ERP vendors and their push to the cloud? For businesses, one of the major roadblocks to cloud computing is the lack of functional depth that they are "accustomed to in their highly customizable on-premises environment."
By delivering vertical-specific capabilities out of the box, vendors hope to make cloud ERP more appealing to businesses that are still reluctant to move away from legacy systems.
Read more: Cloud 101 - A quick guide to Cloud ERP: Benefits & Drawbacks
In order to ease the transition, "flexible and hybrid deployment options are table stakes at this point. Vendors are responding to the concerns of some customers, particularly those in manufacturing sectors, of potential downtime and lost production if connectivity fails."
The market-leading vendors
It comes as no surprise that all Tier 1 ERP vendors are present in the 'Leader' quadrant of the 2017 ERP Technology Value Matrix.
Infor
According to Nucleus Research, "Infor continues as a Leader in the 2017 ERP Technology Value Matrix with its vertically-focused CloudSuite offerings delivering value to customers. Although still offering on-premises versions of its ERP products, Infor has a cloud-first strategy across both its enterprise and mid-market offerings."
"…Infor has continued to make investments and acquisitions to expand its solution footprint, such as buying GT Nexus in 2016 to expand its supply chain capabilities and more recently, the analytics vendor Birst."
SAP
"SAP's focus in the enterprise space has continued to be on its S/4HANA and S/4HANA Cloud solutions… S/4HANA Cloud is SAP's SaaS ERP solution and shares the same data model as S/4HANA. S/4HANA is designed to function as the centre of the enterprise in a variety of use cases such as managing core finance, enterprise management, professional service management, and manufacturing planning and execution."
Oracle
"Oracle seeks to be the end-to-end cloud solution for enterprise customers, offering human capital management, customer relationship management, and supply chain management to complement its ERP suite… Oracle also provides customers with the full technology stack, with Platform-as-a-Service (PaaS) and Infrastructure-as-a-Service (IaaS) products that extend its value proposition."
Subscribe to our Blog to stay updated with the latest ERP news and knowledge.
Getting started with ERP implementation? Request a free ERP Demo today!