TRG International is a business with deep roots in Asia and a proud past, but with a global ambition and a firm eye on the future. We are youthful, energetic, innovative and smart. We believe in lifelong learning and provide support and freedom for people to grow, share new ideas, and dare to try, accept mistakes and give you a lesson from mistake to improve better.

TRG and RMIT have a very long collaborative partnership dating back to the inception of RMIT Vietnam. Together, we have generated speed, strength, agility and graduates are being produced. TRG frequently speaks on graduate and post graduate programs as well as at various RMIT clubs.
Until now, about 30% of TRG employees are from RMIT, and about 80% of RMIT BIS undergraduates/ graduates have worked at TRG.

After more than 10 years of internships we have worked out what works best for interns and TRG which is why we no longer "only" do the standard RMIT 12- week- internship which is insufficient tie to achieve much of anything. Our GDP program lasts up to 2 years and of course fulfills the RMIT 12-week internship requirement, but the key thing is we do not treat interns as interns. We treat interns like any other employee, the only difference is there's a termination date on the contract… but even that get changed to unlimited any time during the GDP period.

What RMIT students can get and their opportunities at TRG


Source: TRG International Images
Meet some Alumni and learn about their experiences in TRG International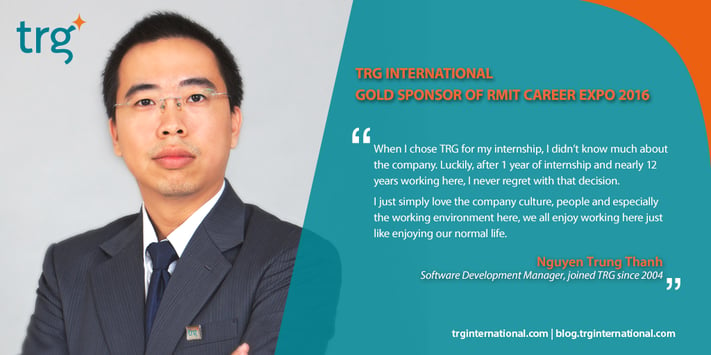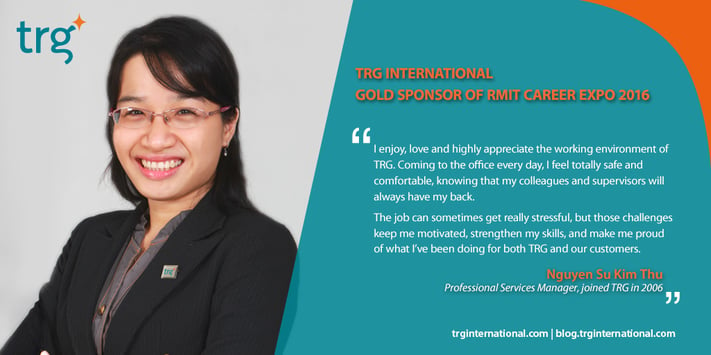 Source: TRG International Images

Tran Quoc Huy (B.Comm Nov 2011) – Talent Management Manager of TRG International: TRG's culture is unique: supportive yet challenging. It's a place that helps me grow my knowledge and sharpen my skills.

Le Tuan Anh (BIS. Nov 2010) – Software Developer of TRG International: I have been with TRG for almost 6 years now and I can tell you that I am ultimately happy with my choice to join the internship program at TRG long ago.
On the Career Expo of RMIT on 22 April 2016, TRG will join to give students the advices and also present as Gold Sponsor for this event.