No longer a novel technology, cloud computing is increasingly becoming the mainstay of modern enterprise IT architecture. But the cloud encompasses a plethora of different things: deployment methods, services, solutions, etc. And each comes with its own potential, perks, and downsides.
To ease your concerns once and for all, in February, we organised a virtual TRG Talk aiming to cover the fundamentals of one of the most popular cloud delivery methods: Software-as-a-Service (or SaaS). The virtual talk also highlighted the key benefits of adopting SaaS solutions to fuel business growth amidst the current economic turmoil.
But first, what is SaaS, and how is it different from the cloud?
Read more: What is cloud computing?

What is Software-as-a-Service (SaaS)?
Most of us are already using SaaS applications daily, even if we are not aware of them. Notable examples include Netflix, Zoom, Gmail, Dropbox, Mailchimp, Salesforce, HubSpot, Microsoft 365, etc.
Oftentimes, the terms "SaaS" and "cloud" are used interchangeably. They are, however, not the same. SaaS is a cloud deployment model in which the software is delivered to end-users over the internet on a subscription basis.
Based on this definition, there are two aspects of SaaS: technical and financial.
Technical aspect: SaaS is one of the most popular applications of cloud computing. The software is hosted and managed in the vendor's data centres. Users can access and use the software anywhere, anytime, usually via a web browser, as long as there is an internet connection. There is no need for installation on the client side.
Financial aspect: Unlike traditional on-premises software, SaaS users do not pay for the perpetual license. Instead, they pay a monthly or annual fee for using the software. In other words, SaaS users do not own the software but rather "rent" it.
Read more: Why CFOs should be looking to the Cloud
Here are some numbers to consider:
Not only can SaaS projects be implemented 25% faster than anticipated, but they also provide more performance, security, and cost savings.

SaaS can help reduce IT-related incidents by 70% while cutting down on 30 to 40% of potential overhead costs.

61% of IT professionals say the cloud helps accelerate innovation.

58% of IT professionals rank security and data protection as the top reasons to migrate to SaaS.
SaaS vs. Cloud - What are the differences?
SaaS is a subset of cloud computing and is one of its many applications. Thus, not all "cloud-based" software is SaaS.
There are two distinct characteristics of SaaS software:
Customers pay a fixed subscription fee to use the SaaS applications and only pay for what they use. These applications are accessible through any web browser without additional downloads or installations on the client side.

The vendors manage all technical aspects, from installation to updates and maintenance. Updates are done automatically, and customers do not need to worry about these tedious tasks or downtime.
Infographics: The Economics of Cloud ERP at a Glance
To understand the cloud deeper, check out this article explaining cloud fundamentals in detail, including popular terminologies like PaaS, IaaS, single/ multi-tenancy, hosted, and more.
To rewatch the complete talk, including more information on each benefit of SaaS and how to determine whether you need these solutions, check out the video recording below or please click here to download the presentation slide deck.
What are the benefits of going SaaS?
Undeniably, the benefits and applications that SaaS can bring to businesses, regardless of their size or industry, are practically endless. Our speaker has pinpointed five main advantages of SaaS that can give businesses the upper hand in today's turbulent business environment.
Total cost of ownership (TCO)
Moving to SaaS means moving away from a CAPEX-intensive model to one focused on OPEX, thus avoiding the hefty upfront license fees and annual fees for ongoing maintenance and periodic updates.
On top of that, businesses do not have to invest in hardware and facilities to run the systems, nor do they need to invest in and maintain a significant IT team to manage the system.
The subscription payment model of SaaS also offers a more predictable cost breakdown and smoother cash flow compared with the intricate on-premises model.
Security and Compliance
Contrary to popular belief, keeping business data in the cloud is much more secure than storing it on the company's servers. Adopting SaaS solutions allows organisations to effectively hand off cybersecurity responsibilities to the cloud vendor, who can afford much better cybersecurity measures than businesses trying to do everything themselves.
Read more: Dispelling common misconceptions about Cloud ERP
Additionally, as all updates are done automatically, this essentially means that security and compliance updates are also pushed out automatically to the entire organisation as soon as they are available.
Performance, scalability, and resilience
Once the software and hardware procurement and installation are removed from the equation, businesses can save significant deployment time and enjoy the freedom to scale upon demand, expand to multiple locations, and authorise more employees to access the systems with just a few clicks. The reverse also applies; as the demand decreases, businesses can scale back to save costs and computing resources.
Moreover, they can configure the software to match specific requirements while still being able to access and navigate it through a web browser. Response and recovery from a disaster are also faster. The systems can get back up and running with minimal to no disruption.
Read more: What is "Lift and Shift"? Is It the Cloud Migration Strategy for You?
Innovation
Since updates are pushed out automatically, users of SaaS systems can use new functions and features right away without any interruptions to their daily work.
As a result, SaaS enables organisations to keep pace with changes and take advantage of emerging technology quickly and cost-effectively.
User adoption 
Cloud-based software is user-friendly and supports the way the new generation of digital natives likes to work. Users across the whole business are more likely to use a SaaS system because they can take advantage of a modern user interface (UI) and built-in business intelligence (BI) on any device. This makes them more likely to look for data and use it when making decisions.
Nevertheless, it is not the ultimate answer to everything. There are downsides to SaaS as well, particularly:
A constant, reliable internet connection is required

Limited customizability and less flexibility

Long-term costs

Limited control over the system

Limited interoperability
We hope our TRG Talk and this article have provided you with the necessary materials to start considering SaaS and the plethora of its solutions.
And if you do consider shifting to SaaS, another crucial factor to take into account is that there is no "one size fits all" when it comes to cloud strategy.
With that comes the next logical question: how to get there? Find your answer in our upcoming TRG Talk, Journey to SaaS: Why Fastest Growing Companies Are Leveraging Saas Solutions, featuring cloud experts from Renova Cloud and AWS. Check out our detailed agenda here and register to attend today!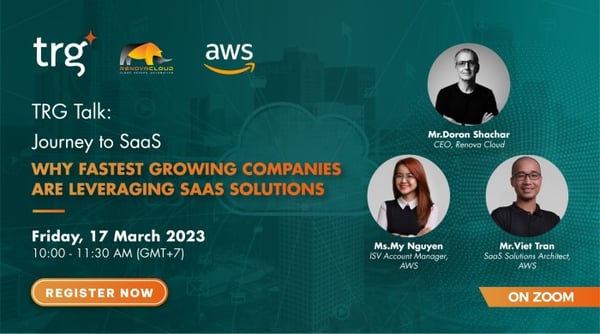 About TRG International
Founded in 1994, TRG International is a global enterprise solution provider focusing on delivering technical excellence. We believe that with the right solutions and working quietly in the background, our customers can be free to focus on their core business.
Today, we are a proud Infor Gold Channel Partner with customers present in more than 80 countries.
Our solutions range from out-of-the-box software to psychometric assessments, F&B, and online training and certification services.
About TRG Talk Virtual
TRG Talk Virtual is a series of informative and interactive webinars hosted by TRG International. Each talk aims at providing a platform for you to connect with our experts so you can get an immediate response to the challenge you are facing.
TRG Talk Virtual is open to all. For more information on our upcoming events, please visit our website.