Infor SunSystems 6.4 is one of the most prominent Infor products hosted in the cloud but you already knew that. What you may not have known is that SunSystems 6.4 is not just a new version of the venerable accounting software. In many ways, it represents a quantum leap in business solutions. Here are 7 interesting facts about SunSystems 6.4 to blow you away!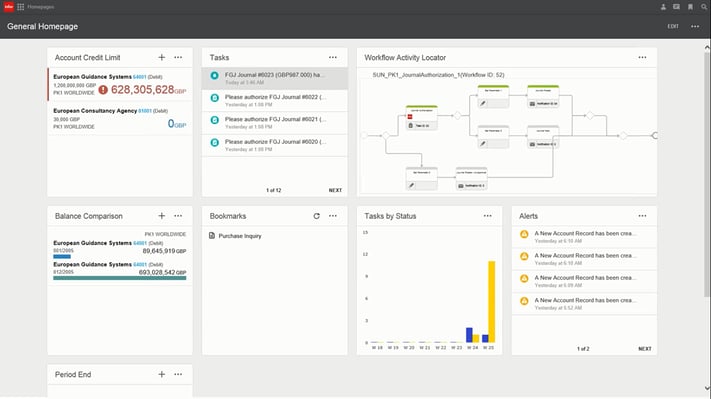 7 revolutionary features of Infor SunSystems 6.4
1. Infor OS - The next-generation enterprise technology platform
Infor OS is a cloud operating platform designed to bring productivity, business ventures, and artificial intelligence together. It puts the user at the centre, resulting in a network that automates, anticipates and informs your stakeholders, unifying your business.
Best of all, SunSystems 6.4 is integrated with Infor OS, and as a result, benefits from its futuristic features. This brings advantages to SunSystems as it integrates with other technologies. This includes easily integrating both Infor and third-party software applications such as the Infor ION integration platform, the Infor Ming.le social collaboration tool, etc.
Read more: Data Lake on Infor OS
2. Birst's BI software - Stop relying on spreadsheets, you can adopt a modern BI tool instead
Tools that work on a single platform to eliminate data silos and allow everyone in the business to look at the same data in real time. Birst's BI tools work in a multi-tenant cloud architecture that is secure, networked and adaptive for its users. The plan to integrate SunSystems further with a business intelligence tool has been successively executed.
Read more: Birst named leader in mobile analytics & BI by Ventana
3. Easy implementation & User-friendliness to minimise disruption to your business
The system allows you to accomplish financial management tasks seamlessly, transcending borders and languages, that would've otherwise slowed down the functioning of your growing business. The SunSystems can be easily modified to fit your business goals, with a proven step-by-step implementation process and a post-implementation review, to ensure your success. You save time and money since from just a few clicks you can automatically capture and archive any type of business documents, such as invoices.
4. Development of the reporting tool Infor Q&A
Infor Query & Analysis is an active, multi-language, multi-currency set of business intelligence tools. You can create reports that highlight trends, patterns, and exceptions; integrated with Microsoft Excel helps you create them quicker. This tool also features a Slice-and-Dice cube analysis offline function, helping you to analyse your data even when you're not connected to your network.
5. International capabilities - Respond quickly to requirements in any market
Infor SunSystems can adapt to multiple and changing regulatory environments. With a proven rate by over 9,200 companies in over 190 different countries, feel comfortable in your multi-national, multi-site organisation and connecting in different localities. You'll be able to meet the local language, currency and regulations with the system's built-in global support. As your business grows and ventures to new territories, developing a global presence is a given, so it is only fair to reap the benefits of this system.
Read more: Accounting software for nonprofits - A case study of Infor SunSystems
6. Control spending and Budgeting - Make more informed business decisions
Get financial and business details at the transaction level and get the information you need anytime and anywhere you want. There will be no need for the IT department to be included in this process, allowing teams to spend time on more valuable tasks. With Infor SunSystems, you can streamline consolidation, reporting, and analysis of data from third-party organisations, gaining insight into every aspect of your business that matters to you. As a result, you'll be able to simplify your budgeting and spending to implement your decisions vigorously.
7. Bolstered security – Single sign-on, security settings, auditing and monitoring, risk and compliance, and insights
You can securely deploy Infor SunSystems in the cloud, a hybrid configuration, or on-premise. Security is significantly improved with single sign-on (SSO), removing human errors by having automated credential logins. SSO can also offer increased data protection, productivity gains, and fewer IT help desk password resets.
For a more up-close experience with Infor SunSystems, you can request a free software demo by clicking the button below.