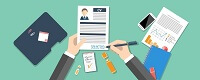 Along with the rapid change of the business world, recruitment becomes more and more complicated. Apart from the traditional job interview, nowadays, there are some other modern alternatives that are worth trying. One of them is the pre-hire assessments.
Read more: What are the better alternatives to traditional job interviews?
Although there are several forms for pre-hire assessments, the most common one is online tests, which include many kinds of questionnaires and marking systems for candidates to fulfil.