With the surging exposure and familiarisation of digital technologies in every corner of the world, consumers today can instantly access virtually unlimited information anytime. That immediate convenience has radically changed people's acquisition of new knowledge. This gives rise to a recently popular concept that provides learners with bespoke and self-paced learning—on-demand training (ODT).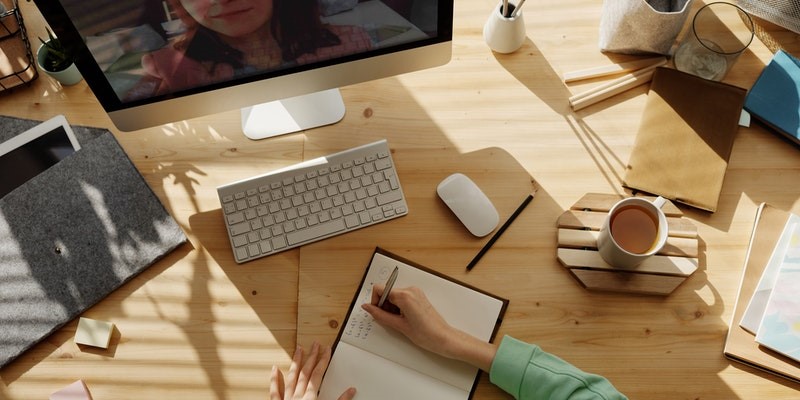 What is on-demand training?
On-demand training (ODT) is a strategy that focuses on active and interactive learning and problem-solving1. ODT involves customised solutions for trainees to educate themselves more autonomously at their own pace anywhere and anytime, meaning wherever and whenever it is most convenient for them. Such an active approach has learners value their roles in their personal learning process and facilitate knowledge retention2 3.
On-demand training can also be referred to as just-in-time training, or asynchronous learning, and has long been adopted by many organisations worldwide4. However, remote working popularisation due to the COVID-19 pandemic has significantly accelerated ODT growth.
Read more: Digital Transformation In a Business-As-UnUsual COVID-19 World
Benefits of on-demand training for businesses
Custom-made solutions
Even if employees fail to participate in your company's instructor-led training programs, they could still search the Internet for information.
ODT can be customised to suit each business as well as individual's needs. It emphasises one's experience and expectations of learning, thus providing the right people with the right information. It can be considered an ethical learning method thanks to the diversity and inclusion it brings to employee training.
Read more: Employee Training & Development - Did You Do It Right?
Cost efficiency
Traditional one-on-one or instructor-led training can be expensive and time-consuming. Besides fees paid to institutions and/or instructors, companies also have to pay for costs, like travel and accommodations, material costs, facility and equipment rentals, human resources, etc.
Not to mention, long training hours can even reduce employee productivity and interest in learning.
ODT programs, on the other hand, are customisable on-demand digital solutions. Companies can cut most of the unnecessary costs while ensuring employees still get the adequate training they need.
Microlearning
One encourages microlearning trainees, which is a method of learning believed to have appeared during the early 2000s5.
In essence, microlearning means breaking down content into small and repetitive chunks to increase the effectiveness of learning rather than suffering through long hours of lectures, webinars, workshops, and so on6. Learners can join the training process when necessary.
As a result, microlearning can help with knowledge retention, better engagement, motivation determination, collaborative learning, and overall performance improvement7.
Read more: The 4-Step Guide on How To Measure Corporate Training Effectiveness
Better training management
Large corporations struggle to keep up with the number of employees they currently have, let alone knowing what types of learning each individual has done and what else they need.
Your employees may become irritated as a result of the repetitive classroom training.
As a technology-based approach, ODT assists business leaders in training tracking, in-depth management, and operational risk reduction, including missed deadlines and outdated certifications.
TRG Academy offers industry-specific courses tailored to each business's needs
Research has shown evidence in employees favour interactive and motivating digital training programmes1. As a result, companies tend to simultaneously count on web-based training (another form of on-demand training) for immediate, convenient, and consistent training8.
TRG Academy offers industry-specific, on-demand training and certification services that help you and your business shine. Courses include:
The team of experts at TRG has been transforming our internal knowledge base, accumulated from years of successful implementation, into a centralised platform for every training need.
There are plenty of reasons why you should choose TRG Academy for your business.
29+ years of experience
TRG Academy has a combined total of over 1,000 man-years of experience in solution deployment, maintenance, and user training for customers with a wide range of business sizes and from different industries.
Our experts at TRG Academy use their in-depth knowledge to make it possible for anyone to improve both technical and soft skills.
Beyond-standard on-demand training experience
TRG Academy will accompany your business throughout your journey. You and your team can learn at any point, anytime, anywhere, and at any pace you prefer.
There are always hands-on practice lessons and new courses added every month. TRG Academy courses are bite-sized and easy to understand, with lessons focusing on not only SunSystems but also other Infor solutions, as well as talent management and human skills.
For better self-value in learning, certifications are awarded to learners after each course is completed. You can show off your knowledge and hard work on your resume or even on LinkedIn.
Tailored for you and your team
TRG Academy courses cover all levels, from novice to advanced, plus multiple role-based learning paths to save time and increase effectiveness.
Additionally, TRG Academy also offers you one-time purchases to access all courses. You can cancel your subscription anytime with no questions asked.
Check out our currently available plans below and get a taste of TRG Academy before going unlimited::
Annual subscription plan with a 7-day free trial

SIGN UP
Monthly subscription plan with a 7-day free trial

SIGN UP

Group learning plan

SIGN UP
To explore further, please visit the TRG Academy website and uncover a world of valuable resources and training opportunities!
References:
1. https://doi.org/10.1080/10494820601121232
2. https://www.cambridge-community.org.uk/professional-development/gswal/index.html
3. https://teaching.cornell.edu/teaching-resources/active-collaborative-learning/active-learning
4. https://www.easygenerator.com/en/blog/e-learning/on-demand-training/
5. https://www.td.org/talent-development-glossary-terms/what-is-microlearning
6. https://www.proquest.com/docview/1797880163/fulltextPDF/6FAEFCD56DD343A2PQ/1?accountid=13552
7. https://doi.org/10.1108/JWAM-10-2020-0044
8. https://www.jstor.org/stable/44428327