At the core, the relationships between mentors and mentees/ coaches and coachees are built on trust, respect, and confidentiality.
Overview
I. Coaching and mentoring, what do these mean?
II. Differences between coaches and mentors
III. Why should you consider mentoring and coaching?
Organisations have carried out different forms of coaching and mentoring for the longest time. The two terms are often used interchangeably. When you or your employees need a little bit of push to move forward, who would you turn to - a coach or a mentor? Are they different? And does your organisation need coaching or mentoring programs?
Read more: How "Potential" are Your Candidates in the Succession Plan?
Coaching and mentoring, what do these mean?
It is common for professionals and businesses to partner with multiple coaches and mentors throughout their careers.
Coaches' priority is to facilitate growth and change through a thought-provoking and creative process that evokes an individual's resourcefulness. Coaches are experts in helping you to get to where you want to be. Individuals might seek advice from coaches for both professional and personal purposes.
Mentors are experts in your industry. Most mentors are typically senior employees inside the organisation who excel in their roles. However, it is also common for businesses to seek professional advice from external sources.
Mentorship is a critical element of leadership development and succession planning programs. When taking the role of a mentor, these skilled members act as an advisor, counsellor, and guide who educate, share wisdom, provide feedback, and develop their less experienced colleagues.
Differences between coaches and mentors
It is easy to confuse the role of coaches and mentors as their valuable expertise, deep knowledge, and tools used can sometimes overlap. Nevertheless, there are still a few noticeable differences between the two.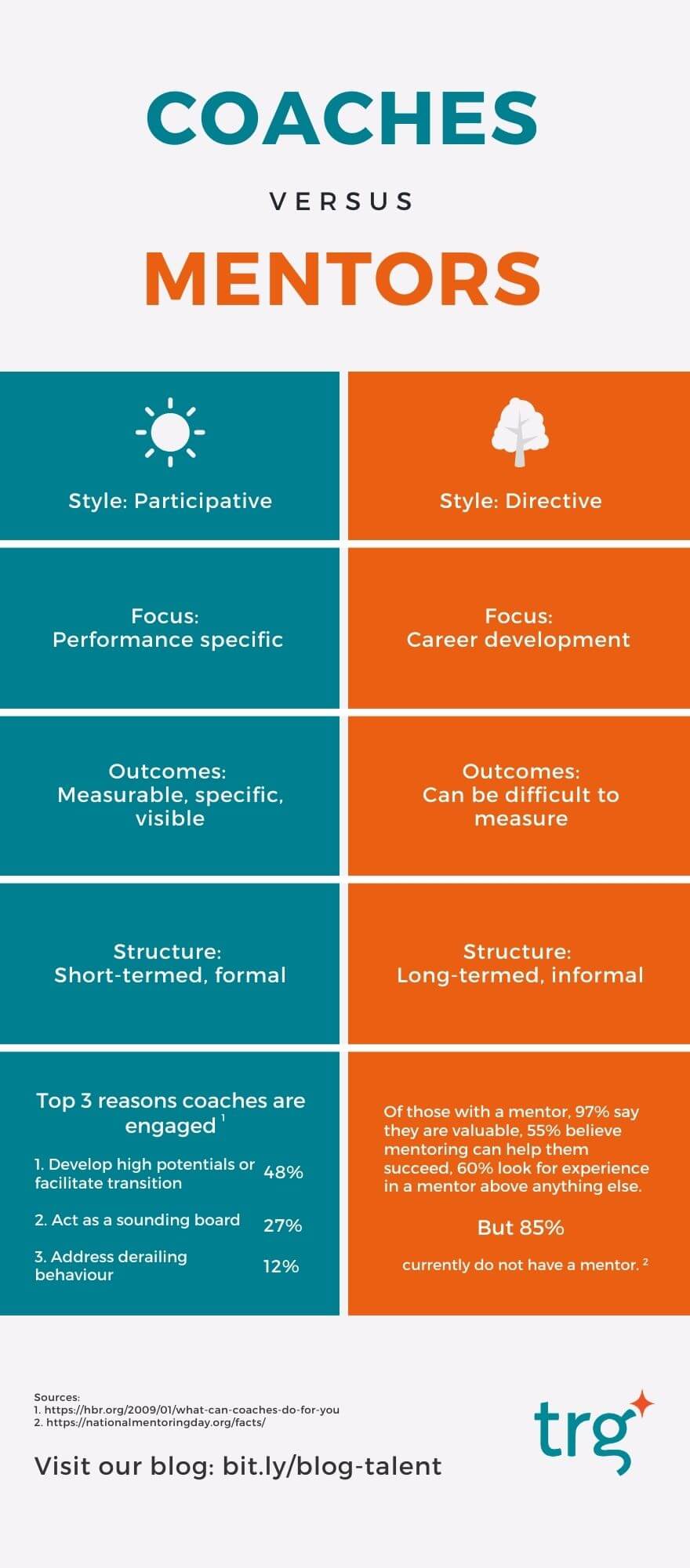 Style
A coach will assist, challenge and encourage you to work out what you need to tackle to improve. During the process, they will motivate and help you identify obstacles that are holding you back.
Read more: 5 Principles of Effective Organisational Coaching
In other words, coaches never offer specific advice or their own opinion to influence individuals. Therefore, coaching takes on a more participative approach. On the other hand, mentoring is more directive by providing a step-by-step guide, specific feedback and advice when needed.
Mentorship often occurs more naturally, through a mutual connection with, sometimes, verbal or implied agreements. Coaching is contractually bound with written, clearly specified terms, including expected results, detailed timeline, confidentiality, and more.
Outcomes
Outcomes from coaching are specific, measurable with visible positive changes in the area that desired improvement.
Outcomes from mentorship can be more difficult to measure as the individual's goals can shift over time. When evaluating effects from mentoring, you should focus less on quantifiable results or visible signs (such as changes in behaviours) but more on the mentee's development as a whole instead.
Core focus
Coaching programs are more performance-driven, designed to improve the individual's specific area, such as their behaviours, self-awareness, etc. A business coach determines to help you progress towards where you want to be in your career by asking you a series of thought-provoking questions to understand you as a person and then craft a detailed step-by-step action plan with you.
Mentoring aims more at the career development of an employee. When it comes to business mentorship, mentors look to guide their mentees through a similar career path, improve mentee's soft skills, and ultimately reach their professional goals.
Read more: Why 360-degree Assessments Are Essential in Leadership Development
Structure and timeframe
Some coaching programs are short-term, typically lasting up to six months or one year. The relationship might end once the desired goal is achieved. Nevertheless, there are many cases where the programs last much longer as the individual's intention shifts.
Coaching programs are more formal and structured. It requires full commitment from coachees. As a result, there will be regular check-ins every week or month to monitor and analyse the coachee' progress.
Mentorship programs are often long-term, lasting for several years or even decades. Meetings tend to be conducted in a more informal setting or on an as-need basis initiated by the mentee.
But, similar to coaching, mentoring can very well be short-term as the individual changes their career, priorities, and goals.
Read more: Top Business Coaches in The World – Who Are They?
Why should you consider mentoring and coaching?
Whether you choose mentoring or coaching, both techniques can be immensely beneficial to you, your teams, and the company as a whole. In fact, you may have already applied some forms of mentoring and coaching without realising.
If properly applied with well-defined strategies and the support from an experienced mentor and coach, the programs can help increase employee engagement and retention.
Both techniques can be a great addition to your talent management strategy. Here are some reasons why you should consider mentoring and coaching.
Retaining your high potential employees
A mentor can ensure the high potential (HiPo) employee is fully equipped with the knowledge and skills needed to excel in their role. While a coach can help the HiPo member to unlock their full potential, make them feel more fulfilled and satisfied as an individual, and in turns, they can help others to achieve the same results.
Read more: What Are the Available Tools to Identify High Potential Employees?
Enhancing your current development program
Coaching and mentoring can provide a private, one-on-one environment that is the breeding ground for an in-depth conversation. Valuable insights from a mentoring or coaching session can be used as the foundation for leadership development plans.
Additionally, coaching and mentoring can be implemented into your succession planning strategy as these programs help you identify an individual's strengths, weaknesses, and goals. Incorporating coaching and/ or mentoring can prove to your employees that you are committed to their success.
Overall, coaching and mentoring can be the catalyst for change and an enhancement to your current development as well as engagement programs. An effective coaching and mentoring session will result in more inspired employees who feel encouraged and are full of energy to overcome new heights.
Read more: The Best Kept Secrets to Developing Leaders at All Levels
Training new managers
When you experience an upsurge in new employees due to rapid scaling of the business or a recent merger, a mentoring or coaching program can help the new cohorts to bridge any skills and knowledge gaps whilst get inspired and motivated.
Mentoring programs can be a great choice if you already have a group of strong and effective leaders internally. On the other hand, if what you need is to provide structure for the growing leadership team across the board, coaching would be a better option.
Kickstarting or expanding your diversity and inclusion initiative
Coaches and mentors can help you to develop underrepresented groups – groups with few resources but can enable you to create a more diverse and inclusive workplace.
Everyone deserves a fair chance to experience and grow. Coaching and mentoring can provide a platform to exchange valuable feedback, define goals, and share insights between the groups and the company, which is often difficult to achieve using common feedback channels.
Mentoring and coaching can be quite confusing to distinguish, but the effects that both techniques can bring to companies are undeniable. Interestingly, there has been an increasing trend of individuals seeking professional coaches without waiting for suggestions from employers. For coaching and mentoring programs to be effective, you must be clear about your desired goals. Having clear goals can also help you to decide which approach is more suitable for you.
At TRG International, we decide to take the participative approach, and we are building a solid coaching culture for our company. We have explained the reasons in this article. Thus, we might be a tad bit biased towards coaching.
If your life purpose is to become your better self, to inspire and motivate others by asking the right questions, we highly recommend you to participate in coaching programs. Two organisations that we have experienced, and we recommend you to check out, are ITD World and Leaders Create Leaders.
Alternatively, check out our latest whitepaper to learn how to get started on your coaching and transforming journey.