No matter what the scope of your business is, you all need a detailed succession planning to avoid unnecessary issues in the future that can greatly impact the company's operation and reputation.
Succession planning is an integral part of the talent management process. Organisations with strong succession planning programs in place foster a talent-oriented culture, a company culture that puts employees at their centre of focus. A direct result of having talent-oriented culture is a significant reduction in talent loss and management turnover.
In our previous blog posts, we have discussed various frequent issues you may encounter during the process of designing a succession planning, and reasons why your plan does not succeed yet.
An important aspect of any succession planning is the evaluating process, in which there are two factors you need to identify in any potential employee – their performance and their potential.
Read more: KPIs – The key to identifying your top performers
One popular tool used in any succession planning is a 9-box grid. In this blog post, we will go in depth the importance of a 9-box grid and how to make full use of its potential in your succession plan.
Using 9-box grid in employee's evaluation assessment
9-box grid is an individual assessment tool widely used by HR personnel in order to effectively evaluate both an employee's current and potential level of contribution to the organisation. The method is also used to identify the prospective leaders within the organisation's current talent pool.
Performance factor: rates whether the individual is meeting, exceeding or below the average performance of his or her current position.
Potential factor: denotes the potential growth of that individual within the organisation.
The employee will be determined whether they need for further training and development, or in bad cases, be replaced, based on their status on the grid.
Below is a sample of how a 9-box grid looks like.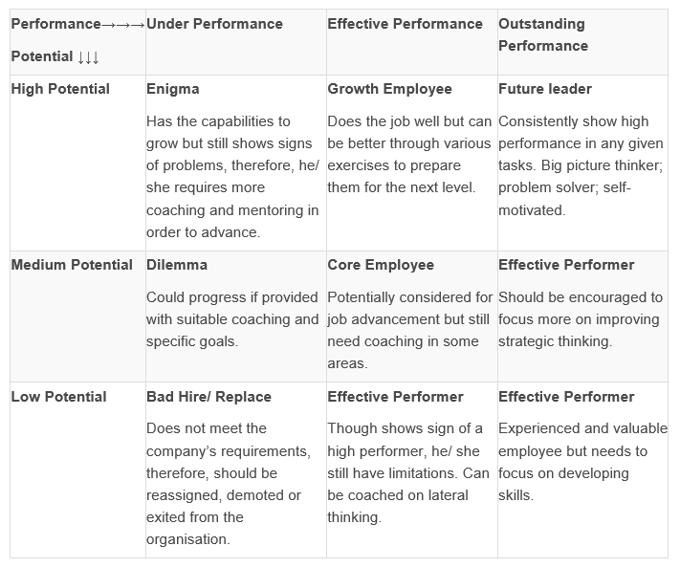 The ultimate goal of a 9-box grid is to identify low-performing employees and high ones to save time, effort as well as finance for the organisation. However, just like with any tool, the 9-box grid needs to be used with caution, and HR personnel are highly recommended to be familiar with this tool before using it. When used correctly, the 9-box grid can be both a versatile and a valuable tool for every organisation.
Does your organisation own a well-established succession plan? Have you had any success with your plan or have you faced with difficulties that make you unable to proceed? Let TRG Talent helps you with our free demo!