Today, different types of pre-employment assessments have changed how hiring is conducted globally. Human Resource Managers have traditionally used telephonic and face-to-face interviews to fill employment positions.
Read more: Impacts of pre-hire assessments on candidate experience
However, with an increase in the number of bad hires and early attrition rates, this hiring approach has proven to be flawed. The incompetence of bad hires can cost an organisation in many different ways. One of the greatest threats is the desire or immediate need to fill the employment position.
Nevertheless, picking the incorrect candidate to get a replacement is risky and potentially costly. Even if it results in a potentially severe short-term operational problem, leaving an open position vacant and restarting the recruitment process can create more damaging long-term operational issues.
Since witnessing these repercussions, businesses are looking for ways to reduce them. The advancements in the HR space have led organisations to adopt different types of pre-employment assessments to improve the quality of their hires.
Learn more: Effective recruitment, how to do it right?
Here are the 12 different types of pre-employment assessments.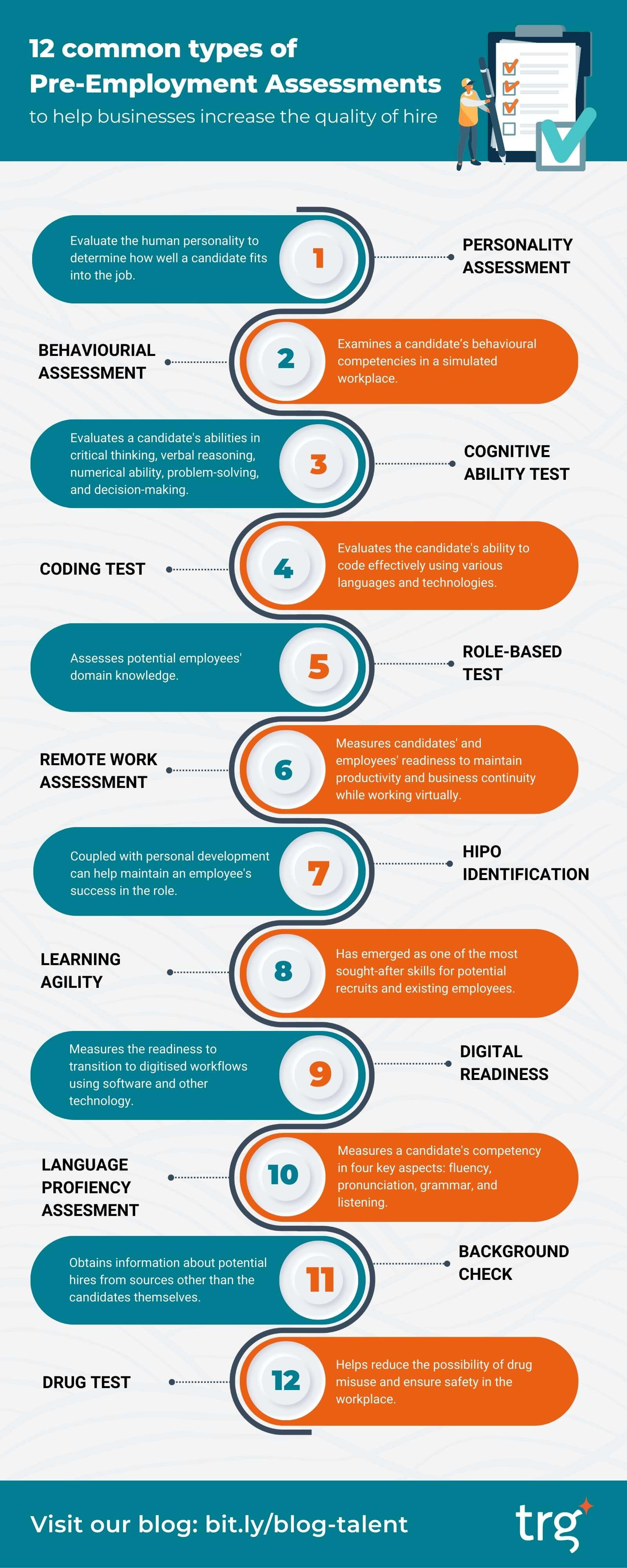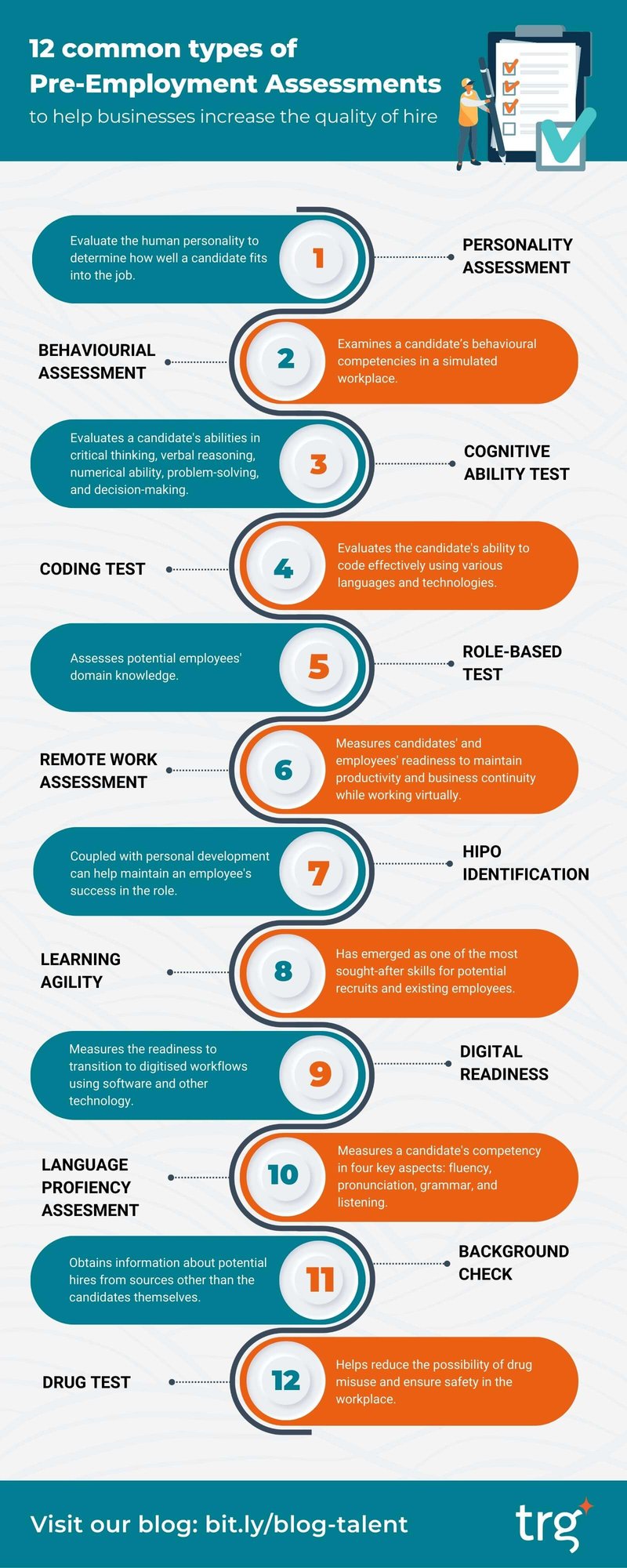 1. Personality assessments
Personality tests/ assessments are one of the most effective options. They help evaluate the human personality to determine how well a candidate fits into the job, build self-awareness, and facilitate team-building.
They are intended to recognise patterns in the workplace, relevant characteristics, and traits and reflect how people respond to different circumstances.
Read more: The Big 5 Personality Traits and What They Mean
There are both bright and dark sides to this type of pre-employment assessment. Bright and dark sides are not the pros and cons of personality tests. They refer to easily observable characteristics and those that are hidden and only surface when triggered.
Bright side: based on the Big Five Personality Traits and comprises positive personality traits that are easily noticeable. They can also help in honing on-the-job performance.
Dark side: hidden counterproductive behaviours that surface when triggered by the level of their dark traits, the environment, or simply the situation.
2. Behavioural assessment
As the name implies, behavioural assessments are used to examine a candidate's behavioural competencies in a simulated workplace.
The assessments are designed based on behavioural competencies and can be customised to suit each job position and level. They present the candidates with a series of position-specific, real-world scenarios that they must react to.
Besides using these assessments to screen candidates and hire top talents, results from behavioural assessments can also be used to develop coaching programs and identify candidates who could be nurtured into future leaders.
Read more: The Impacts of Behavioural Science On HR (Part 1)
3. Cognitive ability test
A pre-employment aptitude test evaluates a candidate's abilities in critical thinking, verbal reasoning, numerical ability, problem-solving, and decision-making. This is one of the most critical types of pre-employment testing since it is an indicator of a candidate's intelligence quotient (IQ).
The results evaluate current and potential employees at all levels and forecast job performance. They also assess IQs for various work responsibilities according to their respective roles and help HR departments increase the quality of hires.
Read more: How cognitive biases make interviews unreliable
4. Coding tests
These pre-employment assessments evaluate the candidate's ability to code effectively using various languages and technologies, such as AngularJS, Bootstrap, PL/SQL, Unix shell, and Spring Framework. They are highly effective in assessing applicants to determine their problem-solving skills. Moreover, the assessments can also help identify the top techies.
5. Role-based tests
These pre-employment cognitive tests are chosen according to job functions and roles, and each has a different competency framework. They assess potential employees' domain knowledge.
Domain expertise, behavioural attributes, and aptitude are the three key components needed to build a role-based competency framework and are essential in selecting quality talents, along with a balance of necessary skill sets.
Read more: Recruitment Automation: The 21st Century Way of Acquiring Talent
6. Remote work assessment
Today, remote work skills are no longer viewed as nice to have; they are becoming necessary as the number of digital workers increases. Thus, it has become essential for companies to measure candidates' and employees' competencies differently.
And different levels of employees need different skills to navigate, grow, and do well in the current remote work environment. That leads to an increase in remote work assessment types to measure candidates' and employees' readiness to maintain productivity and business continuity while working virtually.
Results can help managers and leaders gain insights into the candidates' and employees' strengths and weaknesses as well as their efficacy in remote settings.
To read the remaining 6 types of pre-employment assessments, please click here.
Job interviews have been so widely used to the point that they are synonymously viewed as the actual hiring process itself. However, most traditional interviews are unstructured, unreliable, ineffective, and not to mention, bias.
Why is that? Are there better alternatives to this widely used method? Download our whitepaper and find out!