This year's re:Invent (29 Nov – 3 Dec) marks the 10th anniversary of AWS' annual customer conference, where breakthroughs and successes in cloud technologies are celebrated. And it is only appropriate that Infor is honoured at this event for their tireless innovation in SaaS enterprise software solutions with the AWS Industry Solution Independent Software Vendor (ISV) Partner of the Year Award.
Read more: How Infor Addresses the Age-Old "Why Cloud - Why Now" Question
How Infor delivers cloud innovations on AWS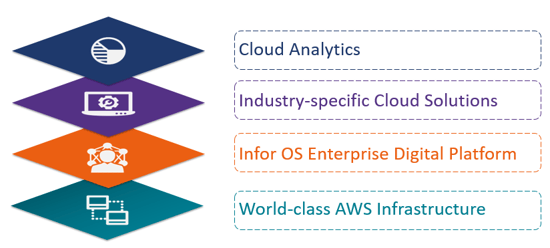 Infor cloud-based solutions are built upon the solid foundation of AWS
The Award is AWS's recognition of Infor's ability to deliver strong results across industries and help customers transform their businesses. In particular, Infor drives industry-level focus areas and migrations for long-standing AWS customers, allowing them to focus on modernising business models to drive success.
"We believe our distinct competitive advantage centres around our ability to provide deep, industry-specific solutions to our customers, which can help them continuously innovate and grow their businesses.
Our work with AWS is critical to our ability to deliver scalable, secure multi-tenant cloud solutions that are designed to help our customers achieve successful business outcomes and sustainable operational advantage," said Kevin Samuelson, Infor CEO.
Infor's innovative cloud technologies, which are designed to work seamlessly with AWS, can give organisations the power and responsiveness to stay ahead in competitive business environments.
Infor's cloud solutions – such as SunSystems, dEPM, and SyteLine – deliver industry-specific capabilities without extensive customisations or integrations. These solutions combine Infor's cloud platform, built on infrastructure services from AWS and Infor Operating Service (OS) — enabling cloud applications to work collaboratively with each other and with legacy software.
Why Infor and AWS partner
Unlike many other competitors, Infor opts to use a third-party cloud infrastructure service provider for their cloud solutions. Doing so would allow the company to focus entirely on software services rather than get distracted by investing in infrastructure platforms.
AWS is the obvious choice as it has over 5 times more storage and computing capacity than the next 14 competitors combined. AWS powers some of the most popular Internet-based applications, such as Instagram, Github, Pinterest, and Netflix, as well as government operations like NASA and the CIA.
Read more: How AWS Manages and Maintains Their Massive Data Centres
Today, AWS has left their footprints in 190 countries. The widespread physical locations as well as the extensive global cloud infrastructures enable businesses to deploy quickly, to innovate regularly, to scale up or down on-demand, and more importantly, to be able to do all of the above in a matter of a few hours, 24/7, instead of weeks or months like before.
By partnering with AWS, Infor can tap into hundreds of millions of dollars worth of investment in R&D, and since Infor does not have to make those investments, it could focus on the core service of application making.
Achieve greater agility and efficiency with innovative cloud solutions from Infor and AWS. Request a demo today!