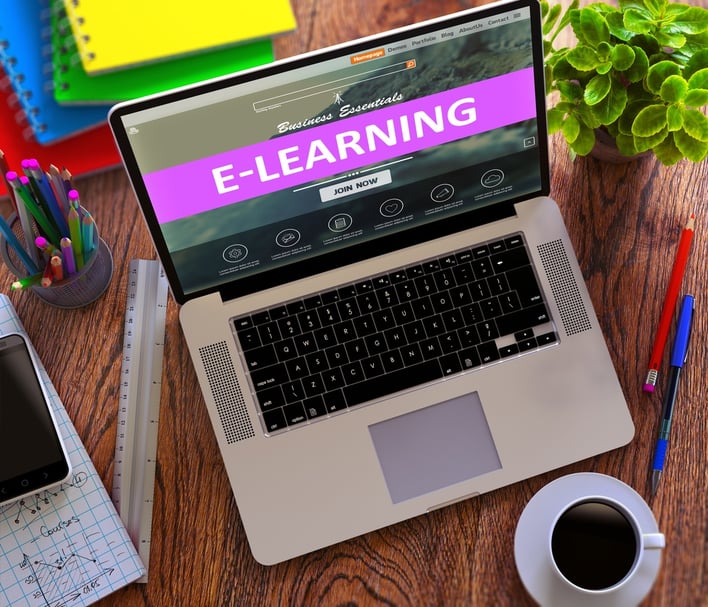 As one of the world's leading providers of enterprise software, Infor offers a wide range of industry-specific solutions to help companies of all sizes manage their operations more effectively, from accounting and financial management to enterprise performance management, enterprise resource planning, cloud operating services, and many more.
One of the most popular systems in the Infor portfolio is SunSystems, a powerful financial management solution trusted by organisations worldwide. SunSystems provides a range of financial and accounting capabilities, including multi-currency support, budgeting and forecasting, and advanced reporting and analysis.
Read more: 7 Things to Know About the Newly Launched Infor SunSystems Cloud
Other major solutions in the Infor lineup in the realm of financial management include:
With its extensive and diverse software portfolio, Infor delivers a range of last-mile content and industry-specific capabilities and modules to cater to each business and the industry they are in.
For example, by combining SunSystems, Q&A, Infor OS, and EPM, you will get a comprehensive financial management solution that provides real-time financial visibility and control, customised reporting and analysis, platform connectivity and management, and a business intelligence tool to create interactive dashboards and reports for better decision-making.
Read more: A Beginner's Guide to SunSystems Cloud Training for End-Users
This suite of solutions can provide your finance team with a holistic approach to financial management rather than just relying on a single product.
And with so many solutions to choose from, navigating the Infor ecosystem can be challenging. Understanding the full range of Infor products and how they can be used to meet business needs can be a daunting task. Even if you do find the right solution, learning how to use those products effectively can be much overwhelming.
Challenges businesses face when it comes to software training for end-users
A non-dedicated learning platform for end-users
Despite having an extensive network of Infor channel partners, there is yet to be a dedicated e-learning platform for end-users seeking to upskill or streamline training and onboarding processes for their teams.
Though Infor has developed several learning portals, such as Infor U, the Infor Documentation Library, and the Infor Support Portal, access to these resources is restricted. Materials available on these portals primarily cater to IT professionals and software consultants rather than end-users seeking to enhance their knowledge and skills.
Read more: The Need for Industry-specific On-demand Training for End Users
Challenges with offline and virtual training
In addition to the portals and platforms offered by Infor, businesses often opt for offline and virtual training sessions with application consultants as more widely applied solutions, which also have their own set of benefits and setbacks.
1. Accessibility
Both offline and virtual training sessions come with their own set of challenges. One major challenge is the fixed schedules and locations, which make it difficult for learners to attend. This becomes even more problematic for those with conflicting schedules or in different time zones.
Additionally, organising physical training sessions at various sites can be a logistical nightmare, not to mention the costs associated with travel and accommodation for trainers and trainees. The same goes for coordinating virtual training sessions across different time zones, which often requires investments in specialised software and hardware.
2. Scalability
Offline and virtual training sessions may have limited availability due to factors such as venue capacity or trainer availability. Thus, organising large-group training can be a problem.
Imagine that your business has hundreds of working sites and business units scattered across the globe. One site in Ho Chi Minh City, another in London, Seattle, etc. Now imagine the task of delivering consistent and high-quality training for all those locations—it's no easy feat!
3. Cost inefficiency
Although consulting with application experts is a preferred method by many organisations as these matter experts can create customised training materials that meet the business and end-users' specific needs, the cost of training can be extensive.
Moreover, the training is usually only delivered once on all features. This can be problematic if users forget certain features and do not have a resource to refer to when needed.
Limited progress monitoring and evaluation is another issue businesses typically face when conducting offline or virtual training sessions, making it hard for businesses to identify areas where learners may need additional support or determine the success of the training program.
In this digital age, businesses require a contemporary solution that not only accommodates the schedules, preferences, and learning paths of end-users but also offers interactivity and valuable information to reinforce their expertise. On-demand learning presents itself as the perfect solution to fulfil these needs.
Here is where TRG Academy comes in!
How TRG Academy can streamline end-user training for your business
Our online learning platform is designed to specifically empower end-users to get the most out of their systems and streamline the learning process for your team. Say goodbye to the days of tirelessly searching for scattered knowledge across various sources and the frustration of figuring out how things work and how they apply to your work and industry!
With our extensive expertise spanning nearly three decades in implementing software solutions, TRG Academy enables you and your team to master the full range of TRG and Infor solutions.
Read more: The Importance of SunSystems Cloud End-User Training: Who Needs It Most
We offer comprehensive training on various products, including Infor SunSystems, Query and Analysis, Infor OS, Infor EPM, TEBIS, SOXBOX, and many more. Our goal is to ensure that you can maximise your learning experience and fully leverage all the features and functionalities available to propel your business forward.
From TRG Academy's homepage, you can explore our library of courses by simply clicking on the All Courses tab. Alternatively, you can delve into the meticulously curated options available for each specific profession by visiting the Learning Path tab. All courses are designed to be on-demand, a.k.a, self-paced, bite-sized, interactive, and accessible from anywhere at any time.
As technology continues to advance, it is crucial to stay current with the latest features and capabilities of each of our solutions. At TRG Academy, we understand the significance of this, which is why we consistently update our courses to align with any changes or updates made to Infor products.
What more can you expect from our on-demand training and certification platform, TRG Academy?
Expertise
TRG's team of application consultants and support specialists possess extensive experience working directly with customers and the software itself. Over the years, we have dedicated ourselves to consolidating and expanding our internal knowledge base. As a result, we have received numerous requests for online training services, leading us to recognise the importance and usefulness of these materials for both our internal teams and clients.
Consequently, our resources, learning paths, hands-on exercises, lesson outlines, and course structures are meticulously crafted based on years of hands-on experience and real-life case studies, in conjunction with Infor's extensive resources.
The platform also offers a diverse range of courses tailored to meet different needs, from fundamental navigation and functionality to more advanced and intricate features. Each chapter is thoughtfully designed to incorporate interactive and practical scenarios, empowering learners to apply their newfound knowledge to real-world situations in their everyday work.
Customised learning paths
To cater to the diverse needs of individuals and teams, we have carefully curated a range of learning paths tailored to various Accounting professions. However, our courses are not limited to Accountants alone.
They are also valuable resources for IT personnel responsible for system maintenance, application consultants seeking to enhance their skills on their own time, and even university students preparing for their job search by gaining practical skills and certifications.
As we continue to evolve, our team is committed to expanding our offerings to meet the ever-growing training requirements of different individuals, teams, and businesses. So stay tuned for more exciting developments in the near future!
In the meantime, if you cannot find what you are looking for, please contact TRG Academy to see how together we can develop training plans and courses that suit your organisation.
For example, we developed the VAS Circular 200 Reporting Package course specifically for our customers who operate a hospitality branch in Vietnam and utilise Infor SunSystems. We created this course in response to their request to cater to their specific requirements. The course is currently available to all.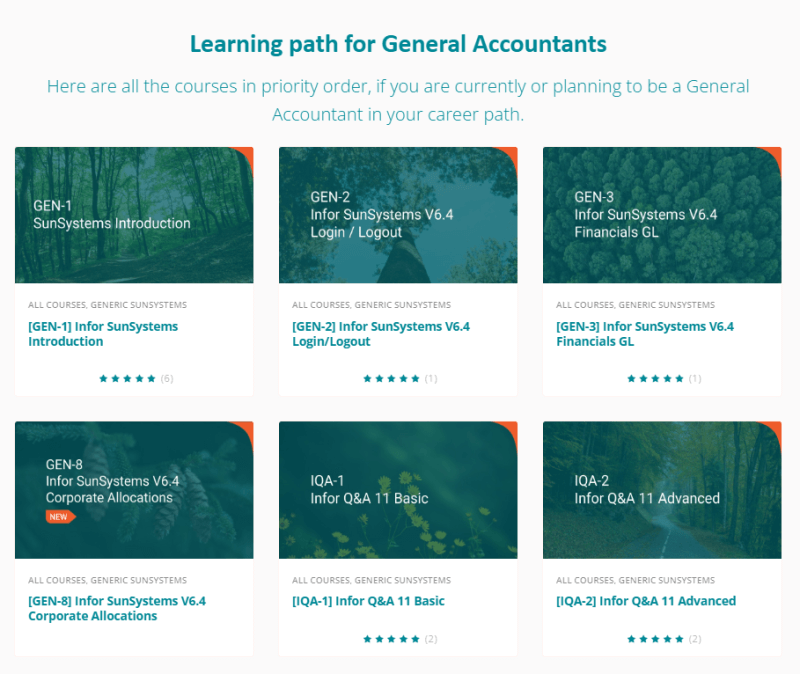 On TRG Academy, we have crafted learning paths for Financial Controllers, Purchasing Accountants, Sales Accountants, System Administrators and many more.
Easy-to-navigate platform
Our platform is designed to be user-friendly and easily accessible. All the information about a particular course can be found with just a couple of clicks.
Each course features different lesson formats, including videos, interactive simulations, quizzes, and learning checks. This provides a comprehensive learning experience to keep you, the learner, engaged and motivated throughout the course.
Every tutorial consists of interactive, hands-on exercises and practical scenarios that simulate how you typically perform a task.
This gives you the experience of working on a real system, so you can gain confidence and improve your productivity and effectiveness.
Progress report
To ensure that you are reaching your goals, we provide progress reports for B2B clients. These reports give you insights into your team's learning progress, allowing you to identify areas for improvement and track each member's performance over time.
With this information, you can re-evaluate your training approach to better adapt to diverse learning types to suit your team's needs and ensure that they are getting the most out of their training.
Multiple languages
Language barriers can make training less effective. That is why we provide courses in multiple languages, ensuring everyone can access our training materials. Our platform is designed to be inclusive for learners worldwide, and we currently offer courses in various languages, including English, Chinese, and Vietnamese.
We are continuously expanding our language options to accommodate even more learners.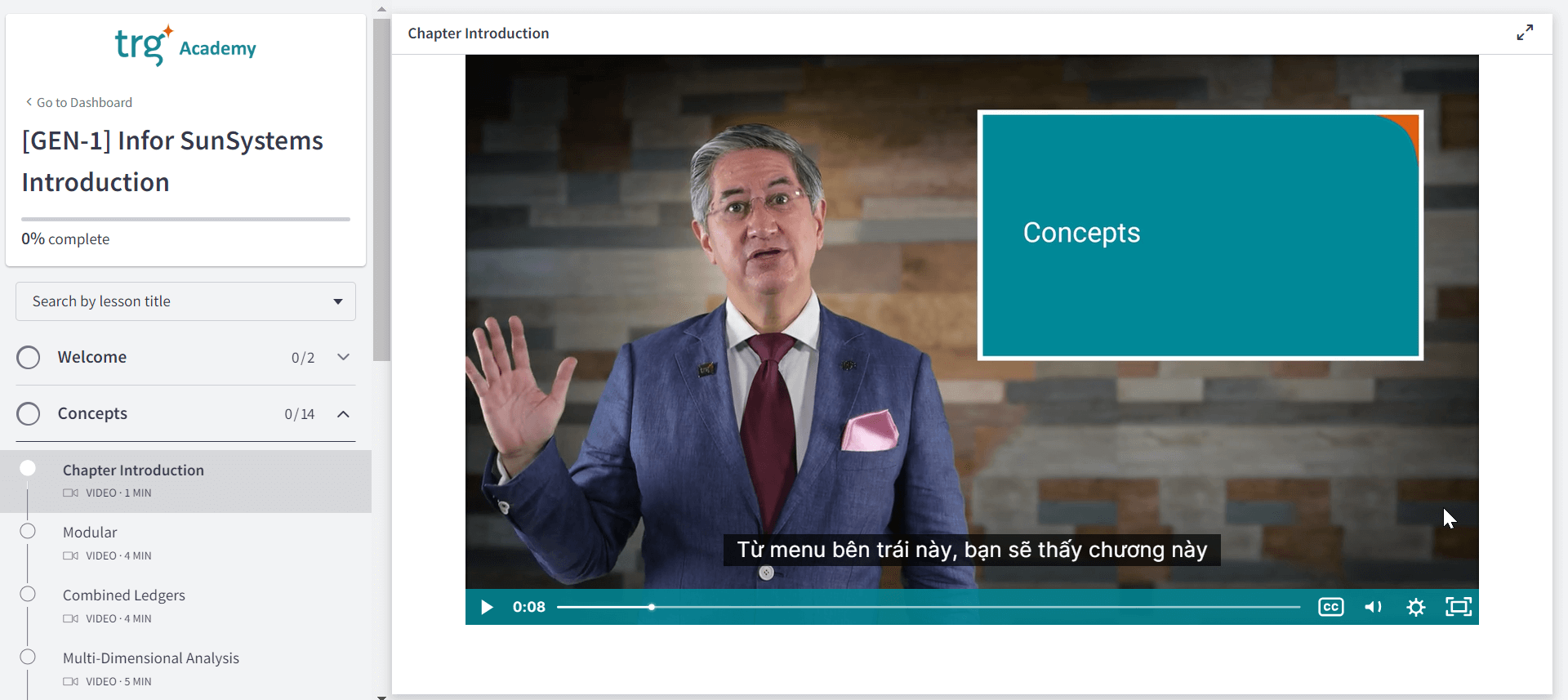 A chapter that has added Vietnamese subtitles.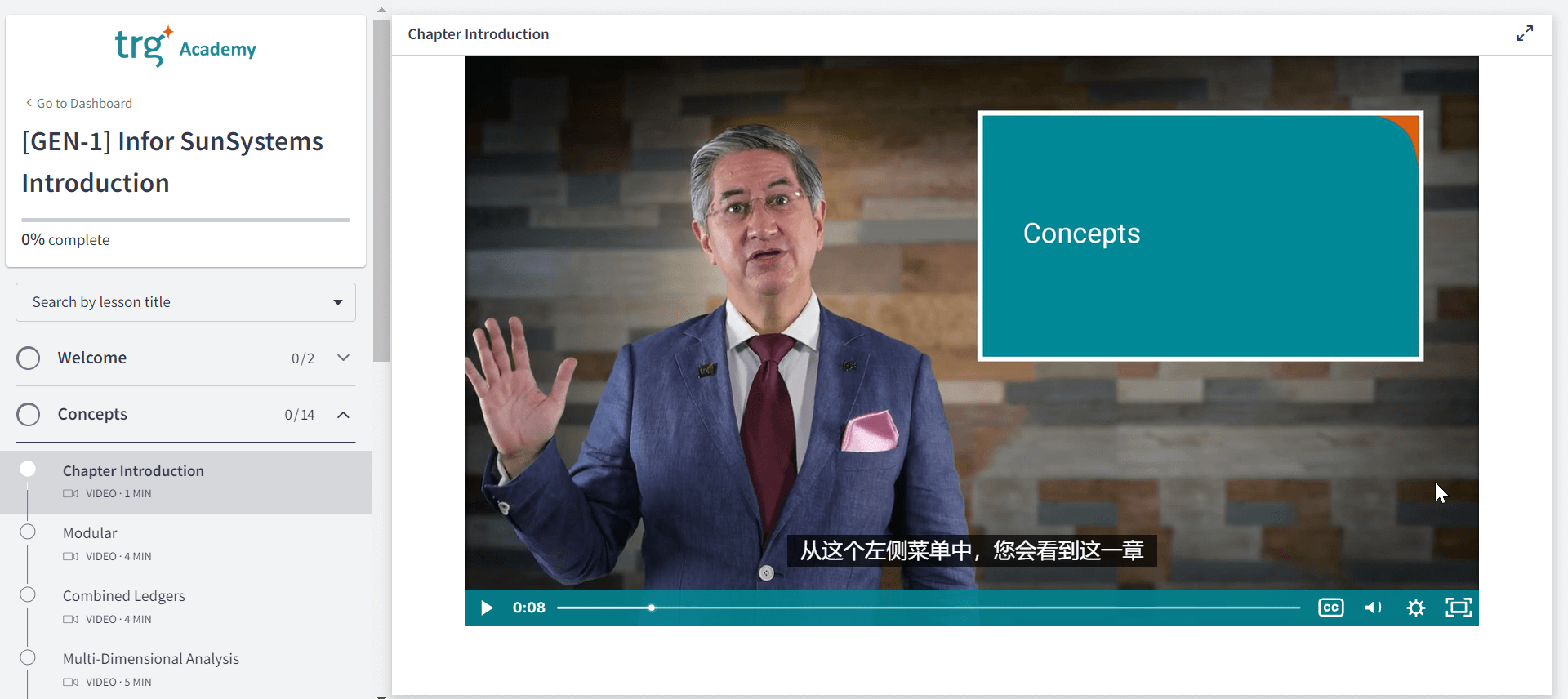 A chapter that has added Chinese subtitles.
Certificates
Upon successfully finishing a course, learners will be awarded a certificate of completion that comes with a distinct certificate ID. These certificates can be proudly displayed on professional networking platforms like LinkedIn, allowing individuals to showcase their accomplishments.
Additionally, learners have the option to conveniently download and print their certificates, making it effortless to share their achievements with employers and colleagues.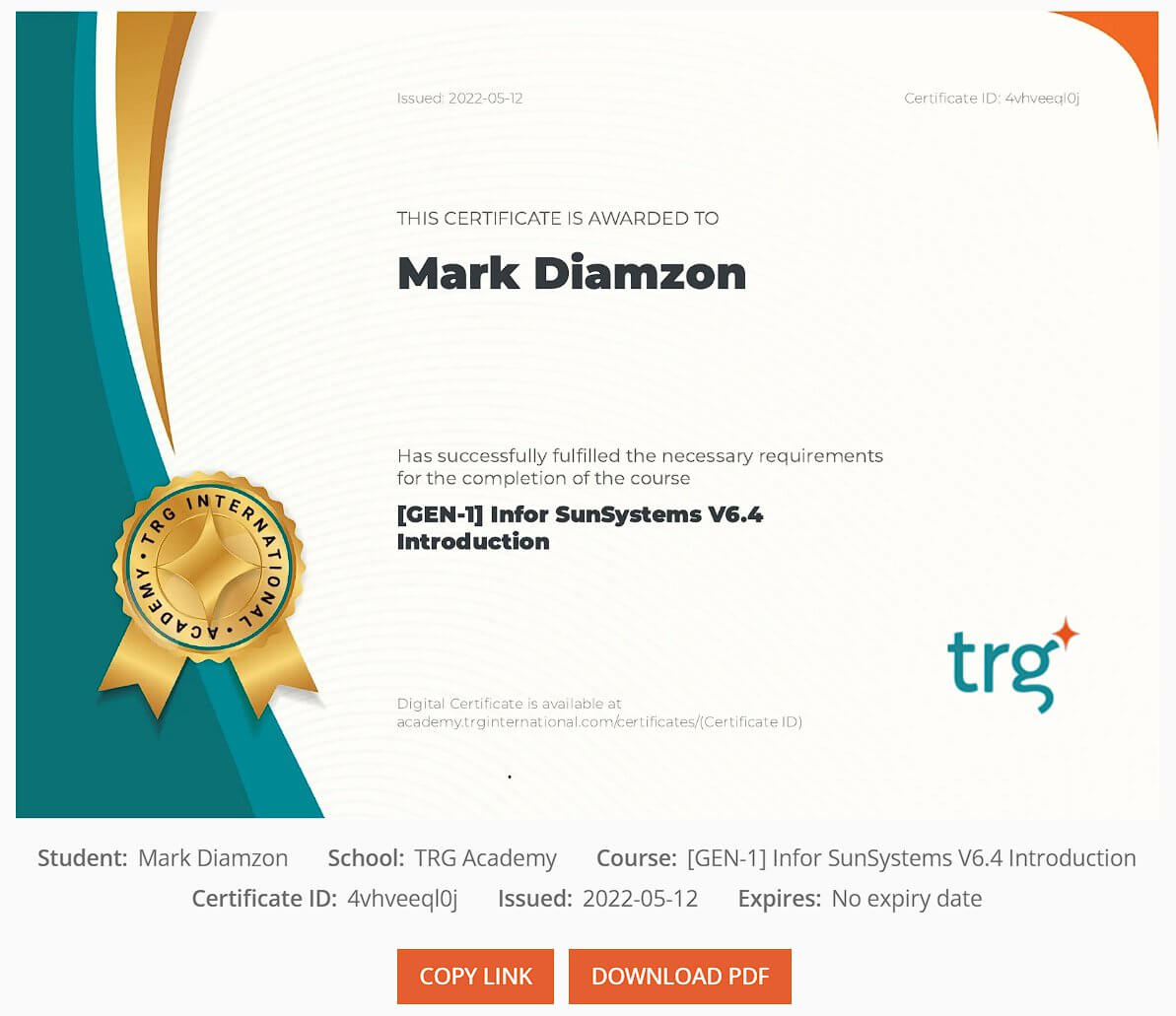 A sample TRG Academy certificate. All certifications are shareable and downloadable.
Knowledge update
We are committed to keeping you updated with the latest features, functionalities, security patches, and more to ensure you always have access to the most current and relevant information. This not only helps you stay ahead of the competition but also enhances your productivity and effectiveness.
At TRG Academy, we value the feedback and comments of our learners. We actively collect and review them to continuously improve the quality of our lessons and expand our offerings. Your input plays a crucial role in shaping the future of our platform and ensuring that we meet your evolving learning needs.
Unlimited access
With TRG Academy's membership programs, you have the ultimate freedom to learn any course offered on our platform at your own pace and on your own schedule. Whether you are investing in training for your entire team or for yourself, our flexible options cater to your needs.
We are dedicated to continuously expanding our course offerings. Each month, we add at least one new technology course, giving you access to a wide range of courses that will help you develop your skills and stay up-to-date in your field.
Investing in your professional development is a powerful way to enhance your skills, increase your value to your organisation, and achieve your career goals.
Don't miss out on this opportunity to take your career to the next level.