A fantastic company culture is what differentiates your company besides typical factors like salary and benefits, and is one of the key factors that make a potential candidate decides to work for your company. Company culture determines the satisfaction, productivity and performance of your employees. It is made up of everything from the way you communicate and act on your company values, to the atmosphere in the workplace and the people working there.
Although different companies will have different methods to build the enterprise culture, there are a few things you can do to ensure your company is a great place to work for young talents. Let's take a look at Twitter, Facebook and Google to find out how they excel in nurturing their staff, enabling growth, and fostering the most innovative mindsets within their organisation.
Read more: How to Create a Digital Culture in the Workplace (Part 1)
Google
Without a doubt, Google is among one of the best employers to work for and was even named in the famous Fortune's 100 Best Place to Work list. Google's unique company culture, special perks and qualities keep Googlers happy, productive and dedicated. All of these make Google the most sought-after place to work across the world.
Flexibility and creativity come first
Google has been a pioneer in letting their employees freely explore how they'd like to work and give them the freedom within the environment to approach work in a way that they feel suited. Google understands that to improve the employee's creativity and productivity, they should be given the freedom of choice, a flexible schedule and the ability to work on their terms.
Read more: Understanding Company Culture and Its Importance in Talent Acquisition
The flat organisational structure at Google encourages all employees to speak up. In other words, Google values their employees' voices and opinions, encourages innovations and is open to new ideas.
Hiring for character, not skillset
Each year Google receive around three millions of applications and after the intense hiring process, Google hires approximately 7000 of them. Of the many things that they look for, Google values work ethic more than IQ level. They want to attract people who are smart and high achievers but are also humble, conscientious, and comfortable in dealing with the unknown. And ultimately, it's the people that make Google successful.
Google shows that they care about the employee experience by making sure that the workplaces align with what employees need. Besides the food, the massages and the slides in the lobby, Google understands that employees need to be taken care of in all aspects in order to perform at the highest levels. 
Read more: 4 Steps to Building a Great Company Culture from Ground Zero
Constant growing and innovation
You may have heard of Google's 20% time policy; this means Google will allow the employees to spend 20 per cent of their time (1 day every week) to work on anything they want to. This idea had benefit Google with some of their most innovative and brilliant products, including Gmail and Google Suggest.
Google has a culture that promotes collaboration, such as through accidental meetings between creative people and engineers, and emphasises an attitude of innovation, creativity, and the freedom to explore, permitting the employees to plug into the culture, hence keeping Google growing constantly.
Read more: Why Employer Brand Matters to Your Organisation Now More Than Ever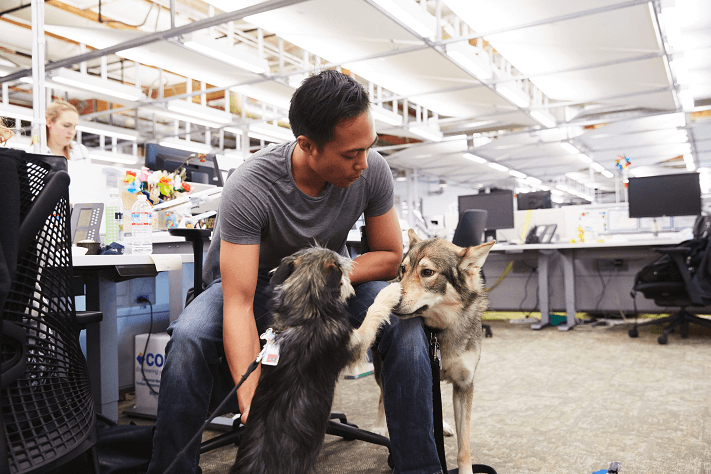 Dogs at Google's office. Source: Google
Keeping it fun
Do you know that Google is a dog-friendly workplace? Dogs are viewed as a way to enhance staff's work life. In the employee code of conduct, Google has written an entire section on dogs. Google aims to make the office a fun place and doesn't feel like work. Their employees can always get out of their office and even interact more with each other. There are many types of facilities for the employees to enjoy, such as wall climbing, beach volleyball or bowling, and plenty of food at the restaurant, the micro-kitchen or their huge cafeteria. 
Read more: A quick guide to co-working
The key to a creative and enjoyable working culture is to put together a group of people that are smart, humble and gives them room to experiment, letting employees get to know one another. Happy employees translate into higher productivity and less turnover. Which ultimately leads to higher profit and greater overall success for Google.
Facebook
Facebook strongly promote its "hacker culture", which means non-stop improvement and innovation. The company succeeded in creating a corporate culture in which foster competitive advantages and highly capable human resources. Facebook has been placed No.1 on Glassdoor's list of 100 best places to work in 2018, most employees appreciated the unique career opportunities and the company's transparency.
Read more: Creating a "Team Spirit" in Your Organisation
Company culture
The corporate culture at Facebook is reflected through its values, which given Facebook the direction they need. From hiring, promoting to their social activities, the values help in making decisions and move the company forward while adhering to its mission: To make the world more open and connected.
Strategic hiring
Again, Facebook's hiring process is highly attached to their core values and greatly adds to the corporate culture. The mindset would be finding the ones who love what they do and wholeheartedly understand the company values. As the employees are those who help to create and promote the organisation's culture, each hiring must fully understand the goals and direction of the business.
Read more: Fitting the Right Person to the Right Position with Job Fit Solution
Benefits and perks
There's no doubt that Facebook offers their employees with all the best perks they need. From new parent benefits, vacation benefits, free meal at the office, onsite health check-up, to $250 of free Facebook ad spend, or even the little things like barbering, banking, dry cleaning and so on.
Office layout
Facebook prioritises transparency and openness in their workspace. In order to empower and inspire all employees, Facebook has everyone working together on their big, white, communal desks. Even the CEO – Mark Zuckerberg doesn't sit in an office. Instead, he works alongside the other employees in a mutual workspace.
Read more: Impacts of pre-hire assessments on candidate experience
Twitter
Back in 2015, Twitter was ranked No.1 on Glassdoor's list of the Top 25 Companies for Culture & Values. Twitter succeeds in creating a friendly working environment, attracting smart and creative people. Create a team-oriented environment in which each and every person is motivated by the company's goals. Twitter's employees' take pride in being part of the company that is doing something that matters in the world.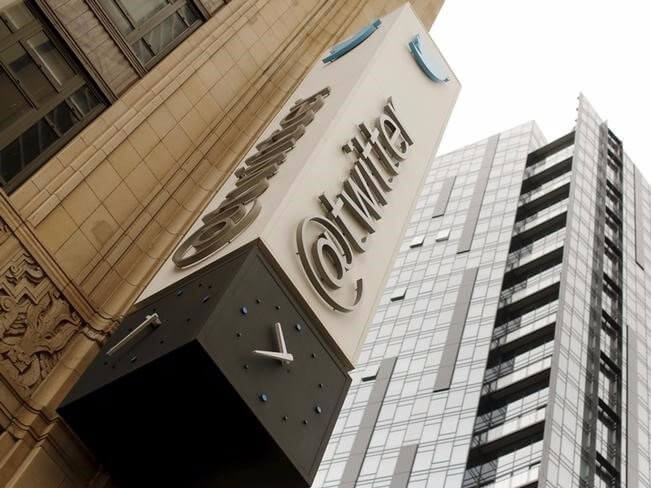 Management training sessions
Twitter believes that building a strong business starts with building strong managers. With every new hiring, Twitter provides different training sessions: code reviews, Scala coding, interview training, transgender allyship, engineering management, and many more.  Dick Costolo, who assumed the Twitter CEO role in October of 2010, also conducts his own sharing session - "Managing at Twitter" - at least once every quarter. The opportunity to spend quality time with the CEO to understand his management point-of-view sets the example of great management throughout the company.
Read more: [Infographic] 5 Reasons Why Talent Management Solutions Are Needed
Employee satisfaction survey
Unlike most companies that conduct the employee satisfaction survey occasionally, or at most, once a year, Twitter does it every six months. It only takes a few minutes to finish a total of 15 questions which effectively reflects their engagement and offer them a chance to contribute their innovative ideas to help and improve the entire organisation.
Read more: Companies' Views on Talent Management (Part 1)
Focus on the Core
To enhance employee engagement, Twitter simplifies the effort to retain and develop its employees - from individual to managers and leaders. They promote just five core skills for employees to revolve around, to keep in mind and practice every day. These core skills are Communication, Development, Direction, Change and Collaboration. By establishing core skills to focus on, its employees feel encouraged and have a context for doing so.
Like what you have read? Subscribe to TRG Newsletter to always be updated on the latest trends in Talent Management.