The workforce in just a couple years will be filled with young fresh graduates, individuals that belong to a completely new generation, Generation Z. For the first time in history, we will be having five vastly different generations working under one roof. The gaping diversity in age, experiences, skill sets, technological understanding, behaviours, etc. have definitely contributed to the already complex HR landscape that we are facing today.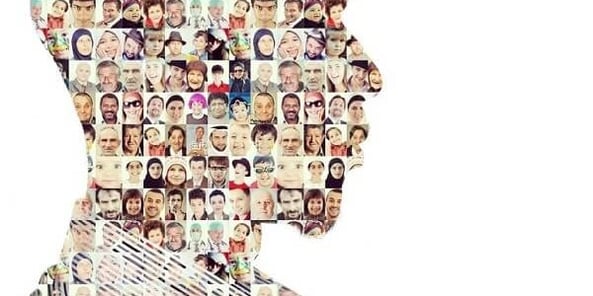 Understanding different generations
The oldest of Generation Z are making an appearance in various companies, and maybe in yours too. So, who are the remaining four generations that make-up today's workforce? The answer is obvious, they are The Traditionalists (or also known as the Silent Generation), Baby Boomers, Generation X, and Generation Y (the Millennials).
Read more: Entry-level recruitment: Meeting Generation Z
Certainly gathering all five of these generations at one place would spark the public's curiosity but in the context of a business, managing all of them at the same time equates both unique opportunities and challenges.
Not putting enough attention to addressing the generational differences will potentially place a negative impact on your organisation and can essentially increase the employee turnover.
Potential challenges in managing a multi-generational workforce
According to the 2016 study done by Fairsail on 250 HR professionals of all levels, from the US and the UK, found that Baby Boomers and the Millennials are the two most difficult groups to manage.
What's interesting about these two groups are they are close to being the opposite ends of the age spectrum. While Baby Boomers lean towards a more stable and predictable career path, the Millennials enjoy the flexibility in how, when and where they work. Such differences no doubt push businesses to adopt new employment models to cope with the new young workforce swamping in.
Read more: Are Millennials really different from previous generations?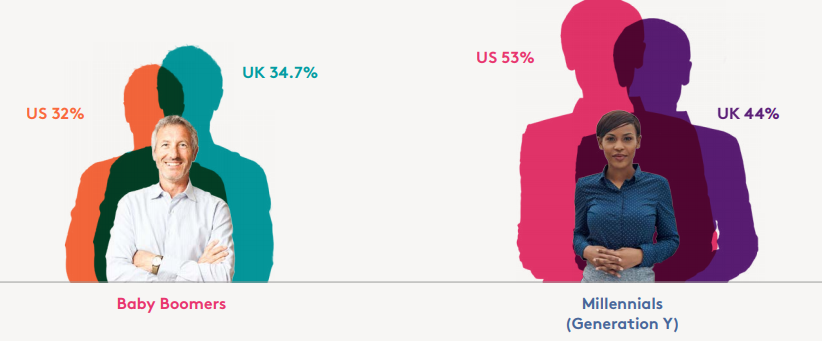 Source: Fairsail 2016
To be able to bridge the age gap demands for greater visibility of their entire workforce. At least 52.8% of respondents from the Fairsail's survey agreed so.
We usually hear that technology is the "divider" causing disconnection between departments or human beings. However, the suitable technology can help boost collaboration among your employees, enable a smooth flow of information in real-time via a shared digital workplace.
Read more: Technology involvement in performance management
Various disruptive technologies are also being applied to aid various administrative works and to automate HR functions, such as predictive analytics to pick out trends, patterns, or social tools for better communication interdepartmental.
Other pressing challenges that require immediate attention
Recruiting the right talent (29.6%) that has the right skill set, and fits well with the current organisation's culture. Nevertheless, employers also need to ensure the workplace policies fit well with the entire labour force demographics by providing abundant training, establishing FAQs hub, and offering multiple options for the employees when they need help making benefits choice.
This is due to not everyone in your organisation value the same benefits and perks. And some communication tools might be easy to handle for one group but this might not be the case for others.
Read more: Fitting the right person to the right position with Job Fit Solution
Suitable developmental plan (16.4%) for each generation and optimised leadership pipelines (9.6%), so everyone can be their "best self" and move forward in their careers. As mentioned before, all generations perceive things differently. While the younger generations (Gen Y and Z) tend to move on faster if they see a better development and training somewhere else; Gen X and Baby Boomers, on the other hand, are extremely loyal.
To optimise your employee's satisfaction, opt for cross-training for different positions with a focus on the development of transferable skills. This training can have double effects in which it keeps your younger generations engaged while honouring your experienced senior teammates.
Read more: 3 pitfalls to avoid in leadership development
Streamlined communication (15.6%) as each generation speaks in their own way and has different methods and style of responding. Getting your message across requires a deep understanding of your workforce. Since Baby Boomers have a more formal, traditional view on the corporate structure, they are accustomed to the authoritarian leadership style and would respond better with the constructive feedback regarding their work ethic and dedication. Gen X, Y and Z, on the other hand, generally prefer more frequent and immediate feedback thus they are less likely to align with an authoritarian style of leadership.
Read more: 6 ways to use technology to shape up finance talent strategies
Furthermore, as your employees move on to other life choices/ career advancements, it is essential for the businesses to have a well-developed succession planning in place to combat the loss of your key positions. The plan makes you well aware of the current pool of talent, thus, empowers you to start nurturing for the new crop since day one. This, in turn, makes your young employees feel more engaged as they now see the potential for future development.
A deep understanding of your workforce, who comprises your team, how they talk to each other, what are their beliefs and sources of motivation will allow you to unlock their full capabilities and increase their engagement with your organisation. Effectively managing your multi-generational staff can also minimise conflict, improve morale and productivity.
Determining how well an individual fit for a specific role or in your organisation is a tricky question. Let's TRG Talent take the burden off your shoulder with our Job Fit Solution! Talk to our experienced consultants and request a free demo today.